Interviews
Nightingales Inn – Pam Dehnke & Darrell James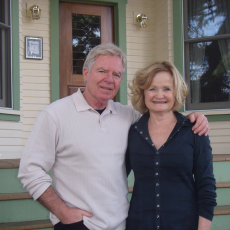 Decades of vacationing in Ashland in the summertime have made Pam Dehnke something of an expert on how to accommodate the needs of travelers visiting Nightingales Inn, just steps away from the Plaza downtown. Close proximity to shops, restaurants and theatre is just one of the many reasons visitors are thrilled to have Nightingales open for business after a six year hiatus. Pam and her partner, Darrell James, re-opened the inn last fall after relocating from Southern California and have created a warm and cozy atmosphere in the 112 year-old-home.
The fond memories Pam had of spending time in the home formerly known as NightinGail's Inn throughout her visits to Ashland, most summers since 1979, struck a chord when she learned that it was for sale. In September they will celebrate their first year in business and they couldn't be happier. We caught up with Pam and Darrell to hear all about their new business and the fun they are having entertaining visitors at the newly re-opened Nightingales Inn.
Thanks for talking with us today Pam and Darrell! It sure sounds like the two of you are settling in nicely to your new venture.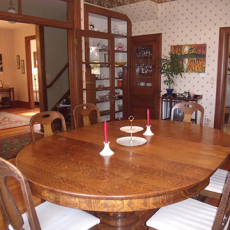 Thanks for taking the time to visit with us. It is the uniqueness of this town and its community that makes it such a wonderful opportunity. We are proud to be part of the incredible Ashland experience.
Pam you really developed a love for Ashland early on although, you have only recently relocated here full time. Tell us about how you came to be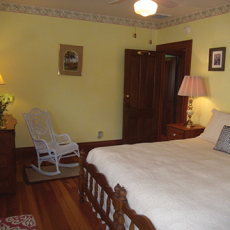 so connected to the community here.
I first came to Ashland in 1979 with my ten-year-old daughter for a three-day weekend and wound up staying two weeks. Since that time we have spent our summers in Ashland, being joined by other family members and friends. In 1990, while staying at the Queen Anne, which at that time was a B&B located next to NightinGail's, I met Gail Barham, who had just purchased the property, and we became fast friends. Throughout the years my family, friends, and I have stayed at NightinGail's. My granddaughter had her first four birthday parties in the garden and learned to walk around Gail's large, round coffee table. So, you see, we have a long history with Gail and the inn.
I am struck by the deep connections you made here in Ashland over the years.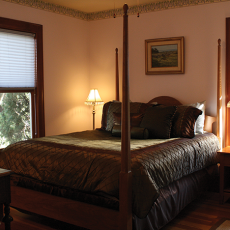 I fell in love with OSF and the many wonderful theater productions throughout the years. As a member of OSF, I am deeply committed to the festival and I am always impressed by how wonderfully the members are drawn into association with the actors, directors and organizers through members' dinners, coffee talks, and through volunteer opportunities. I have recently become a volunteer at the Tudor Guild and through that connection have made many new and wonderful friends. I also love shopping and dining in Ashland and nearby Jacksonville. Throughout the years, I have become friends with so many of the local business owners and restauranteurs.
Darrell, how did you know it was the right decision to switch gears and begin life as innkeepers in Ashland?
I came with Pam for the OSF members' opening banquet in February of last year and fell in love with Ashland and the Rogue Valley. I grew up in a small town in Kentucky. Ashland reminds me of my roots. But I was totally taken aback by the amount of culture available for a town of this size. It's small town living with big city cultural opportunities. Very unique.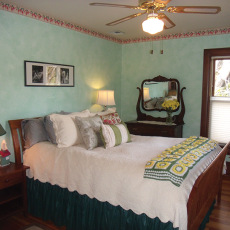 Darrell, you are a published author and I understand you have plans to write a series someday soon that takes place here in Southern Oregon!
Yes. The area and Nightingales Inn are an inspiration for all kinds of story ideas. It's my plan to write a mystery series set in Ashland and the Rogue River Valley as a whole, and to feature the inn. Guests to Nightingales are very quick to want to buy and read my novels. Likewise, I want the stories I write to inspire people to come to Ashland and want to stay at Nightingales Inn.
It seems as though the two of you make a great team in operating the inn.
Truthfully, I don't think either of us had ever imagined owning a Bed & Breakfast. But we each seem to bring our own special talents to day-to-day operations. Pam is very social and loves meeting and getting to know our guests. As an author, I am also used to connecting with people. I grew up in a blue-collar background, so I am something of a Jack-of-all-trades. Both of us have been independently employed throughout various periods of our lives; Pam as a contract Court Reporter, myself as a freelance author of mystery novels. I often say, "I love to work." The Inn allows me to stay active and discover new talents that I had never considered before.
Have there been any surprises along the way for either of you?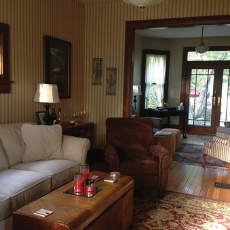 We agreed right away that neither of us like getting up at the crack of dawn, so we branded ourselves as "Bed and Brunch." Serving breakfast at a slightly later hour, 9:30 a.m., allows us to indulge ourselves a bit.
What is surprising to us is how many of our guests prefer it that way.
You've done a fantastic job creating a very familiar and homey experience for your guests. Tell us more about how you've accomplished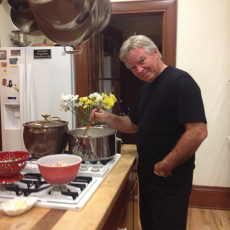 this.
We are one of the smaller inns in Ashland, and I think this offers us a greater degree of intimacy with our guests. We get to know them; they get to know us. And, I believe, we have made many new friends. It's surprising to me how many of our guests think of it as staying in the home of a friend. Many voluntarily make their own beds in the morning and oftentimes carry their own dishes to the sink after breakfast. It's quite touching the relationships we are building. Our guests and we often speak of wanting to cry when it's time for them to leave.
Guests are raving about their experiences at Nightingales Inn.
Possibly the greatest testament of all comes from guests who immediately book their next stay with us and refer us to family and friends. That's the ultimate compliment. But I think what we love most is just hearing the laughter over the breakfast table in the mornings and the lively camaraderie that seems to take place throughout the inn all the time. It's a fun place to be. And, as innkeepers, we draw a great deal of personal fulfillment from know that we've created a memorable experience for guests.
After so many years of being a visitor yourself, Pam, can you tell us a little more about what it is like to jump right into the community as a business owner?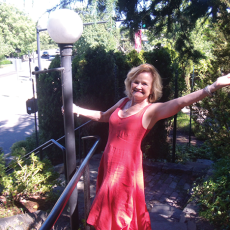 The transition has been so easy because everyone is so welcoming and supportive. I have made so many friendships with local business owners throughout the years. Now I am excited about sending our guests to my favorite shops and restaurants and having them report back on how much they enjoy them as well.
Darrell you have integrated your experience in the writing-world into Nightingales Inn. Can you tell us a little about this?
Through organizations like Mystery Writers of America and through gatherings of authors and fans at conferences and the like, Pam and I have both come to know possibly thousands of other mystery writers and readers across the country. It's an incredible community of people who are dedicated lovers of the mystery genre. Certainly this connection is bringing many of these acquaintances to Ashland as guests of the inn. But we are also interested in building a strong local literary community by working with local bookstores and the public library and by creating local book venues. Pam has formed a mystery readers book group that currently meets once a month at Nightingales and she brings in the authors to speak to the group and appear at the library.
Pam is there anything else you'd like readers to know about Nightingales Inn?
I am so fortunate that my longtime friendship with the previous owner, Gail, has brought me here to Nightingales.
You have hosted some very cool events at the inn recently. Any events coming up for readers to know about?
Our Nightingales Book Group has author events scheduled throughout the remainder of this year and into 2016, as well as, a scheduled series of Winter Writer Retreats. And we have a number of planned parlor musical events on the horizon.
Learn More:
Nightingales Inn
117 N. Main St., Ashland
nightingalesinn.com
541-708-6272