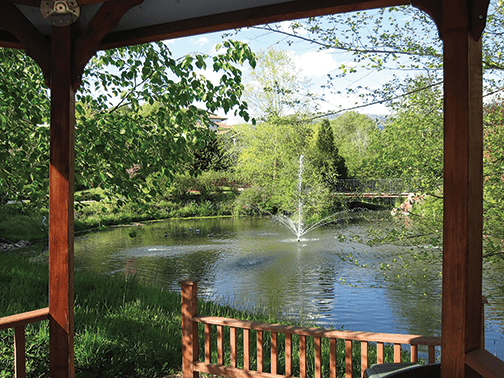 In Ashland, when we hear a conversation about the beautiful park, it most often means Lithia Park and the proximity to Oregon Shakespeare Festival. A visit to Ashland is not complete without a stroll through this amazing park with the year round creek running through it. It is truly breathtaking.
In Ashland, however, is the Mountain Meadows 55+ Community located on 27 acres of trees, gardens, and rich landscaping. Amid this vibrant community is a 4 acre park which is filled with beauty all its own. There is Kitchen Creek that meanders through the park year round and is popular with the local wildlife and many varieties of birds. There is an amazing community garden with raised garden beds approximately 4 by 16 feet in size. There is a Bocce Ball court and Horseshoe pit and beautiful paths to enjoy those early morning and evening strolls. There is a pond with more local wildlife including a resident otter. Enjoy the gazebo built by the community's own woodworking shop and residents while watching the pond for the arrival of birds and wildlife.
In Ashland, the seasonal changes are fabulous and the hills and valleys are alive with color. In Mountain Meadows 55+ Community the seasonal changes are just as magnificent. Enjoy dinner in the clubhouse on the top floor looking out over the city and Mt. Ashland—it looks like a fine painting. Experience a musical event in the Mt. Ashland room, surrounded by a pallet of oranges, reds, and ambers. Some residents live in top floor condominiums or houses with views of the park and are close enough to hear the babbling of the creek and the birds singing. The pinks, reds, and yellows of spring give way to the bright greens and sunflowers of summer. Autumn comes upon the park and the community in a blaze of colors – just like Lithia Park.
In Ashland, you visit Lithia Park and experience Shakespeare at its finest. In Mountain Meadows, you can experience our park – Madeline Hill Park – and enjoy the changing seasons all year while you live in this amazing community. The Oregon Shakespeare Festival is only 1.5 miles away and Southern Oregon University is even closer. Experience Ashland by living in Mountain Meadows 55+ Community. Experience life in this unique, resident owned and operated community and take in the beauty of the park for all seasons every day of the year.