Interviews
Ashland Artisan Emporium Huge Anniversary Sale!
It's that time of the year again when Ashland Artisan Emporium hosts their annual anniversary sale. You won't want to miss it and with new owners Leah Fairbanks and Derek Lusk, you have a lot to look forward to. In today's interview, I speak with Leah and Derek to learn more about what's new in the Emporium and beyond.
Leah and Derek, thanks so much for speaking with me today. To begin with, congratulations on being the new owners of the Ashland Artisan Emporium. I imagine this is a very exciting and busy time for you both.
Derek and I are thrilled to take over the Emporium! We are excited to have a retail store again. Our previous store burned down in the Almeda fire and it is our chance to serve the community once again. This store has so many amazing booths. We love our vendors, they take pride in their displays and are always stocking new and interesting items.
Starting November 12th you have a HUGE anniversary sale. Please tell us about it.
Yes this is our biggest sale of the year! There will be discounts throughout the store from many different vendors and we are also doing something new this year. We will be having a raffle that day with prizes from many local businesses. We love our community and this is our way of being able to give back to our customers who support us.
Leah and Derek, please tell us about your backgrounds.
Leah started her career in glass with stained glass windows for businesses and homes in the Bay Area. She transitioned into fused and slumped glass until she discovered glass beadmaking and has been doing that ever since. She has taught classes all over the United States from Hawaii to Alaska and everywhere in between. She has also taught many courses abroad in France, Italy, Ireland, Australia, Denmark, Holland, Canada & Japan. You can find her work here at the Emporium and weekends at the Lithia Artisan Market off the Plaza when in season. Derek started his career in the wild mushroom industry and worked his way up to CEO of Wild Harvest Mushroom Company, the 2nd largest wild food company in North America. Then he discovered gemstones and started mining Oregon Opal which launched his career into the gem world. Derek has been mining gold and gemstones all over the West Coast, specializing in Oregon Opal and Oregon Sunstone (the state gemstone of Oregon). Derek and Leah traveled throughout the US doing gem and bead shows for thirty years before opening their previous store.
What was the opportunity and vision you saw when taking on the Ashland Artisan Emporium?
Our vision for the store was to do some upgrades to improve the store. We installed a new lighting system to improve the visibility in all of the booths and put in a new air conditioning unit to keep the store comfortably cool for the summer months. We will continue to upgrade the store as time goes on.
Recently we installed an electronic anti-theft system which has made all of our vendors very happy. Every booth is its own small business, so it can have a bigger impact for costs to be absorbed when items are stolen. We turned the whole back room (which was previously a storage area) into a new space where we sponsor Pamela Joy of the Ashland Food Angels. The proceeds go directly to the Food Angels who feed local people in our community.
How many artisans are in the Emporium now?
We have over 80 individual vendors in our store. What makes it so magical is the variety of items that can be found. Premium handmade chocolates, jewelry, artwork, new and vintage clothes, housewares, vinyl records, crystal and rock specimens and so much more. If you are looking for a great gift, you can find it here!
You currently have a waitlist for the Emporium?
Yes, we have quite the wait list. Since we lost square footage when they added Ashland Appliance, those that lost their space want to come back.
How do you choose the artisans who get to have a space?
We want the store to be a well balanced mix of collectibles and artists. We are fortunate to have so many talented people here in the valley exhibiting in our store.
What are some of the most interesting things you have in the store?
One of our vendors, Jack Hogue, has two very diverse booths at the Emporium. One is filled with cool and hard-to-find vintage video games and Pokémon cards, and the other one focuses on oddities and fabulous and technically difficult carvings on gemstones which he carves by hand.
Derek, what are some of your favorite booths to visit?
I like visiting the metaphysical booth Mystik Bliss. She has a variety of amazing gemstone and Tarot books and tools for the metaphysical person in mind.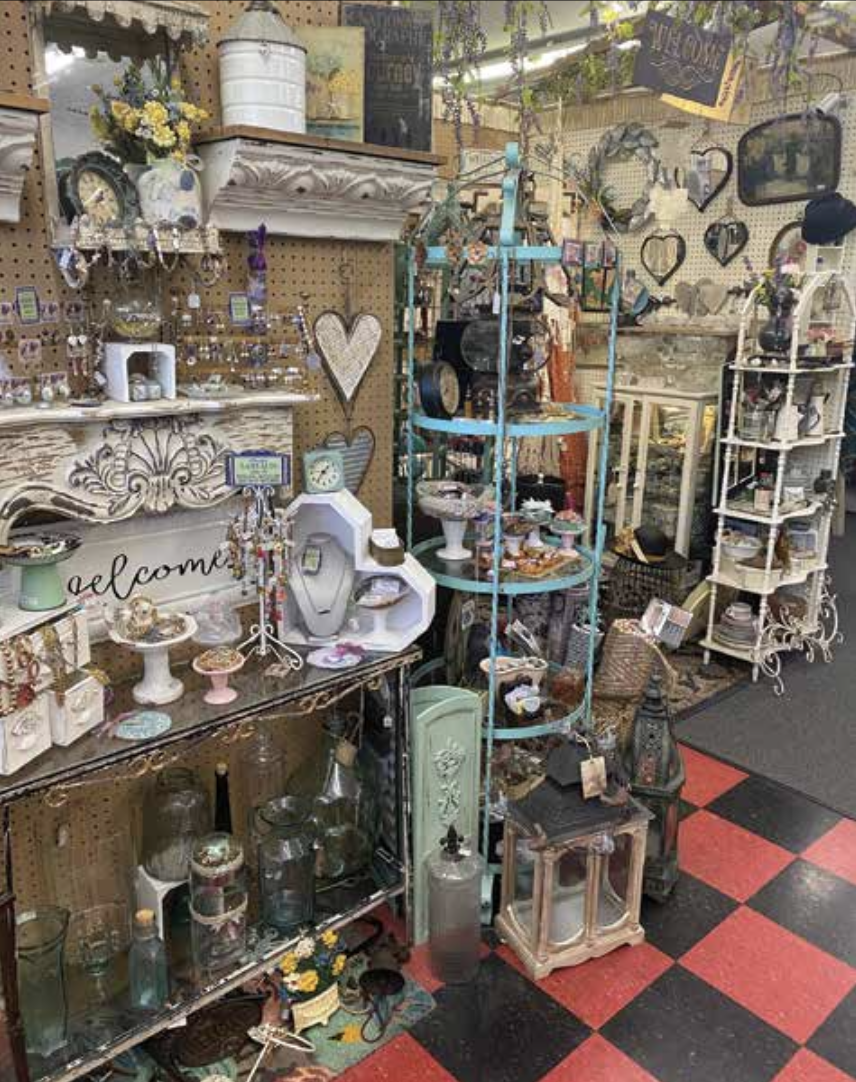 How about you, Leah?
I love anything vintage so I tend to frequent the booths that feature vintage clothes, housewares and collectibles. Ohh and I can't forget to mention Cocoa & Craft chocolates, some of the best I have ever tasted.
What do you all enjoy most with your jobs?
We both love to meet new people in our community and to welcome out of town people to our store. We have several customers who will make the Emporium their stopping place in their travels. We also love to stock our store with new and interesting items.
Derek and Leah, what are some of your goals and visions that you both have at Ashland Artisan Emporium moving forward?
Our goal is to keep improving the store. We have several booths of our own here and have so many ideas on how we can improve our own booths so we will continue to do that.
For the future our long-term goal is to run the store for years to come. Our 17-year-old daughter Tara has expressed interest in running the store, she has been behind our art booth and traveled the country since she was a baby so she is a natural with the public.
Are there any last thoughts or comments you would like to share with our readers?
Come down to the store and visit us! We meet people daily who have not been to the store in months (or years!). We have been getting a lot of positive feedback on the cleanliness of the store and the well stocked tidy booths.
Learn More:
Ashland Artisan Emporium
1674 Ashland Street
(541) 708-0577
Open daily: Monday through Friday 10-6
Saturday through Sunday 10-5
Visit us on Facebook and Instagram to see new booth items!