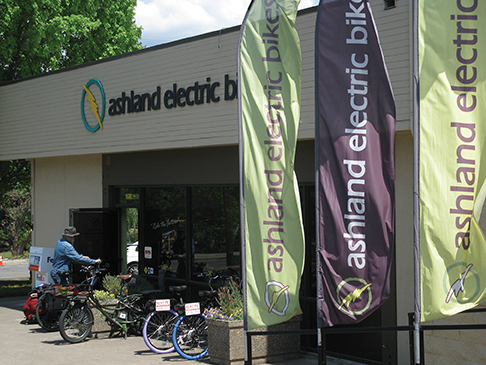 It's a very exciting time in the electric bike industry today. The ranks of e-bike riders are growing at a healthy pace and the higher quality bikes have become very dependable. It is estimated that there are more than 20 million e-bikes being ridden today worldwide. Analysts expect that number to be 2 billion by 2050! Just imagine the world with 2 billion LESS cars on the roads everyday. That's the goal we're striving for here at the shop – less cars, more bikes. It's so rewarding to see evidence of our efforts more and more over time as we ride around town. Looking ahead, these are some of the future trends that we anticipate:
More automotive industry companies are getting involved in developing electric bikes and motor/battery systems. This will surely raise the bar on the quality and sophistication of what's available as we move forward. Crash avoidance technologies will begin to find their way onto electric bikes as well which will make them more attractive to even more people. Battery technology is constantly evolving toward greater density at lower weights and smaller sizes. My personal dream involves the day when a battery the size of a standard bicycle water bottle can support a powerful motor with a 75-100 mile range. Its a few years out still, but the day will come when it's the reality.
The trend that many folks are hoping for is one that realistically I don't see coming to fruition – the vision of a drastic price drop in e-bikes. Yes, as demand increases and production ramps up, economies of scale would in theory play a part in driving prices down. However, the growing complexity and increase in features offered, along with the fact that many parts of an e-bike are made with precious and/or limited resource materials, will most likely offset the dream of low-priced mass produced models. Think about it; have we ever seen a general drop in the price of cars? Low quality options will always be around, but we've seen too many instances of what cheap e-bikes are about. Poor quality bikes equate to a higher risk of mid-ride breakdowns and nobody likes that picture.
These are some of the changes I see on the horizon. In the here and now the picture is already quite bright. Come on in and see what's new under the sun regarding e-bikes today. We have dozens of the highest value, most dependable e-bikes available. Join the quiet revolution and begin to reap the many rewards of e-biking right now. You'll be so glad you did!
Comments