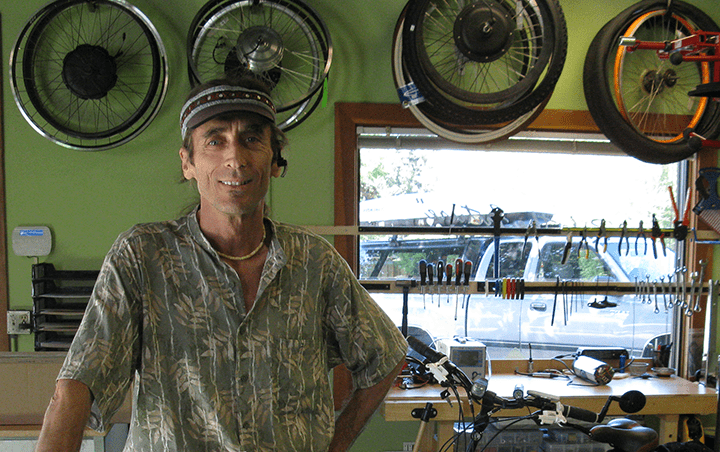 Interviews
Ashland Electric Bikes – Pedaling Freedom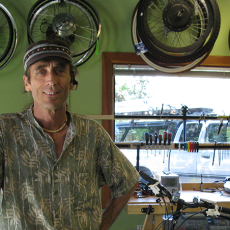 Long before electric bikes were a common sight on the roads of Ashland, Jerry Solomon opened Ashland Electric Bikes and knew it was just a matter of time before the rest of the bicycling community caught up. Eight years later, Jerry has moved into a larger, more visible shop on Ashland Street and business is booming. Offering the largest selection of electric assist bikes in the region, Ashland Electric Bikes is also your full-service neighborhood bike shop offering a range of products and services for bicycles of all kinds.
Thanks so much for talking with us today Jerry. How are things going in your new space on Ashland Street?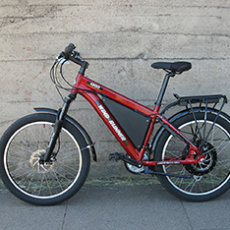 Fabulous! I knew that a more visible location would benefit us but the reality of it is far exceeding my expectations. We were tucked away out of sight for seven years and now everybody sees us, both locals and visitors. We're able to display so many more bikes at once, our offering of accessories is much greater, and the service area is a dream come true. Sales have been phenomenal in 2015. I think for many people we've passed the test of time and now they're ready to come see what we have to offer. Also, electric bike interest all across the US is finally gathering momentum.
Customers are really pleased with their purchases. What do people have to say about their experience with Ashland Electric Bikes?
What I'm hearing from folks is that they appreciate our honesty, our knowledge, and our willingness to go the extra mile in the name of service and customer satisfaction. We also hear time and again that we're the friendliest shop around. At a deeper level there are many folks who have had their bike purchase truly change their lives.

There's the physically challenged teenager in Medford who, for the first time, is able to go out into the world without mom or dad having to take her in the car. We have a man in his 70s who is riding sunsets with his wife again after decades of not being able to due to the consequences of polio at an early age. It's truly amazing and heartwarming to see how electric bikes and the mobility they offer are impacting people of all ages and situations.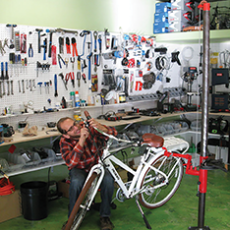 Ashland Electric Bikes is a full service bike shop as well?
Yes! Now that we have the space, I'm finally able to say "Yes" to all manner of service requests for both electric and non-electric bikes. I have a fantastic full time mechanic on staff helping in that regard. Nicholas Lidtke is a certified graduate of our local United Bicycle Institute, and his prior military service included training in advanced electronics, so he is the perfect man for the job. Whatever your bicycle repair needs are, we can handle it. We have two top-of-the-line work stations and so much electronic testing equipment that on some days it looks more like a computer repair center!
I've seen quite a few cool cargo bikes around town recently. Do you sell these?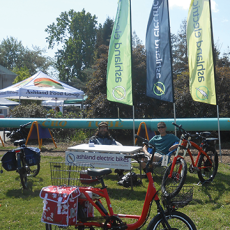 Yes, we have quite an array of choices when it comes to cargo bikes. We carry bikes by Yuba, Juiced Riders, and now have the latest offering from Pedego that we're really excited to add to the mix. I'm hoping to see quite a bit more activity regarding the cargo bikes. They are essentially like the minivan or pickup truck of electric bikes. Individuals, families, and businesses can do so much more with the added power and carrying capacity of a cargo bike. There's so much room in Ashland for this genre to grow and I'm excited to see who the next wave of participants will be in this category of e-bikes.
You have been in this industry a lot longer than most. How do you decide which products to sell?
Eight years has given me plenty of opportunity to see what equipment passes the test of time and what doesn't. All the bikes from all the companies are bright and shiny when they're new. How they're holding up five or more years down the road is another question – one that I can answer more accurately than anyone in our region. In fact, you have to go as far as Bend, Portland, or the Bay area to find another shop that's been at this as long as us. The products are only as good as the companies that back them up, and I'm pleased to say that all my brands offer superb support to me which I can then pass along to my people. Let's face it; problems do arise, but thankfully they are a small percentage of the bikes that go out the door, and when they do occur we're able to rectify the problems as quickly as possible. I lose sleep at night if I have a customer out with a broken bike, so I do everything I can to prevent those situations.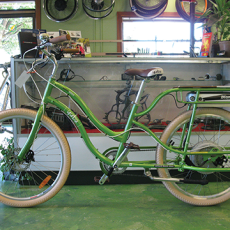 You've established a surprisingly strong reputation and presence online in the electric bike community nationally and even worldwide. Tell us about that Jerry.
Honestly, it continues to amaze me whenever I hear stories about how our shop's name comes up in a positive light in conversations within the industry. I know that helping Stealth Bikes out of Australia get their start here in the US a few years back brought a lot of attention my way, including a handful of connections in Canada. Also, I'm straight up with all my business contacts, I give them honest feedback, and I'm open to sharing my knowledge with others around the country who call with specific questions or general queries about the business of electric bikes. That kind of behavior follows you in a good way.

The custom bikes that I built earlier on, especially the Wind Runner series, garnered praise amongst the hardcore e-bike enthusiasts around the country. I successfully re-envisioned an e-bike that was considered state-of-the-art in its time (late 1990's-early 2000's), and my name was shared globally in regards to that body of work.
You make it sound more like art than bikes. What's that about?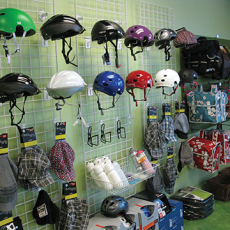 For me it IS an art form. Actually, I like to approach all of life as art, with the definition of art being the pursuit of beauty, balance, and perfection. There's a Zen-like aspect within everything, whether it's building a custom project, adding a conversion kit to a customer's existing bike, or simply adjusting a set of brakes. You can do a good job and achieve a 90% success level. To me 90% is easy; it always has been. It's that exquisite upper 10% arena where the magic and the art happens. I like to aim for that zone. So does Nicholas, and I hope it shows in everything that we send out the door.
What do you think is possible here in Ashland as far as lessening our dependence on fuel-powered vehicles?
Oh boy, so much more is possible! Ashland can be the poster-child-town for small electric vehicles and electric bikes. It's small enough that range is not a big issue and it's terrain-challenged enough to benefit from the additional power that e-bikes provide. I want to see so many more bikes on the road – each one representing one less car. I applaud the town for implementing the road diet last year and I'm thrilled that they're ready to revise the main downtown area to further accommodate more bicycle travel throughout Ashland. We need to move more lightly upon the planet, in all that we do. The smaller impact of an electric bike ride across town instead of the same trip by car is an idea that will become more of the reality all the time. You can already see the evidence. We have sent hundreds of bikes out the door in the past eight years. That's a lot of saved gas and reduced air pollution. These kinds of changes are coming folks. Why wouldn't you want to become a part of this growing solution?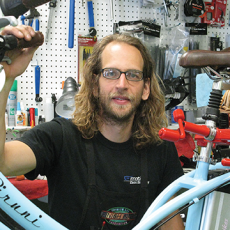 What keeps you coming back to the shop day after day Jerry?
I love bikes, plain and simple. Always have, always will. I love seeing the way one of my bikes impacts somebody's lifestyle in a positive manner. People want to do the right thing in response to all the world's challenges and I love to help facilitate that.

I think of my customer with brain cancer who can no longer drive a car. She's riding around on one of our custom electric trikes, living fully the last of her days. She feels freedom and pleasure and purpose in all that she's able to do rather than sitting at home waiting for somebody with a car to take her somewhere. I bow to her in awe. When she comes by for one of the free bike check-ups that she gets for the rest of her life, I know that I'm inline with right livelihood and THAT keeps me coming back day after day.
Anything else you'd like readers to know Jerry?
I know I always tend to get really serious about things once I get talking because I'm very passionate about what we're up to here, and I forget to share the basics. Electric bikes are a great way to get around town, saving gas and getting exercise without 'busting a lung' in the process. Parking and traffic snarls disappear and every trip to the store becomes an adventure. I also want everybody to know that riding e-bikes is loads of fun! Ear-to-ear grinning kind of fun. So please, come by the shop, explore the bikes, ask all your questions, and be sure to take a test ride. I'm confident that we can make a believer out of you too!
Learn More:
Ashland Electric Bikes
1678 Ashland St.
541-951-3034
www.AshlandElectricBikes.com