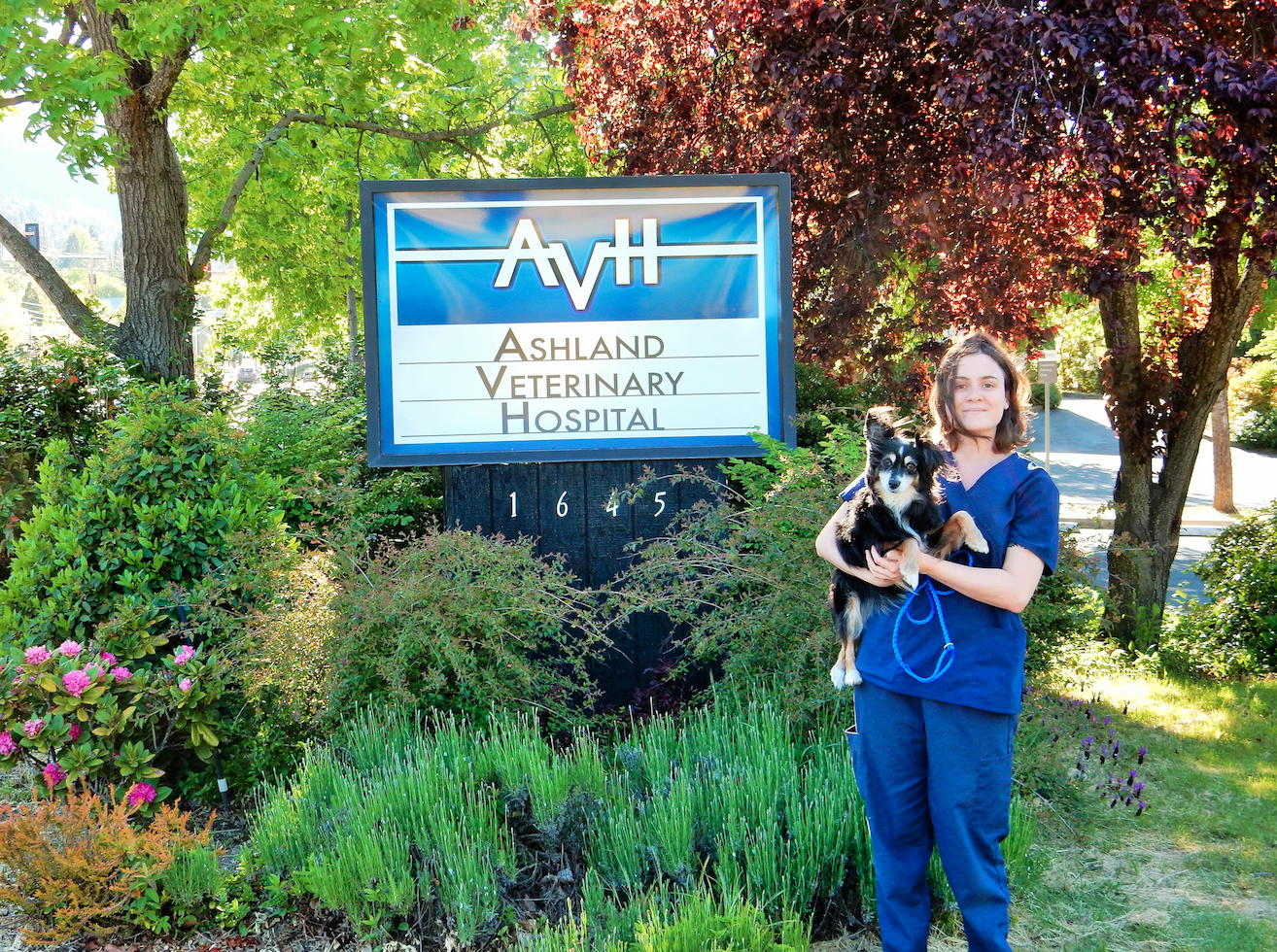 Ashland Veterinary Hospital was the first veterinary hospital in Ashland. Originally founded in 1954, the hospital is set back on a spacious 1 acre plot from Ashland street and next to Umpqua bank and Walker Avenue. Ashland Veterinary Hospital is owned by Dr. Stephen Tesluk and his wife Susan Farrell. Ashland Veterinary Hospital provides free new pet exams, in-town emergency service for their clients, house calls, full medical and surgical services and boarding. Dr. Tesluk is a graduate of the UC Davis School of Veterinary Medicine and he treats each of his patients as if they were members of his own family. In today's interview I speak with Dr. Tesluk to learn more about his practice and approach to veterinary medicine.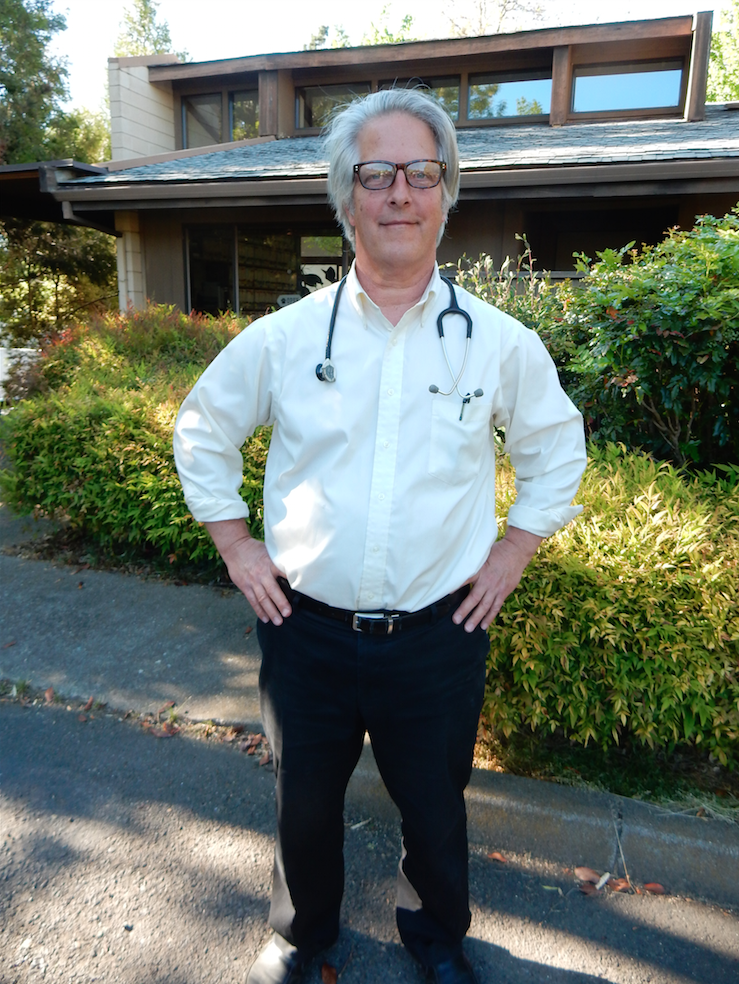 Dr. Tesluk, Thanks so much for speaking with us today and congratulations on celebrating your 16 years in practice here in Ashland
Thanks for the opportunity.  It is great to get the chance to tell our story.  Ashland Veterinary Hospital was the first hospital in Ashland and has been going strong for over 60 years.  My family and I moved to Ashland in 2000, and I joined Dr. Dennis Sweet at Ashland Veterinary Hospital in 2001. Having graduated from the UC Davis School of Veterinary Medicine, I was impressed with the hospital that Dr. Sweet had designed, and the type of medicine that he practiced.  He had built up a wonderful practice combining modern medicine with a well-trained and friendly staff.  My family and I quickly realized that Ashland was a very special community, and that we wanted to bring up our kids here, so after a few years I purchased the practice from Dr. Sweet.  Our goal at Ashland Veterinary Hospital has always been the same – we want to provide the best care possible for our clients' pets.  The core staff has been at our hospital for 16 years, and some of our clients have been coming to the hospital for 20 years or more.  We acknowledge the trust our clients place in us to help them take care of their four-legged family members, and we are serious about our commitment to them.
Dr. Tesluk, I'd love for you to give us a little history of your practice. Please tell us more about your unique space and history.
Dr. Sweet purchased Ashland Veterinary Hospital when it was being run out of a residence and Ashland Street was a two lane road leading up into the mountains.  He designed a cutting edge facility with a large reception area with a vaulted ceiling, three separate exam rooms, a large work area with a separately enclosed surgery suite, 2 separate isolation wards with their own independent ventilation system to ensure functional isolation from the rest of the hospital, a separate x-ray room, a bathing station and kennels.  It was quite a forward thinking investment, creating a facility specifically designed as a fully functioning veterinary hospital, and its functionality has held up extremely well over the years.
Please tell us more about your diagnostic capabilities and in house services.
We are always striving to deliver an accurate diagnosis as quickly as possible at Ashland Veterinary Hospital.  To that end, we have an in-house laboratory so we can get blood test results in an hour instead of days, in-house x-ray and ultrasound imaging systems, ECG and blood pressure measurement capability, and a Class IV therapeutic laser.  We offer medical and surgical services, including cancer treatment, dentistry, geriatric medicine and behavior consultation.  We also have access to board certified specialists in the area, some of whom will come to our clinic for specialty consults when needed.  We will do whatever we can to make sure our patients get the care they need, whether it is here at our hospital or at referral centers.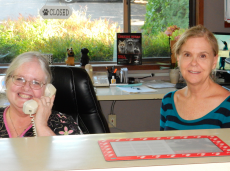 Dr. Tesluk you take great pride in the skill and knowledge of your team. Please say more.
We have great staff, and our key staff members have been working in veterinary medicine for more years than they would like to admit.  Our receptionist, Karen Shrader, is actually a certified technician as well, and so is an invaluable resource for our clients when they have questions about what is going on with their pets.  Our lead technician Michelle Crook is also well trained and has been working at our hospital longer than anyone.  She has exceptional patient care skills and treats all our patients as if they were her own.  Our clients appreciate their familiar faces as they come year after year with their pet.  Rounding out our technical staff we have Kasia, an excellent technician that also works as an EMT, and Taylor, a recent graduate from OSU, that has been an outstanding addition to the crew.
Please provide an outline of services you are providing at Ashland Veterinary Hospital?
Here is a list of services we offer at Ashland Veterinary Hospital

•  Medical and Surgical Services

•  Dentistry

•  X-ray

•  Ultrasound

•  Endoscopy

•  Cancer treatment

•  Geriatric medicine

•  Behavior medicine

•  Laser Therapy

•  House Calls

•  After Hours service

•  Boarding

•  Free new pet exams
You guys are one of the only vet clinics in the valley that offers after hours services?
Yes, we have an answering service so that our clients can contact me after hours when they have concerns about their pets.  We are the only practice in our area that offers this level of customer service.  After discussing the problem with the client, we can determine if the issue can wait until the next day, be dealt with at our clinic, or needs critical care at the local emergency hospital.  Our clients really appreciate being able to speak to their veterinarian when they are worried about their pets, even if it is after hours.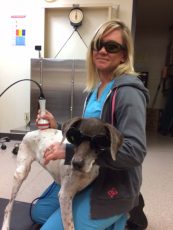 You offer a very advanced form of laser therapy that is showing great benefits to your clients. Please tell us more.
We are proud to say that we brought class IV Laser therapy to the Rouge Valley in 2010.  Class IV laser therapy is a drug-free therapeutic modality that is used to treat inflammation, pain and infection.  Some people may be familiar with cold laser therapy – these are class III lasers and have a maximum power output of 0.5 Watts.  Our class IV laser has 15 watts of power (it is the most powerful therapeutic laser on the market).  This power enables the laser to reach deep into tissues, where it has several physiologic effects.  The laser emits two specific wavelengths which effect biological systems.  Class IV laser therapy increases energy production in cells, which the cells can use to produce proteins used in the healing processes.  The laser disrupts the production of inflammatory mediators, thereby reducing inflammation.  It increases blood flow to the targeted tissues, supplying extra oxygen and bringing white blood cells to the area to aid in healing.  It decreases pain by slowing the firing rate of pain nerves.  It has direct antibacterial action, disrupting the cell membrane of bacteria.  It increases collagen production in wounds, creating the scaffolding that damage tissue requires to regenerate.  Our class IV laser is a powerful therapeutic tool that gives us a distinct advantage when treating difficult cases.  We have used the laser to treat arthritis, spinal disc disease, ear infections, skin infections, slow to heal bone fractures, anterior cruciate ligament injuries and other soft tissues injuries.  It can particularly helpful in treating arthritis in cats.  Arthritis in older cats is much more common than once thought, but cats cannot tolerate the type of medications used to treat arthritis in dogs, so our laser gives us a safe way to help cats that are suffering with arthritis.
Dr. Tesluk tell us about some of your own special interests in veterinary medicine. Any areas in which you particularly excel?
I am particularly interested in internal medicine – the diagnosis and treatment of disease in small animals.  As a general practitioner, I am the first person to evaluate a patient and develop a diagnosis and treatment plan for them.  Each case presents as a type of mystery that needs to be solved.  The process begins with a thorough history and physical exam.  Often, the owners might be unaware that certain clinical signs were present for a period of time before they actually discovered there was a problem, and it takes some pointed follow-up questions during the office visit to get a complete understanding of the specific abnormalities occurring and how long these issues have been going on.  The more information I can get in the exam room, the more I can fine tune the diagnostic plan, focusing on specific tests instead of just ordering up a phalanx of tests that are expensive and possibly unnecessary.  I always try to run the least invasive diagnostics first, such as bloodwork, ultrasound or x-ray, before moving on to more invasive tests that might require sedation, anesthesia or biopsy.  When developing a diagnostic plan, I always ask myself if the proposed test will give the client an answer that will result in a therapeutic option.  As an example, the results of an ultrasound guided biopsy of an abdominal mass may be meaningless if the client will not consider an expensive surgery to remove the mass  – so there would be no point to the biopsy, and no justification for the expense of that procedure.  Part of the art of being a general practitioner is being able to tailor every diagnostic and therapeutic plan to the real world needs of the client.  It is a constant challenge that never gets old.
How do you work with challenging cases?
When I get a challenging case, one the first things I will do is reach out to some experts.  One of the great advantages that general practitioners have today that was not available 15-20 years ago is the incredible access to specialists in veterinary medicine.  There are multiple sources that can be consulted, from internet veterinary forums to highly trained specialists working in our area.  In cases that are not responding as planned, these sources can provided valuable insight garnered from a vast wealth of experience that no single general practitioner could ever hope to match.  In challenging cases, I have found that I can be far more efficient when I use these resources early in the process.  And because I treat each patient the way I would want my own pet to be treated, I do not shy away from giving a client all the options available for their pet, including appropriate referrals to specialty practices when needed.
Dr. Tesluk what have been some of your favorite memories of owning your practice here in Ashland over the past 16 years?
My favorite memories are of the cases where the owners were sure when they came in that it was the end for their precious pet, but we were able to turn things around and send them home with a new lease on life.  The best moments for the staff and myself are when we reunite our patients with their human families, and we see how happy they are and how much they mean to each other.
What are some things that you and your family enjoy doing in your spare time?
Running your own veterinary clinic does not really allow for a lot of spare time.  My wife Susan and I have to run the business as well as take care of our clients and patients, and it keeps us very busy.  But when we can find some spare time, we like to visit the mountain lakes for kayaking and relaxing, heading out to the beautiful Oregon coast, playing music or going to concerts, and the occasional fishing trip.
Please share one or two brief case studies you've enjoyed using the laser to resolve.
A couple of cases where our class IV laser really made the difference come to mind.  The first case was that of an adorable Daschund named Lexi, who was paralyzed in the rear legs from a spinal disc rupture that was pressing against her spinal cord.  Lexi's owner lived in Yreka, and she had taken Lexi to her local veterinarian who had treated her with appropriate medications without success, and her paralysis had worsened despite the treatment.  The owner had been advised that Lexi would require a $5000.00 surgery on her back in order to walk again – a cost that was simply out of the question for her owner.  I reviewed Lexi's records and designed a treatment plan that included laser therapy three days a week initially.  Lexi started to get stronger in her rear legs within 2 weeks of starting laser therapy, and by the end of two months was walking again. She has been doing well since then.  The second case was probably the worst ear infection I have seen in my career.  The patient was Honey, a young Golden Retriever who had a chronic, foul discharge in both ears that persisted despite the best efforts of several veterinarians in the area.  Her ears were painful, and smelled so bad that her owner was considering euthanasia because she thought the condition was incurable.  The culprit was a nasty bacteria that loves to grow in dark moist places and is resistant to many antibiotics.  Both topical and oral antibiotics had failed to control the infection.  I designed a plan centered around laser therapy.  After just two treatments, I was astonished to see the discharge drying up, and by the end of the month the ears were dry and Honey was comfortable again.  Both these cases underscore the value of our class IV laser as an additional therapeutic tool that can turn around cases that have resisted conventional treatment and seem hopeless.
Please share some recent customer testimonials with us.
"Dr. Steve Tesluk is the attending veterinarian at our non-profit Oregon Tiger Sanctuary founded and directed by Penny Torres-Spinnler.  We rescue and rehabilitate exotic and endangered species (tigers, lions, leopards, cougars and primates) as well as many domestic animals.  We have in Dr. Tesluk's care all of our sanctuary dogs and cats. He is a highly skilled, compassionate and caring veterinarian and we are deeply appreciative for everything he does for our rescued animals." -Rob Nagato-Needleman

"Dr. Tesluk is one of my local heroes. He saved two of my cats' lives!  He did emergency surgery to remove a diseased kidney from my young cat Brigid and she went on to live a long life. Then, when I was ready to give up on a sick cat named Brownie, Dr.  Tesluk persisted and the cat came home from the hospital. That was a year ago. Lucky I had some good care and advice!  Dr. Tesluk has been great with my animals – he is a good diagnostician and is always there at the hard times for my animal companions." -Linda Barnett

"Dr. Tesluk is an excellent veterinarian. He knows his veterinary medicine well. The doctor has always been correct in diagnosing my animal's needs with care, solves the problem with confidence and gives them the appropriate treatment. He is great with the animals. I get peace of mind knowing my animals have been cared for by such a knowledgeable and caring veterinarian. I really like the Companion Pet Therapy Laser treatment he is able to provide that is not offered by other veterinarians in the area.  I have been a client of Ashland Veterinary Hospital since before Dr. Tesluk took the practice over in 2005.  I am very happy with their services.  The staff rocks too!!" Cindy Clark, Double C Dog Ranch LLC, doublecdogranch.com 541-890-4120

"Ever since we moved here 14 years ago, the Ashland Veterinary Hospital has been the clinic of choice for our cats. Dr. Tesluk has the training and experience to treat his patients with the latest advances in diagnostics and therapy. We have come to appreciate his caring concern over the years for both our cats and their 'parents'. His 'bedside manner' was such a comfort just recently when we had to lay our oldest cat, Morgan (18 yrs) to rest. We also have high praises for his office staff and assistants; they are helpful, personable and compassionate. We can trust them with our precious companion animals!" Hans and Reve, Oak Knoll Meadows
Finally, any last thoughts or comments to share with our readers?
Thanks so much for the opportunity to tell our story.  I would like to thank all of our clients for trusting us with their beloved pets and invite folks to call us if they have any questions or would like to come in and meet us.
Learn More:
Ashland Veterinary Hospital
1645 Ashland St, Ashland, OR
(541) 482-1386