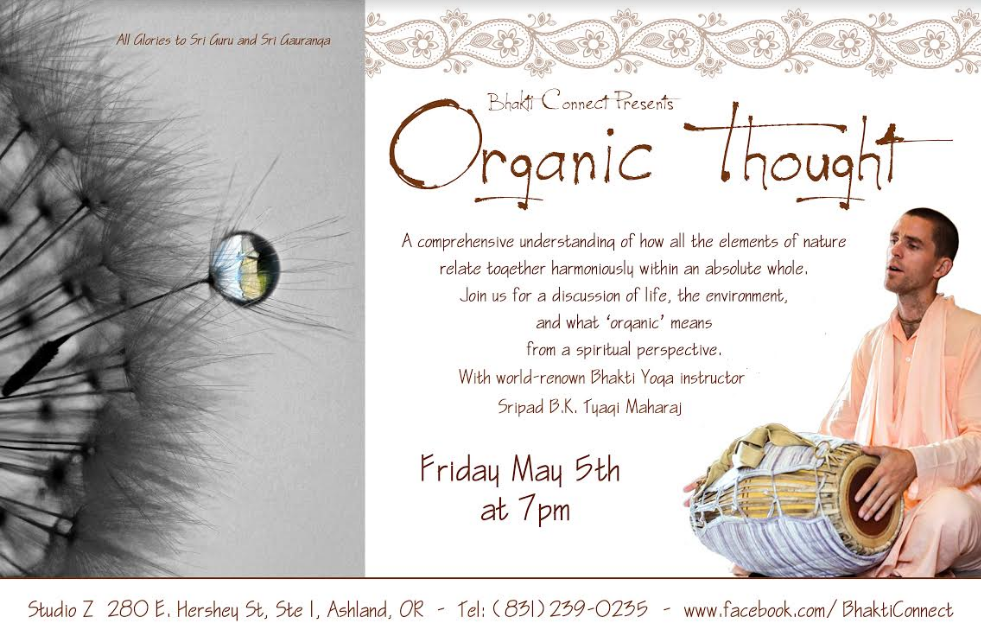 Bhakti Connect Presents: Organic Thought
With Sripad Bhakti Kamal Tyagi Maharaj
Studio Z, Ashland, OR
Friday, May 5th from 7pm
People want to eat organic, buy organic, and grow organic. But do we understand how to think organic? Let's go beyond a list of what is not allowed on a farm and seek a comprehensive understanding of how all the elements of nature relate together harmoniously within an absolute whole.
Join us for a discussion of life, the environment, and what 'organic' means from a spiritual perspective.
All are invited to this free public workshop on the teachings of the Vedas, Bhakti Yoga, and Kirtan. Suitable for all ages and any level of experience.
Swami Kamal Tyagi is a monk (tridandi sannyasi) dedicated to the practice of Bhakti yoga and the service of his spiritual master Srila Bhakti Sundar Govinda Dev-Goswami Maharaj. He is an active publisher and lecturer who strives to make the truths revealed by the great souls and the ancient scriptures accessible and practicable in modern day without adulterating them. He is adherent to the ideals of Gaudiya Vaishnavism, which contain the virtues found in all religious and spiritual traditions and foster their essence: the eternal soul's quest for selfless love in service to the Supreme Being. His life's goal is to practice and inspire others to practice the teachings of Sri Chaitanya Mahaprabhu: to be humble, be tolerant, honor others, chant the Divine Names of the Supreme and Swami Kamal Tyagi travels yearly throughout India, Europe, North America, and other countries and teaches in English and Bengali at ashrams, festivals, universities, event centers, and the homes of all who welcome him.
For more info, please contact us at: bhakticonnect@gmail.com or (831) 239-0235