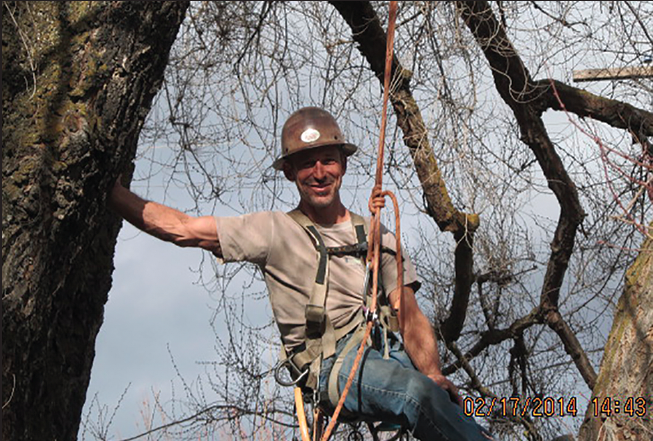 If ever we have a "Tree of the Month" club, surely the mighty California Black Oak will steal top bidding! What a fantastic tree, from a climbers view, an owners view, and an admirers view. From the fiery rocket red pubescent spring flush, complete with golden cascades of flowers, to the deep green that defines our southern Oregon summers, the Quercus Kelloggii never lets your eyes wander! In autumn the pumpkin reveal of fall is spectacular!
Able to thrive in almost any soil, be it clay, granite, loam, and anywhere and everywhere between 200' and 7000' above sea level, this beauty makes the world go 'round!
Structural failure of California Black Oaks are rare indeed, so few, that I can only recall a half-handful in the last 40 years as an arborist… Usually when they puke, it is total failure from ground level, and pretty much every failure is due to water borne mold (sudden oak death), or Armillaria fungus (Oak root fungus), from raising of grade, irrigation regime change, or root damage from construction projects.
In a word, I would best describe Kellogg oaks as "stately" and as a climber, one of the best trees to play (work) in!
Some of the true champions are either in town, or right on the outskirts. Emigrant Lake, Neil Cr., Shale City, Mt. Ashland, Old 99, Wagner Creek, Talent, Phoenix, Rogue River, Merlin, Sams Valley, Grants Pass, you just can't swing a dead cat around without hitting an absolutely stunning Black Oak!
Fast growing from seed, or sprouts from the stump, in my opinion, they are by far the best native for your landscape!
Contrary to myth, Oaks are NOT slow growing! Like all Oaks, they spend the first 100 years growing, the next 100 years living, and the last 100 years dying.
A California Black Oak can pull off up to 400-500 trips around the sun before punching out, so you should realistically expect it to outlive the person who planted it, at least!
Their worst enemy is summer water, when denied drainage…
If you plant a California Black Oak (or any member of the red oak family for that matter) in turf or similar landscape, it will adapt, overcome, and love life!
BUT, If you install frequent summer water within the critical root zone of a mature, established Oak, you have just signed its death warrant, so be kind! Genetics are carried on in the embryonic seed, so gather from the parent,  which you seek from the child!
Acorns are free, plant early, often, and high…