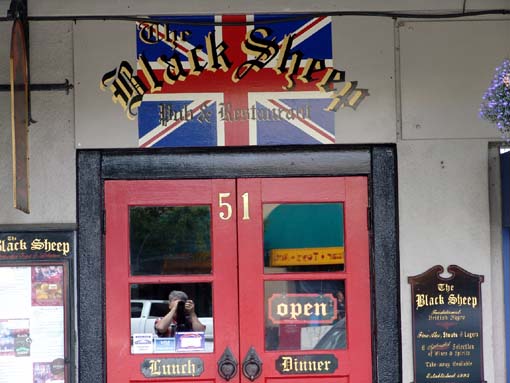 Recently, I've had two opportunities to visit one of Ashland's favorite restaurants. The first time was a few weeks ago when my college roommate Lauretta came into town for a visit. We'd spent some time in pubs in the past and so in honor of such times, I took her to The Black Sheep.  Once upstairs, we chose a table near the famous red phone booth (which I believe gave an unforgettable performance in Waking Ned Devine.)  Our waitress was friendly and quick with a greeting as she presented us with menus. Lauretta was impressed with the abundant selection of English and Irish ales.  After a few studious moments we chose our old favorites – a Black and Tan for me (Guinness and Amber) and a Half and Half (Guiness and Lager) for her.  Our drinks soon arrived, and we toasted a friendship that has lasted nearly 30 years.
It was a relatively quiet night in the restaurant but our waitress did not rush us. Instead she gave us some time to settle in with our drinks.  When she did check back with us, we told her we were a bit hungry but were not quite ready for dinner. We asked about the Jalapeno Corn Pancakes and decided to share them.  A short time later, a plate arrived with four vegetable-filled corn pancakes topped with a spicy peach glaze.  They were deliciously decadent: an excellent choice.  Next we shared a cup of the Leek and Potato Soup which was flavorful and rich without being overly creamy.  Perhaps it won't be surprising at this point when I say that we found ourselves to be too full for us each to have an entree.  After some debate, (Lauretta was holding out for the Shepherd's Pie) we agreed to share Szechwan Chicken.  Our waitress soon delivered a steaming plate of rice piled high with a colorful stir-fry.  The sauce was slightly spicy, the vegetables al dente and the chicken tender and moist.  In a short time we were both sated and content.  I thought we were finished dining, but was reminded that since it was a Monday, the Spotted Dick came complimentary with our dinner.  Luckily we were able to take our time enjoying this steamed English pudding.
After dinner, we made our way over to the dart boards. I am not much of a dart player, and suffice it to say that in no time at all I was soundly defeated by Lauretta.  Even though I didn't win, we had a great time, and I am pleased to report that not a sinlge person in the pub was hit by a stray dart that night!
More recently I stopped in at the Black Sheep to listen to the live Celtic Music Jam that takes place every Sunday from 2-5 PM.  Once again I climbed the stairs but this time I met with the sounds of Irish music.  Upstairs, there was a group of about a dozen musicians in a circle playing instruments and singing.  After I received a beverage, I glanced around the room and saw a friend from school working on his laptop.  We sat together, listening to the music and catching up on each others lives.  The pub was busy and we stayed until the last song was played.  It was truly a delightful afternoon. On our way out, our waitress told us of the Curtain Climbers Arial Dance performance that would be taking place on First Friday at 9 PM.  Imagine – talented athletes swinging and dancing from silk drapes suspended from the ceiling!  This I have to see.
http://ashland.oregon.localsguide.com/wp-content/uploads/2010/03/BlackSheepPubRestaurant40donmirror.jpg
383
510
Ellie Shine
http://ashland.oregon.localsguide.com/wp-content/uploads/2018/05/logo-1-300x76.png
Ellie Shine
2010-04-01 07:14:17
2011-05-09 16:24:56
Black Sheep