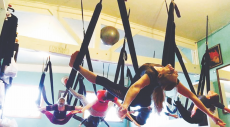 Now entering its thirteenth year, Inward Bound is a therapeutic movement studio known for its outstanding teachers and in-depth knowledge of the body. Inward Bound staff go to great lengths to help their clients transition from physical therapy to personalized exercise regimes to more challenging forms of group and personal exercise. In today's interview, I speak with owner Celina Reppond and meet her amazing staff!
Hi Celina, thanks so much for taking the time to speak with me today.
Thanks, Shields! Happy to!
Celina, to begin with, will you please give us a brief history and background to Inward Bound?
Inward Bound opened in 2007 as a Pilates, Gyrotonic, and Massage studio. Since then, the studio has gone through many iterations, mostly transforming into more and more of a therapeutic exercise center, offering more and more types of therapeutic movement that compliment each other.
Can you tell us what you mean by therapeutic exercise?
Therapeutic Exercise is more than getting our heart rates up, toning our muscles, and gaining flexibility. It's about moving wisely, from our centers, with as little tension as possible. Whenever we recruit unnecessary muscular tension to make motion, we burn extra energy and recruit the sympathetic nervous system which ties up the body's healing capacity.
When was the last time you were swinging, jumping, spinning, crawling, rolling, rocking, tumbling, and pointing? All of these movements stimulate inner ear motion, which is related to our ability to be attentive, hold focus, and learn. It's not such a stretch to understand that these kinds of movements help prevent the deterioration of those functions either.
At Inward Bound, various teachers are specialists in alignment, joint health, functional movement, breath work, etc. Creatively, we're helping people to move in safe and effective ways, but also just to move.
Children, at the age of 7, have a lexicon of around 7,000 different movements their bodies might go through in a day. By the time we're 15, that lexicon diminishes to around 700, due to social standards of what movements are acceptable and the activities we've decided to spend our time doing. By the time we're 30, it diminishes further to around 300, because we stop trying new things. We become comfortable in the things we do and we become identified with the movements we feel best showcase who we are. The problem with no longer moving in certain ways is that we stop experiencing the joy, the sadness, the excitement and all the feelings that once were associated with those different types of movement. We become more defined in who we think we are. We no longer explore new ways to move. We no longer explore new ways of being. We are animals. We need to move!
Does one need a referral from a doctor to come work with you?
People are often referred to us by physical therapists, doctors and chiropractors, but clients don't need to have a referral to work with us. The only modality we offer that insurance usually covers is Physical Therapy. Emily Dean Warren, our resident physical therapist, does not bill insurance, but is happy to provide you with a superbill that you can submit to your insurance company for reimbursement.
Please give us an overview of your services.
Pilates has a definite core-centered focus. Movements are designed to create proper alignment, breath, centering, control, precision, flow, integration, and concentration. Ultimately, they help students create more efficient movement.
The Pilates machines, the reformers and the towers, support the body like training wheels so that we workout in more proper alignment, and thus fire the correct postural muscles.
COREography concentrates on the movement experience, taking influences from modern dance conditioning work and Pilates fundamentals with mat work. Its organic patterned flow moves participants through structured choreography with a flow and grace of dance. COREgraphy was created by one of our very own teachers, Penny Blakeney.
At the heart of the Gyrotonic Method are circular and spiral motions, which balance the nervous system, and creates a sense of expansion. This method also focuses on the extremities and the constant flow and connection between two endpoints, which creates more communication in the joints, thus more fluid motion. Not only do the movements feel amazing, they are massaging our organs on the inside, which stimulates the flow of blood and chi (life force energy) throughout the body to every end point.           
When we use the gyrotonic machine, called the Cobra, the pulleys help us to move every joint into its fullest range with the slightest amount of resistance, about equal to that of water. This helps us to be strong and lithe in all positions.            
While anyone can enjoy the Gyrotonic Method, dancers and those particularly attuned to the inner workings of their bodies are often drawn to the challenges of the choreography combined with the deep connections we're trying to achieve.
Kaiut Yoga works primarily on the connective tissue to dissolve restrictions in and around the joints while teaching the nervous system to relax under stress. This combination resolves restrictions locally and has a resonating effect throughout the rest of the body. Movement begets movement and enhances blood flow, nourishing the body and removing toxins. The body is amazingly intelligent and can heal itself when given the time and space to rest.
Kaiut Yoga is a unique form of yoga to help regain joint mobility throughout the body no matter the age and experience of a student. It works by applying sustained pressure to joints while asking the nervous system to deeply relax. It has the capability to help students heal an array of injuries across the board. Students also report feeling calmer and experiencing increased mobility.
Aerial Yoga Rx begins to address different systems of the body. We hang very close to the floor, and the yoga swing suspends us in dynamic flow. The unique, floating positions, upside-down work, and compression from the fabric of the swing are regenerative and detoxifying for the endocrine, vestibular, lymphatic, and circulatory systems. The swing is able to decompress the skeletal system while strengthening the intrinsic muscles that run deep, along the spine, to support it. It also helps to hydrate the fascia.
High-Intensity Interval Training (HIIT) alternates between intense bursts of activity and fixed periods of less-intense activity. The idea is to get the heart rate to go up and down to burn calories. Bodies move through most functional movement; squats, lunges, rotation, press, pull, etc. In addition to feeling worked in the core area, students report that they leave feeling very much alive!
The goal of Mindful Movement Physical Therapy at Inward Bound is to give students the tools to facilitate the body's natural healing process. A physical therapy session starts with a detailed discussion about your specific needs and goals. Students are then taken through an assessment looking at movement patterns, posture, strength, range of motion, and appropriate special tests to identify how to best achieve goals. The session will continue with education about the student's condition, hands-on techniques if necessary, therapeutic exercise, and instruction in self-care. Students are assisted in developing the best treatment plan.
You offer so many services. How does someone know where to begin?
As Director, I can help guide people towards the type of exercise I think they might like based on what issues they're working on in their body and what goals they might have. Just give the studio a call at (541) 778-1746.
Celina, you are joined by an amazing team. Please introduce us to them.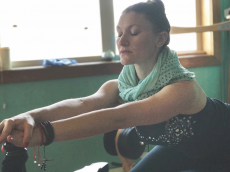 "As a second generation dancer, I trained at Miami Conservatory, under Thomas Armour, Robert Pike, Ruth Wiesen, and Nancy Raffa. At the nationally renowned New World School of the Arts, I studied with Judith Newman, Gerri Houlihan, Peter London and many others. Professionally, I performed soloist and principal roles with Ballet Rosario Suarez, directed by Cuban prima ballerina, Rosario "Charin" Suarez. For over twenty years, I have taught ballet for professional companies, conservatories, public schools, and outreach programs. Over the last seven years, I've choreographed and provided movement and intimacy direction for theatre productions at Oregon Shakespeare Festival, the Guthrie Theater, and Mixed Blood Theatre.   
I'm delighted to have added the Gyrotonic Method as another speciality to my movement background, as it's made a huge impact in my own health and wellness journey. I've trained with master trainers Mari Kasich and Rich O'Connor in both Miami and Minneapolis. Our bodies say so much about who we are and how we treat ourselves. I love witnessing how people can help, in almost all arenas, through movement. Additionally, I feel grateful to have discovered a method that emphasizes ease of movement and feeling good, instead of an old school 'no pain, no gain' mentality."
– Sarah Lozoff, Gyrotonic Instructor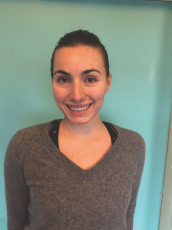 "Growing up as a dancer and performing artist I was inspired to gain a deeper understanding of body mechanics and healing through movement. I went on to study Kinesiology and worked alongside physical therapists who taught me a variety of techniques such as Feldenkrais, Bobath, The Franklin Method, and Muscle Energy Techniques, which I use in combination with Pilates to provide the ideal movement experience for my clients. After suffering a spinal fracture that put my dance degree on hold, I dove into studying rehabilitation by working at various physical therapy practices in California and Switzerland. I am embedded with experiences working with post-stroke, cerebral palsy, hypermobility syndromes, and post-operative orthopedic clientele.
I love that every session is as unique as each client. By moving in new ways we shape a deeper and healthier relationship with our body. I will encourage a client who moves quickly to refine their movements and invite a cautious mover to explore variety. I safely challenge each of my clients and help them gain the strength and awareness they need to thrive."
– Arianna Chapman, Pilates Instructor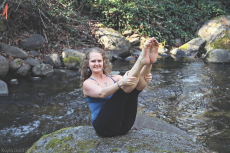 "I've been instructing Pilates for over 13 years now and I love seeing the way it positively affects my clients' lives. My goal as a Pilates instructor is to challenge my clients in the studio so they can get from point A to point B in their everyday life with ease. I'm a strong believer that Pilates and functional movement are for EVERYbody and no one is too old or too out of shape to start a Pilates program.
I have clients with a multitude of different injuries or ailments. You name it and I've probably worked with someone who has dealt with it. I'm inspired by the folks who show up for their bodies every day and continue on the path of moving freely and breathing deeply. My favorite part of being an instructor is when a client shares a success that happened outside the studio with me. A long hike they didn't think they could do at their age or regaining the ability to lift their child up after not being able to for many years due to low back pain. Those moments are why I do what I do!"
– Rainy Wright-Legg, Pilates Instructor, HIIT instructor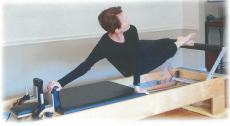 "I come from a modern dance background and through my movement explorations found the Pilates method through the dance community. This inspired me to merge the two so that it could be accessible to other people. What I came up with is COREography, a perfect union for anyone who enjoys the benefits of Pilates along with the freedom to move with grace."
– Penny Blakeney, Pilates Instructor, creator of COREography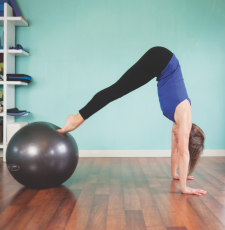 "I have been a teacher of movement since the mid-90's. I'm a licensed physical therapist, certified Pilates trainer, and registered yoga instructor. Nothing pleases me more than hearing a client say, "I was doing (fill in the blank) this weekend, and I heard your voice say (fill in the blank), and I was able to (fill in the blank) without discomfort. For example, "I was brushing my teeth this weekend and I heard your voice say 'hinge at the hips' and I was able to spit and rinse without discomfort." Or "I was hiking uphill this weekend and I heard your voice say 'feel your glutes' and I was able to reach the top without discomfort." I love the idea that my influence doesn't stop as soon as I'm out of sight, and that clients hear and integrate my lessons at the times when they will be most useful. I also love the "aha" moments when clients hear a cue in a different way and can fully embody vs. simply intellectualizing an instruction. I love it when an exercise that a group class has been struggling with clicks and I observe the beautiful energy of bodies moving in sync with perfect form. And I love when people are wowed by the depths that can be experienced inside their own bodies when they start to pay attention. And the list goes on… "
– Emily Dean Warren, PT, Pilates Instructor, Myofascial Release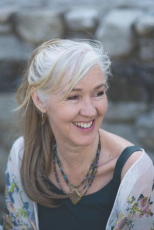 "Trained as an Advanced Rolfer in 1997, and I have always been fascinated with the peripheral nervous system. When I attended a Kaiut class in Boulder, Colorado in 2018, it was apparent that this style of yoga was the culmination of my interest in the nervous system and body alignment within a non stressful style of yoga. I moved to Boulder for a year to immerse and take the first teachers training in America with Fransisco Kaiut. I now offers classes Tuesdays and Fridays at 10am. All props are provided, wear casual clothes and no experience is necessary. First-time students quickly get comfortable with the practice. See you on the Mat!"
– Melanie Lancaster, Certified Advanced Rolfer, certified Kaiut Yoga Instructor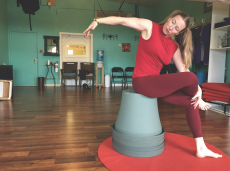 "From my youngest days I have been a mover. Starting as a dancer, competitive figure skater, aerobics teacher, weight lifter, snowboarder. In the last 10 years, my preferred forms of movement have become more subtle and energetic. I find that this sustains me more in my everyday life. Even though I still enjoy being strong, my need to challenge myself with great feats of strength has diminished and my attention has been on awakening my energy body and allowing that to guide me in what I might do that day. Kaiut Yoga helps me to balance from any injuries I'm working with. Pilates knits me together. Gyrotonic wrings out by muscles and begins circulating my chi. And finally, Aerial Yoga alters my state of mind.
My current intentions as a therapeutic movement instructor of 21 years is to not only introduce my students to a combination of modalities that best balances their system, but also to empower them listen to their own body and to respond in the most nourishing way for that particular moment."
– Celina Reppond, Aerial Yoga, Gyrotonic and Pilates instructor
What do your clients say?
"Three years ago I had the amazing opportunity to go trekking in Nepal. When I returned home my 53 year old hips were not in good shape to the point where sleeping more than a couple hours at a time became impossible. Someone suggested I connect with Physical Therapist Emily Dean and that has made all the difference! Emily started me on a physical therapy routine and after a few months I was feeling much better. She also does incredible deep tissue massage to help relieve pain, stretch muscles, and work out knots. Emily then suggested I might really enjoy and benefit from Pilates which she teaches and was she ever right!
Here I am having just celebrated my 56 birthday and feeling as strong and flexible as I ever have. Emily is a marvelous teacher and practitioner!  I highly recommend Emily for PT, Massage, and Pilates! You will benefit greatly!"
– Molly Kreuzman, visit mmvmt.com for more information
"I have always been curious about Pilates. As a woman who enjoyed working out with weights in a gym and taking various exercise classes since the 80's, Pilates was the logical next step at this point in my life, after some injuries required weeks of Physical Therapy. I was very fortunate to have a strong recommendation by a trusted friend. I signed on to work with Penny Blakeney 18 months ago initially as a private student before joining her beginners classes. My decades of experience with the fitness world made me realize, after only one session, that Penny is a very gifted and knowledgeable instructor. Her knowledge of the body is very impressive. Her Pilates exercises are based on excellent training, extensive ongoing research and a lifetime of experience in the movement world. She offers a fresh series of movements at each class requiring a concentration that I appreciate. She is dedicated to helping me understand and achieve the proper positions and form but is always mindful of any limitations or weaknesses.  Most importantly, I always feel very well cared for and safe in her classes. My body has healed in a new way. I continue to feel strengthened and confident under Penny's watchful eyes. Thank you, Penny…. over and over and over!!"
– Paula Silverberg, Pilates Student
"I travel domestically & internationally on a regular basis & the first thing I do is check out the local Pilates studios. Rainy gets a 10 out of 10! If you are looking for a solidly-trained, highly-experienced instructor who is sensitive to students and individual needs, then I highly recommend Rainy at Inward Bound in Ashland, OR. You won't be disappointed."
– *C*
"I appreciate Melanie's skills as a yoga teacher. She creates an environment of loving support while still challenging us to do a little better. I feel I always know what to do, and never have to ask myself, 'am I doing this right?' She always has a plan B, and C, if I can't do a pose. Her voice is pleasing and easy to follow, instructions are clear, and commentary never feels trite or too new-agey."
– Bruce Newman (Lama Bruce)
"If you're looking for self-care that incorporates movement but also feels like a luxurious spa treatment, try a Gyrotonic session. Sarah is an experienced teacher, hands-on, funny, and warm. You will leave feeling taller, longer, breathing deeper, wrung-out and activated but in a therapeutic way. I always feel restored and I am learning things about my body's patterns that I can apply to all my other movements. It doesn't matter if you're 'in shape' or dealing with injury or physical limitations, this type of movement incorporates range of motion exercises that will benefit everyone."
– Emily Alrick, fitness professional
"Celina not only has the technical mastery to teach me where to move from and with proper alignment, but she also helps me to track myself. I've become my own teacher. So now I can take any kind of class anywhere and I can gauge my own ability. I know how far to stretch. I know how much intensity I can handle. It's so freeing!"
– Sandra Wilson, dancer
Celina, where do you see therapeutic exercise headed as we move into the future?
I think we're going to become much more interested in how our bodies feel on the inside and less on how they look on the outside. From a health perspective, I think we're going to begin to assess and treat not only our muscular and cardiovascular systems through exercise but all the others as well – circulatory, digestive, lymphatic, endocrine, nervous, and electromagnetic.  And it's not going to be work! It's going to be play!
Celina, what are the next steps for one who is interested in learning more?
You can call the studio, which is also my cell phone – (541) 778-1746.  I recommend doing this before jumping into a class unless you've had previous experience with that particular modality. You can also go to our website:  InwardBoundAshland.com.
Learn More:
Inward Bound
258 A St. #12, Ashland
InwardBoundAshland.com
(541) 778-1746