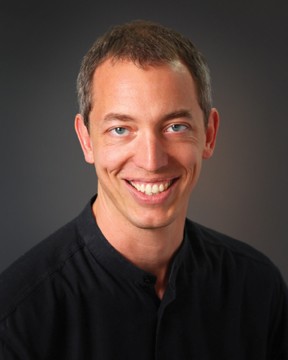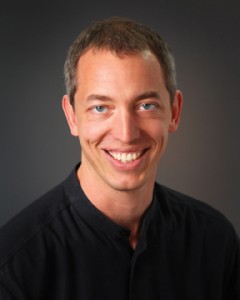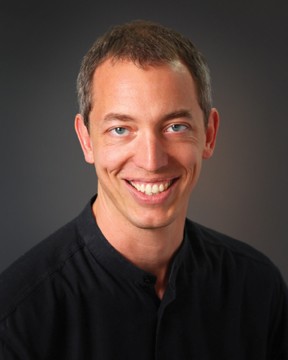 Tell us a little about your training and the focus of your work.
Chad:  I practice acupuncture and Chinese herbal medicine with my wife, Leslie Shanai, at People's Choice Acupuncture Center.  We were both trained in Hawaii by Daoist master, Dr. Chang Yi Hsiang.  She emphasized excellent clinical skills as well as the incorporation of herbal medicine with acupuncture.  I became interested in acupuncture after it helped me recover from a back injury I sustained in my early twenties.  In fact, it blew my mind at the time (and still does) that those tiny needles could have such a powerful effect.
What brought you to Ashland?
Chad:  I met my wife in Hawaii and loved living there but knew it wasn't home for me.  We moved to the mainland in 2002 with our one-year-old daughter, Althea, and began the "looking-for-home tour." Leslie had been in Hawaii for 16 years and would have been happy to stay there forever but we both knew the instant we drove into Ashland that this was the right next step for our family. We've been thriving here ever since.
What is your favorite part of this community?
Chad:  I love how enthusiastic people are about pursuing their interests.  My friends, acquaintances, and clients just wholeheartedly throw themselves into whatever they're doing. Work, play, it doesn't matter. There is very little "lukewarm!"  I find that refreshing and inspiring.
What is unique about the way you practice at People's Choice?
Chad:  Leslie and I were the first in the area to offer "community acupuncture," that is, group acupuncture sessions.  This option makes ongoing treatment more affordable, which is great because chronic complaints often require diligence and consistency to achieve lasting results.  Of course, we also offer individual sessions.
The community model allows greater scheduling flexibility, right up to last minute, which some of our busy clients really appreciate. Our Wellness and Tune-up Packages are also very popular and offer our patients convenience as well as value. And we get a lot of positive feedback on the results, both short and long term.
What do you enjoy most about your work?
Chad: Watching people get better, definitely!  Pain and persistent symptoms drain your energy, while feeling healthy is such a natural treasure.  My greatest satisfaction is getting to play a part in helping my patients rediscover their natural birthright of abundant energy and a bright mental outlook.  I also love that we have discovered how to offer an effective service in a way that is affordable to most people.
What sorts of conditions can acupuncture treat?
Chad:  Acupuncture may help relieve any health problem, due to its systemic balancing effect on the body and mind. In fact, the World Health Organization lists dozens of conditions acupuncture has been proven to help – from pain of all types to anxiety, digestive disorders, and hormone imbalances. Acupuncture assists the body to communicate better with itself and with the natural world, which enables the body's natural intelligence to take care of the healing process.
Now the inevitable question: does acupuncture hurt?
Chad:  It's agonizingly painful.  Just kidding!  I often joke about that because it's such a frequent question (whether voiced or just thought), and most first-timers find themselves hugely relieved when they discover that the sensation is no big deal at all.  In fact, most of our clients relax deeply or even fall asleep during sessions.
Is acupuncture safe?  Are there possible side effects?
Chad:  Acupuncture has a several thousand year track record of safety and is currently used regularly by over a billion people world wide.  And yes, it does have side effects – all of them positive!  I'll explain what I mean with an example.  A patient came to me for tendonitis of the elbow.  After a few sessions she reported that not only was her elbow pain resolved but she was sleeping better, and her allergies were less severe.  She didn't even mention those problems on her first visit, but acupuncture helped them anyway due to its balancing effect on the whole body.
What other services do you offer at your center?
Chad:  In addition to acupuncture, we stock a complete Chinese herbal powder pharmacy and we custom blend our herbal formulae on-site to exactly match the conditions of the clients we serve.  We've learned that herbs are an important and often indispensible adjunct to acupuncture therapy. We also offer therapeutic hot stone massage which relaxes and stretches specific areas of chronic muscle tension and speeds recovery of muscular-skeletal conditions.
For those who are ready to take a more active role in discovering and maintaining ideal balance in their lives, we offer qi gong classes.  Qi gong exercises are unparalleled for their ability to gently and naturally open the body and further strengthen and integrate the effects of acupuncture.
From your professional experience, what do you prescribe as a recipe for perfect health?
Chad:  Many of our clients are already very sophisticated and proactive in how they approach their health.  They're careful about what they eat, exercise regularly and often have a meditation practice.   However, they may be overlooking what I believe is a key ingredient – is the harmonizing effect of unstructured "fun time".  Especially with the fast pace and stress of a busy lifestyle, making space every day to do something purely for enjoyment's sake is essential to balance, happiness and well being.  It could be as simple as taking a walk, daydreaming, or having a meaningful conversation.
People's Choice Acupuncture Center is located at 1640 Siskiyou Blvd.  Open Monday through Friday.  Phone: 541-482-1060.  www.PeoplesChoiceAcupuncture.com