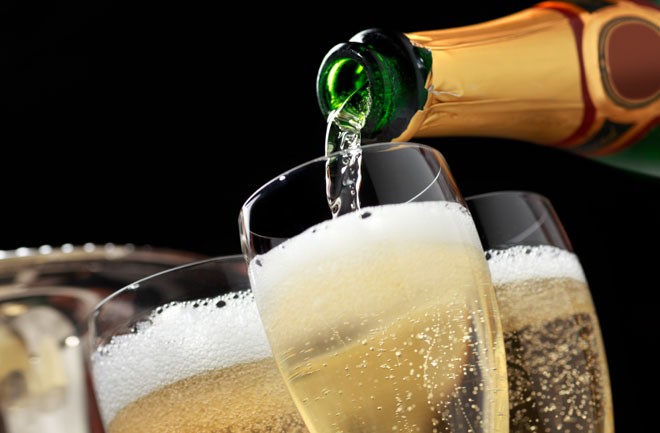 Whether you call it Champagne, bubbly, or shimmer wine, sparkling wine is a delicious, invigorating treat. The carbonated beverage is made all over the world, and can be far more complex than the simple sparkler used for wedding toasts. For your next special occasion, treat yourself to a new kind of bubbly, reaching around the world for a local variety that may knock your socks off.
Champagne, the king of sparkling wine, is a proper name given to sparkling wines from the Champagne region of France. Some countries regulate the use of the name, yet some continue to allow sparkling wine produced in other places to masquerade under the distinguished title. Check the bottle carefully; if it doesn't say that it's made in Champagne, France, it may still be good, but it isn't Champagne. Made since medieval times, the French drink is composed almost always from Chardonnay, Pinot Noir and Pinot Meunier grapes, and typically has a dry, complex flavor.
Prosecco is the name of an Italian grape and the sparkling wine it creates. Meant to be served quite cold, Prosecco is noted for its naturally dry characteristics and slightly bitter aftertaste. Italy is also well known for another sparkling wine that is frequently served with dessert. Asti Spumante is made from the super sweet Moscato Bianco grape, also used in Muscat wine. Due to the sugar content in the grape, Asti Spumante has a delicate sweetness and is a fantastic complement to cheese and fruit, or heavy cakes.
For a night of paella and gazpacho, complement your Spanish fare with the delicious local sparkling wine called Cava. Available in dry, medium and sweet versions, the drink is traditional in Spanish celebrations like baptisms. Cava pairs wonderfully with traditional Spanish food and can add a new level of authenticity to Spanish themed dinners.
Sparkling wine is undoubtedly a party drink, but can be enjoyed anytime. Whether toasting the bride and groom or just enjoying a nice afternoon on the deck, it adds a layer of fun and tradition to any occasion. Your choices in sparkling wine are much wider than simple Champagne, and well worth exploring.
Brian's pick:  Toffoli Conegliano Valdobbiandene Prosecco Extra Dry.  Pale straw-yellow color with fine and persistent beading. Full, crisp, elegant and fresh.  $19.95
Lisa's Pick:  Rock Wall Blanc de Blanc Sparkling Wine from California.  This elegantly dry yet fruity effervescent wine reminds me of a crisp Granny Smith apple with a touch of honeysuckle flower and subtle orange finish.  $22.95
Comments