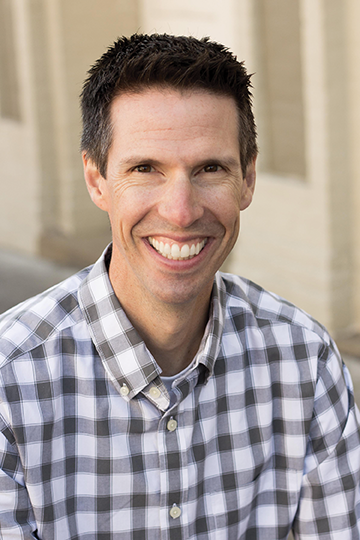 Dr. B, thanks for talking with us today. Can you tell us how you became interested in dentistry and why you love it?
It's my pleasure. My story in dentistry started when I was about 17 years old and had a youth leader at church who was an orthodontist. He was an amazing example to me in both work ethic, and dedication to his family. However, when I went to Mexico City, on a dental outreach mission, I noticed there were no orthodontists on the trip. I'd say that's the moment I realized I wanted to do general dentistry, and be able to help patients in many areas of dentistry not just straightening teeth. I love it because I enjoy solving problems, helping people, and providing a new sense of confidence to my patients.
Now, you are not a new graduate. Where were you practicing dentistry before moving to the Rogue Valley?
Yes, I've been practicing dentistry for several years. I started working in and around Kansas City, Missouri after graduation. I worked for an office that was amazing at helping new doctors gain skill and confidence in advanced procedures like Invisalign orthodontics and molar root canals. I took these skills with me when we moved to Santa Fe, New Mexico and began working with older pediatric patients as well as adults. We began looking for our forever home in summer of 2018 and I started researching the Rogue Valley, specifically Ashland. We have several friends and family members in Oregon and we fell in love with the city of Ashland almost instantly. The precise moment? That was when we first walked through Lithia Park. We both knew this was the right place for us. I feel very blessed to have been able to meet Dr. Warr and find that his practice, patients, and team were exactly what we were looking for.
We know you have a life outside of dentistry. What are some of your hobbies and interests that fill your time when you are "out of the mouth"?
I most enjoy having fun with my family. We have three boys and seeing them try new activities is a rush of excitement. The two younger boys have started snowboarding in the last couple years. I started skiing three years ago and I really have fun with it! I'm excited to be in the mountains and have so many different options for skiing that are all so close. I love being outdoors and enjoying the beauty of nature. Sometimes that means a family hike, cycling with my boys or mountain biking. I guess I should also mention that I have a growing collection of Hot Wheels, specifically movie and TV show cars.
You have a family, could you tell us a little about who they are?
Absolutely! Emily is my sweetheart and we've been married for 18 years. She and I were engaged after only 6 days of dating. It's a story we love to share. We have three boys, Daniel, Dallin and Darren. I was hoping for the last one to be named with an "S" so we could have a "DDS" but my wife thought that was a little too silly. Emily has a B.A. in fine arts with an emphasis in graphic design. Accompanying her artistic talent, are her floral design skills. She is amazing at wedding arrangements! Daniel is 17 and enjoys acting and all things theater. He's very excited about our new relocation to a land of Shakespeare. When he's not acting, he's a fantastic cyclist. Last summer he and his grandfather were part of a bicycle ride across the state of Iowa, more than 428 miles long! When we went to Florida last year, Danny tried surfing and loves it. Dallin is 14 and our computer whiz. Anytime we have a network to set-up or devices to link, he's the go-to support center. Dallin is also the mountain-biker of the family. Darren is 10 and he's our crazy maniac sports enthusiast. After watching the Winter Olympics last year he's vowed to snowboard like some of his heroes. He loves to try new sports and he's one of those guys that's pretty good at whatever he tries.
What is your favorite part of or procedure in dentistry and why?
This is a really great question because I really love so many different procedures in dentistry. There is certainly an artistic component to dentistry and I love that. I think that's why I get so much joy and satisfaction watching patients light up when they look in the mirror and see that the trust they put in my work was well placed. I love making people smile. That can be from the immediate pain relief that comes from completing a root canal, polishing up the newly placed veneers, or even being able to eat again with a new set of dentures.
What is your philosophy of care in dentistry?
Before I answer this, I think it's crucially important for patients to understand how important the principle of having a philosophy really is. A doctor's philosophy should be the guiding star to all they do. It defines the care they will provide and that patients, in turn, receive. Often you will find new dental offices popping up, with corporate owners, which fail to have a strong philosophy in place. The patient's best interests should always be paramount. To this end, I developed what I call "Lifetime Care":
The most predictable, longest-lasting treatment, that delivers the maximum savings of both time and expense in our office.
When patients come into Today's Dentistry I want them to know I'm not only thinking of what may look and feel good and work now, but what's going to keep working, keep them out of our office (even though we love seeing our patients!), and keep them out of pain in the future.
What do you wish everyone knew about dental care?
This is fun to answer, I wish everyone knew how much dental office teams care about the patients. Before we even begin the day we talk about the cases that day, what patients like, and how we can help them to have comfortable experiences. When you come in we are excited to see you and hear what new things you've been a part of. We truly enjoy having lasting relationships with our patients.
Dr. B, any last words of advice or insight that you would share with our readers?
Thanks, yes one last thing: I want to acknowledge Dr. Warr's legacy. He is a pillar in the Ashland community. He's been an amazing mentor to me and has deep feelings for the patients. On more than one occasion I've witnessed him get a little emotional when speaking with his patients about the times they've had together. The goal we've both had during this time of transition is to make it as seamless and easy as possible for patients to continue to receive the excellent care that Today's Dentistry has been known for. I look forward to becoming a part of the Ashland family and meeting so many new people.