Today's Dentistry
Dr. James Burneson – Today's Dentistry – Insights into Implants and Invisalign
After only a few short months, Dr. Burneson and the team at Today's Dentistry have really started growing and it's time to bring on another dentist! More good news, it's Dr. Ed Warr! Dr. B and Dr. Warr are looking to propel Today's Dentistry into a strong cosmetic and surgical-centered practice, providing Ashland's patients with the experience they've had to travel for in the past. In today's interview, we talk with Dr. B about the clinic's continued focus and expansion into dental implants and Invisalign procedures. We talk about the benefits of these treatments and discuss the ongoing continuity of care and excellence that Today's Dentistry has gone above and beyond to achieve over the past 11 years!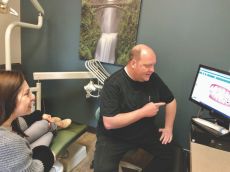 Dr. Burneson, hello and welcome and thank you for taking the time out of your busy schedule to talk with us today!
It's always great to catch up and I'm excited to be back in the LocalsGuide again! We have a lot of new things going on at the office, and I can't wait to share what we've been up to. Dentistry is ever-evolving and I think it's important to keep the community informed of the latest news and exciting things in this field, you get it, I'm a dental nerd. There's no question, the biggest news that I'm super excited to share is that we have brought Dr. Warr back to be the head of the surgical side of our practice.
Well, that sure is exciting news to have Dr. Ed Warr joining you again at Today's Dentistry!
Absolutely! Having Ed back is the most amazing blessing. The office remained consistently busy from my first day, and I felt early on we were going to grow beyond our current one-doctor size. While I was ruminating about what we would do, and who we would need, I kept using Dr. Warr as the standard. When I found out that he was planning on staying in the valley for a while longer, it was a no brainer! I had to get him back! I think many times in life we look to mentors to help us get better, hold us accountable, and give us genuine guidance. That is the definition of Dr. Warr. Ed has a unique way of inspiring you to perform at a high level while challenging you to learn more and keep improving. Dr. Warr obviously brings an incredible amount of experience and has been a wonderful help in getting me settled in the practice.
I can't wait to talk about all the new things at the office, but you're right, having him back is the best part.
Let's talk about the growth and direction of the practice. Where are you guys now and where are you going?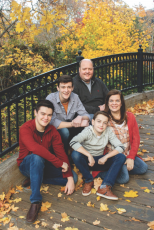 Great! This is really exciting! For over a decade, Today's Dentistry has been the practice hundreds of Rogue Valley residents have found to be the leader in dental implants. In order to maintain that edge, we have implemented two new tools in the office to help with diagnosis and treatment. A cone beam 3D scanner and an iTero intraoral restorative scanner. We live in the future! Sometimes I feel a little like James Bond with all the gadgets that make things so fun. While we don't have a submarine car, we can now eliminate the need for goopy impressions that many patients have hated for years! We can also see oral anatomy in 3D allowing us to provide better, more precise treatment.
Dr. Warr and I really want to point the office toward being the leader in surgical dental implant placement and maintenance. Along with that vision is the ability and expertise to handle implant complications. There are many different implant companies, brands, sizes, and shapes spanning nearly 40 years. We want to be the office where patients and even other dentists can come to solve the problems that may arise with dental implants.
Wow, that sounds great and as I understand it you are currently engaged in additional training at the moment to assist this growth.
Correct! I finish my last surgical course at the Misch Implant Institute on the 7th of this month, where I will earn a Fellowship in the International Congress of Oral Implantologists. In the short span from May of last year to now, I've finished over 100 hours of continuing dental implant education. I plan on continuing my training earning Diplomate status and Board Certification next year. Dr. Carl Misch literally wrote the book on dental implants and I've wanted to take his course for at least 9 years. Dr. Misch passed away in 2017, but his legacy lives on. The new director of the Misch Implant Institute, Dr. Randy Resnik worked with Dr. Misch his entire career, and is a fantastic educator. While it's easy to find a dental continuing education course on implants, offered just about every weekend, the Misch Institute teaches more hours of clinical experience than any other course. I'm also ecstatic because it's the only course that gives participants specific training in dealing with severe implant complications.
I've also committed to earning 15 continuing education credits per month for the next 3 years. This will help me earn a Fellowship in the Academy of General Dentistry. It's a prestigious organization that focuses on making good dentists better, and great dentists excellent. Next time you're in the office, ask me what I've learned recently. I'm happy to share!
Finally, we have just reached Silver Tier Status with Invisalign. We love to help patients find the smile they've always wanted.
I love to attend courses and study groups that discuss orthodontic therapies. The technology now available is making it easier for general dentists to have superior outcomes through clear aligner therapy, but more on that later.
Dr. Burneson, you are then physically expanding the practice to have an additional room. Tell us about that.
When I bought the office, six of the available eight operatory rooms were equipped to serve patients. I always felt that the ability to sustain growth in our current location was one of the most attractive aspects of Today's Dentistry. Ed and I knew that it wouldn't take long before we'd need to put another patient chair in the office to keep up with the patients.
Our new room will be first and foremost a consultation and exam room. I've thought about calling it our "Implant and Invisalign VIP Lounge" but the jury is still out on the title. This is where conversations about implants and Invisalign treatment plans will be taking place. When completed, by the end of March, we'll have a room where patients will feel comfortable asking questions and be able to see the entire plan before we begin. When not being used for consultations, it will be used for regular exams and to prep patients for their cleanings with the hygiene team. We know it will help increase our workflow and efficiency.
Ok, down to the technical talk. What are the key details we need to know about dental implants and why is Today's Dentistry and your team best suited to assist with this procedure?
Shields, this is the meat (or tofu) of this whole interview. First the technical side: Patients have a choice when it comes to who performs the placement and restoration of implants. Yes, please bold out those words, because they're incredibly important. Implants are the sterile titanium surgical interface that are placed or affixed to bone in the mouth. Bone actually heals around them through a process called integration. Usually that takes between 3-6 months. After integration the implant can be restored with a prosthetic tooth. While many specialists can place implants, the decision to restore is usually left to the general dentist.
Placement
Before an implant is placed, the doctor should absolutely take a cone beam 3D scan to evaluate the patient's bone height, width, and depth before placement. Other anatomical structures like sinuses, nerve and vascular canals are also verified. This has become the standard of care. Implants placed without being able to see where they're going can lead to very unfortunate circumstances. Thankfully, we now have this imagery available in-house! (See the back cover!). A surgical guide is then fabricated to make the placement as accurate as possible. Then implants are able to be surgically placed in-bone.
Restoration
The restoration is definitely the most important part to patients because this is when they get their teeth. Once integrated, we can take digital or conventional impressions of the implant and the adjacent teeth and gums. These enable us to get the correct size and shape of the patient's teeth so that the lab will know how to properly design the prosthetic tooth. We partner with dental labs right here in the Rogue Valley as well as wonderful national dental laboratories to achieve excellent functional and esthetic results for our patients.
But why us? Today's Dentistry has two providers with extensive implant training that follow very strict standards of care. While we can manage complications that arise, we work to actively avoid any complications from the start. We have the ability to see the entire plan from start to finish and begin with the end in mind. We already have an idea of what the teeth will look like after we review the first 3D scan. We have specific measures to evaluate 3D images, we have a protocol for placement and a regimen for restoration. We anticipate your body's bacterial load and have a pharmaceutical plan for pre and post-operative surgery. We can help patients manage pain: first with profound local anesthesia and post-operatively with prescriptions designed to achieve the best outcomes for our patients.
We do all this because, at the end of the day, we treat our patients exactly like our own family. Both Dr. Warr and I have placed implants on family members and they were done with the exact same standards each and every patient experiences. When you're our patient, you're family.
Dr. Burneson, what are the biggest challenges you hear about from patients when choosing to go down the dental implant path?
I didn't even have to think about this one. This biggest challenge by far is overcoming all the incorrect information regarding implants portrayed in commercials and on the internet. There are so many commercials promising "teeth in a day." While implants have a very high success rate when done properly, there are still cases that have unexpected outcomes. Implants can fail! Especially if they've been poorly or minimally designed. For example, if someone gets a denture supported by 4 implants and one of them fails, well now you have the equivalent of removing a leg from a chair. It may still work, but it's unstable. We might dedicate an entire article on why implants fail in a future edition. Patients absolutely need to be aware that maintenance and proper cleaning of implants are still required.
The second challenge is having patience. Implants are a healing process. It can take a while for the process to be complete. Some patients heal faster than others. During the wait, patients often need to wear a removable prosthesis which can be tolerated and give good esthetics, but very rarely do we ever hear patients say they miss wearing it when it's gone. In the process of implants, please have an extra measure of patience.
What role will Dr. Warr be playing in assisting in the clinic? I know that he has extensive experience and training in dental implants.
Great question! Dr. Warr has been trained extensively in the surgical realm. He is comfortable removing wisdom teeth, gingival soft tissue grafting, surgical extractions, and of course, implantology. His role is to truly bring the surgical side of the office online.
To that end, he has just completed licensure for IV sedation and we hope to begin offering that service to our patients within a couple months. He'll rarely be seen working on crowns, bridges, and fillings and instead be focused on deeper, operative treatment.
Another key focus of Today's Dentistry is Invisalign. What is this and how does it work?
Absolutely, I'm really excited to be bringing Invisalign to Ashland with even more focus and ease than before. So shifting gears from restoring missing teeth with implant dentistry we have found that many patients have a smile they aren't proud to share. We offer Invisalign clear aligner therapy for patients desiring to correct a misaligned smile. While there's certainly a benefit to having orthodontics completed when we're younger, we find many patients can have crowding, spacing or crooked teeth become a problem as years go on. My focus in using Invisalign is to 1. Create a stable bite, 2. Improve the ability to clean teeth with regular oral hygiene, and then the last priority usually falls in line when the first two are met, 3. Improve esthetics.
Invisalign is a series of clear plastic trays that sequentially move teeth until the desired result is achieved. Brackets and wires, diets without your favorite foods, and the impossibility of flossing during braces aren't a problem with Invisalign. I use computer aided design to develop a ClinCheck, or a virtual model of teeth movement from start to finish. When a patient sees what their new smile can be, the fun begins! Aligners are 3D printed and the entire case is shipped to our office. We deliver the trays and then see the patient back about every 6-8 weeks for follow-up and to deliver new trays. When treatment is complete, we educate the patient on retainers, and develop the best plan for how they can maintain the smile they worked so hard on. It's a lot of fun!
During a preliminary Invisalign consultation, I determine the extent of treatment the patients will need. We discuss what the patient's expectations and goals are. We talk about the benefits and the limitations for Invisalign. I feel most comfortable helping patients with mild to moderate orthodontic needs. However, treatment that we find will exceed about 18 months will be referred to one of our wonderful orthodontists. I'd love to give a shout out to Dr. Dana Schmidl at Schmidl Orthodontics who just achieved Board Certification in Orthodontics. Congrats Dana!
Dr. Burneson, how is your family doing and how has the transition into Today's Dentistry been going for you?
Shields, it's been amazing! Daniel is about to graduate high school and he plans to serve a 2 year mission for The Church of Jesus Christ of Latter-Day Saints, afterwards attending BYU-Idaho. Dallin is finishing his first year of high school and Darren my 5th grader has made a ton of new friends and is excited to be starting middle school next year. We have had some fun exploring the valley and the coast. Darren and I made it up to Mt. Ashland and Mt. Shasta for some great skiing and snowboarding. Emily and I have fun finding new places to eat and play in Ashland.
The transition has been wonderful. Many dentist colleagues of mine have related horror stories of problems with offices they have taken over. We haven't experienced that at all.
Can you share some recent success stories with us?
I can think of a few really big cases that have had dramatic effects on improving the smiles and self-confidence for those patients, but those are relatively rare. Instead I think I'd like to share a story from a pediatric patient I saw yesterday. She had an accident, and knocked a front tooth out of place. It was the end of the day and I knew she needed to be seen right away. When they arrived at the office, she was in pain, her parents and a grandparent all came to the office and were extremely worried. She was very brave! We were able to get a small x-ray and verify indeed it was a baby tooth and the adult teeth were safe and still growing. The options were explained to the parents and the patient left the office with a tooth that was a little wiggly, but no long lasting worries.
We can often be surprised at situations that life brings us, but it's how we're prepared to meet those situations that determines our response. In dental school I think one of the most common responses I heard from faculty when something didn't go correctly was, "Expect the unexpected!" I used to hate that response! What they were really saying was, prepare for all possibilities, and you can be confident that you will be able to address any complication.
I think that's where the peace of mind comes from with our patients. They know that we've spent time going over and over outcomes and scenarios to predict the best treatment plans.
Congratulations on all the great work you are doing!
Thanks Shields. Dentistry is very rewarding because we get to truly change people's lives through their smiles. It's not always a pretty start, but we always help patients get to a beautiful finish.
Finally, are there any last thoughts or comments you might like to share with our readers?
THANK YOU! We love when we hear patients' responses to our articles in the LocalsGuide. We're happy that we have so many positive reviews online and on our website. We are always accepting new patients and look forward to being able to meet new people every day. If a patient ever has questions regarding dental insurance, implants, Invisalign, or would just like a second opinion, please feel free to call our office!
Learn More:
Today's Dentistry
Dr. James Burneson, DDS
Dr. Ed Warr, DMD
1530 Siskiyou Blvd, Ashland
www.ashlanddentist.com
541-482-7771
Comments