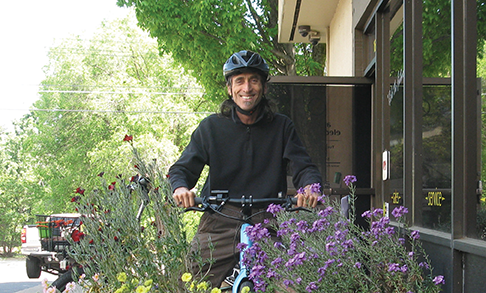 The following is excerpted from an article in Fast Company Magazine by Eillie Anzilotti.
"Last year, Miryam Liberman retired from her internal medicine practice in Westlake Village, California, where she had worked for more than 30 years. But before she left, Liberman, 65, was issuing subtle prescriptions to her patients by example. Every day, she would commute back and forth to her office, over 12 miles away from where she lives, on an electric bicycle. Doing so improved her health and quality of life so much that she started to tell her older patients to do the same, and some of them now ride e-bikes, too.
"It wasn't just using the bike in getting to work; it was using the bike in going shopping, in meeting up with friends, in going to the movies," Liberman says. "And I started to see things I'd never seen before in my community; I could literally smell the flowers because there were no closed windows of an air-conditioned car. It opens you up to your community, your body, to other friends, to continuing to learn."
Liberman is not alone. E-bikes are especially capturing the older market, many of whom have found that e-bikes enable them to ride much later in life than they previously imagined. That's because the extra push from the motor makes pedaling far less strenuous than traditional bikes.
Liberman's purchase of an electric bike "came after years of searching for how I could ride again." She was in a car crash that resulted in back issues and constant pain. She tried to ride a conventional road bike during her recovery, but found that the strain on her body was too much. "My dream was to be able to ride to work," she says, but her commute was littered with hills. On the new e-bike, she barely noticed them." As Liberman says, "While the concern, as people age, is often the walls closing in on their lives, being out in the community on a bike opens up your world.""
The advantages of an electric bike are so great that you really owe it to yourself and/or someone you love to check it out. You'll be smiling in no time. We promise!
Comments