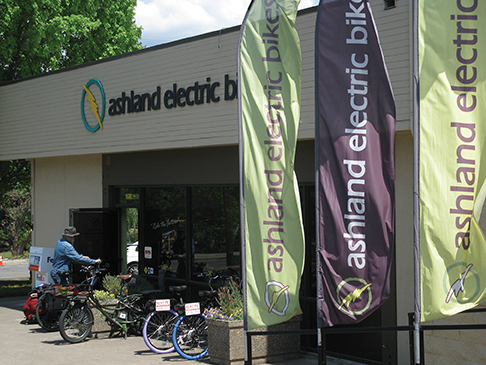 If you've heard about electric bikes and are wondering about their value and/or necessity in the overall scheme of things, consider the following stories. They're about real people that I've had the pleasure to work with through the years. Their stories are compelling and inspirational:
Polio took its toll on Clint at an early age. In spite of that, in his early seventies when we first met, he was accomplishing more than many men half his age. However, one thing he couldn't manage was the combination of strength and balance necessary to ride a bike. With patience and determination he succeeded in test riding one of my first custom e-bikes. The bike sold itself and now he and his wife travel throughout the west with their bikes in tow, taking sunset rides together again.
Christy was born with a debilitating condition that required her to use a walker to move about. When she came to see me in her early teens she had never experienced the joy of riding a bicycle. Mom or dad and the family car were her only option for leaving the house. We helped her onto an electric trike and proceeded with a series of test rides, first with me riding on the bike with her and next by walking along beside her. With each lap around the parking lot she became more animated and enlivened. By the third lap I couldn't keep up with her anymore! The timid, hesitant girl that climbed out of the car was now smiling and emboldened in a way that every teenager deserves. These days she rides around her neighborhood exploring the world with a degree of autonomy and independence that she never experienced before.
Jerry has been riding bikes almost as long as he's been walking. However, years of extreme mountain biking, telemark skiing, and a couple of motorcycle mishaps have taken their toll on his body. Unfortunately, it is impossible for him to ride a regular bike anymore without a great deal of pain. However, his electric bike allows him to ride almost daily, twelve months of the year, enjoying one of his greatest pleasures and maintaining his commitment to a low-impact lifestyle.
For these three people, and many more, electric bikes are an opportunity for freedom, mobility, and adventure. It's an eco-friendly way to move in the world to accomplish the things we need and want to do. Whether its personal challenges or planetary concerns that motivates you, electric bikes can help you realize your goals. Come test ride the future – its here now!
http://ashland.oregon.localsguide.com/wp-content/uploads/2016/05/2016_June_AshlandElectricBikes2.png
365
486
Ashland Electric Bikes
http://ashland.oregon.localsguide.com/wp-content/uploads/2018/05/logo-1-300x76.png
Ashland Electric Bikes
2018-09-26 20:30:48
2018-09-26 20:30:48
Electric Bikes Change Lives