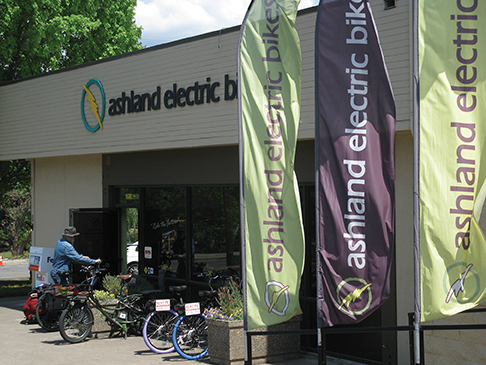 The following excerpts are from a CBS News article about electric bikes:
"Want to feel like a kid again? Hop on an electric bike. No one climbs off of an e-bike without feeling happy, enthusiasts say. More and more Americans are trying out this health-conscious and environmentally-friendly way of getting around.  "Freedom.' That's the word I always hear when people tell me about how they feel riding an e-bike," said Don DiCostanzo, the co-founder and CEO of Pedego Electric Bikes, in Fountain Valley, California. DiCostanzo and other e-bike makers, retailers and users told CBS News that e-bikes are not what most people think — they're not a small motorcycle or electric scooter. "Think traditional bicycle frame with a small battery-powered electric motor that's fueled by pedaling. You jump on and ride like a regular bike, but when you hit a hill or get tired, you can switch on the pedal assist, located on the handlebars, and it gives you a little boost. It turns off when you coast."
Michael Kelley, 73, a mountain biker-turned-e-mountain biker from Berkeley, California, told CBS News, "The e-bike has enabled me to ride long distances with friends I hadn't been able to ride with for years due to age. The years have moved on and I've gotten slower and as I've gotten older it's been harder to keep up." Kelley, who started biking when he was 40, now owns two e-bikes. An environmentalist, he often uses one or the other to run brief errands. "For distances of two or three miles it certainly beats riding around in a car," he said. He's outfitted one with a few racks to carry groceries and other purchases. "I'll run to the hardware store, to the library a mile away up the hill, to the markets. I love it because I don't have to worry about parking. I just lock it somewhere," he said. "It's a social endeavor, a fitness endeavor and it gives me fantastic, incredible life-altering experiences in nature. I'm continually humbled by the beauty I see," he said."
It's great to see e-bikes getting more and more coverage in the mainstream media. Hardly a week goes by anymore that I don't see another online article or segment on a TV talk show or newscast. The U.S. along with the rest of the planet is discovering how this latest evolution of the bicycle is bringing the benefits of cycling to more people than ever before. Come visit us and find out why for yourself. When you do, everybody wins!
Comments