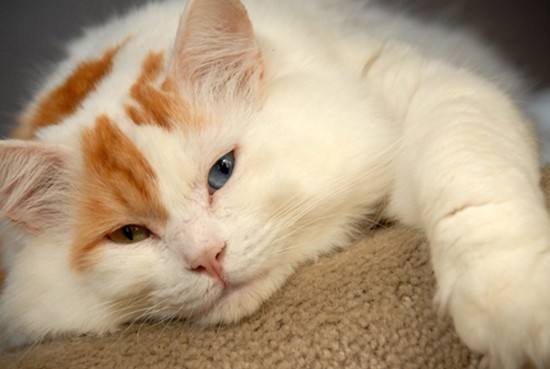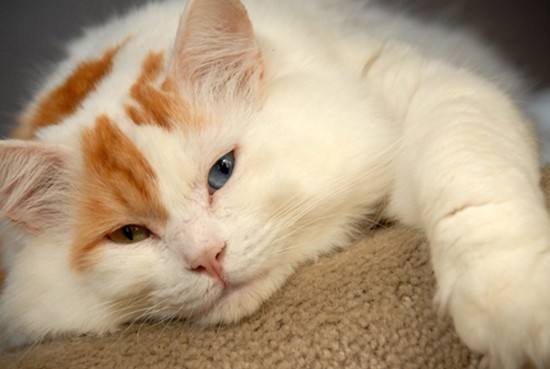 It was over a decade ago when Fred the cat walked into the warehouse of a local Ashland business. The scruffy tabby quickly won over the staff with his big eyes and engaging personality. Since that fateful day, these wonderful people have generously seen this alley cat through kidney disease, hyperthyroidism, urine crystals and arthritis. Fred the cat has many friends, or shall we say "staff."
Months ago, a lump was felt on Fred's neck. A biopsy of the lump showed it to be a malignant cancer. Surgery was performed on Fred to remove as much of the cancer as possible, which was a challenging procedure because the mass was located right between his carotid arteries. It was too widespread to cure.
Fred, true to his nature, did not worry. He went about his usual routine with no idea that this tumor was a ticking time bomb.
Then suddenly, one day Fred was unable to walk.  Given his history, this was likely a metastasis of the tumor to his brain. A stroke was the other serious possibility. Either way, the prognosis was grim. Fred, however, did not appear to be in any pain.  One of Fred's fans at the warehouse took him home. Janelle took care of his every need – helping him to eat, drink, and even carrying him to the litter box.
Instead of getting worse as expected, Fred slowly improved. Rallying his tenth life, Fred made a miraculous recovery. At some point, the cancer will worsen, but for now, Fred is living a great life. Every day, Fred happily commutes to work with Janelle and they listen to music on the radio.  Apparently, Fred prefers Baroque music, however he is not a fan of Tchaikovsky or the Beatles.
Hospice is a concept that is well known in the human medical field. When a patient can no longer be cured, the priority becomes comfort and quality of life.
Most hospice care for animals is inexpensive and may encompass cleanliness, pain management and nutritional support. Many treatments can be given at home under the supervision of a veterinarian. This may provide days, weeks, or even months of precious time together.
In the past, veterinarians have been quick to recommend euthanasia when a patient can no longer be fixed. With advances in medicine there are alternatives, especially for pets that have become family members and are enjoying life. Carpe Diem!
Comments