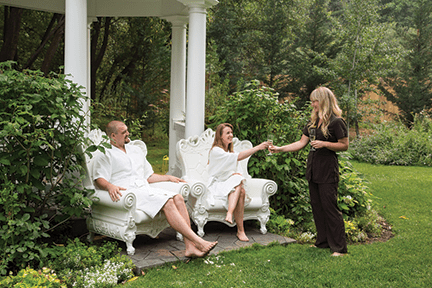 Even though July and August have brought us sultry summer days, the garden at Lithia Springs Resort of Ashland offers a cool and shaded oasis and a breath away from busy, chaotic lives.  Fountains, a burbling creek and a welcoming koi pond, tucked in amongst quaking Aspen trees present opportunity to rest, reflect and savor nature's music.
August also celebrates gardener John turning 84 years young and the very heart of a father/daughter team that bring 12 years of loving-care to these healing, sanctuary gardens.  As the daughter part of this team, I have been gifted with nearly 20 years gardening professionally with my father and the lessons are many:  A steady, focused pace accomplishes much.  Never compromise bad preparation for new plantings or rush a project, as each installation is for now and the future.  Never put tools away dirty.  Equipment well maintained performs better and lasts longer. Proper gear makes the work more enjoyable, especially a proper hat.  Keep your ears covered.  Sturdy, comfortable shoes are a must! "Irrigate and then cultivate" – an adage that goes far towards making the work easier.  A positive attitude and sense of humor are the cornerstone for each new day and a quiet approach to the work day is more pleasant for everyone, though we do make a bit of noise on mow day and try earnestly to minimize the impact on our guests.
Though the years are beginning to rob my father of some parts of the memory process and the names of plants begin to blur or disappear, the dedication to excellent work, ethics and pride in a job well done stand undiminished.  To this day it is hard to beat what this man accomplishes in a day's work.  It has become apparent to me that if you live a life of conscientious commitment to excellence, continued self-enrichment and personal growth through challenging yourself with new experiences and concepts, you establish a routine of well-being that age cannot destroy. My father has observed that some of his peers and neighbors aren't "doing so well" and suggests if we stay active we'll be healthier and happier, even if we become more forgetful.
My father and I are committed to an organic, pro-active approach to gardening and believe strongly in feeding the soil, building the foundation for a healthy, vigorous garden.  Lithia Springs garden provides a diverse ecosystem for birds, bees, butterflies, squirrels, deer, turtles, fish and more in addition to respite for all who discover us and come to stay over and over again.
Thanks much, "Good Job" and Happy Birthday Dad with love from your gardening partner and daughter.
* Read Our Interview With Doug & Becky Neuman in This Issue – Page 1