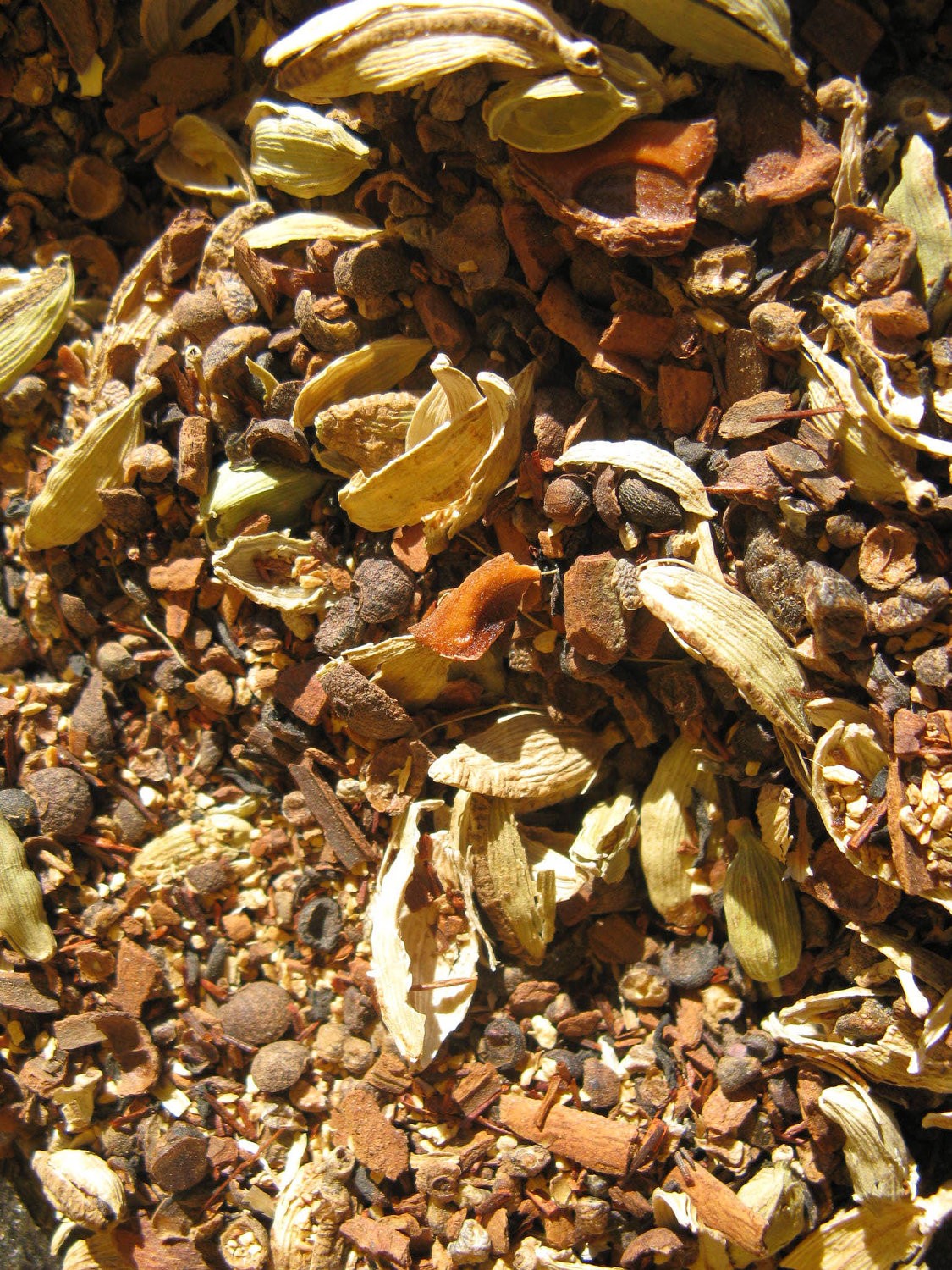 I just have to take a moment to rave about Heartsong Chai and their people. At the AIFF fundraiser I won three jugs of Pepperbrew and four boxes of chai in the silent auction. I had to go to Heartsong, in front of Shop 'n' Kart, to pick them up. First of all, the young man who helped me made the experience so great that I'll go back just because of him. While I'm pretty sure he gave me his name, I'm sorry to say I don't remember it. But he was so fun, and so upbeat, and so generous of spirit that I found myself with a huge smile on my face while browsing the shelves as he retrieved my auction spoils.
I was thrilled to load up the back of my car with clinking half-gallons of various colors and flavors of the pepperbrews and vividly colored boxes of loose chai that I'd bid on and won. (I'm a loose tea snob, so I couldn't wait to try them!) No sooner had I gotten home than I busted open the Habanero Pepperbrew. (Well, not literally, silly! It's glass!) The flavor combination of spicy (but not too) and sweet (a definite honey flavor) was mind-blowing. It danced and sparked on my tongue before sliding smoothly down with nary a tingle on the back of my throat. The Dragon brew was just as delightful, with a tart yet sweet bite that takes my mind off everything else around me. I have yet to tap the Mate Fire; I'm saving it for a special occasion. I'll know it when I see it.
I'm living off the loose chai teas. The Rooibos is my favorite; I drank this rich, red sliver-looking tea years ago and it's modernized with Heartsong's unique Chai blend of spices. While I find the Hemp Chai needing help from honey, the other flavors are quite satisfying and flavorful. I'm a new fan and I'm hooked!
If you haven't visited the Heartsong storefront on Ashland Street, I strongly urge you to drop in and say hi. I have no doubt they're all as friendly and warm and helpful as the young man who took care of me. Could you have him stop by The Phoenix and remind me of his name? I'd ask for him again.
http://ashland.oregon.localsguide.com/wp-content/uploads/2008/04/il_fullxfull.287168912.jpg
1500
1125
Jessica Vineyard
http://ashland.oregon.localsguide.com/wp-content/uploads/2018/05/logo-1-300x76.png
Jessica Vineyard
2008-04-04 09:27:44
2013-09-17 23:00:14
Heartsong Chai