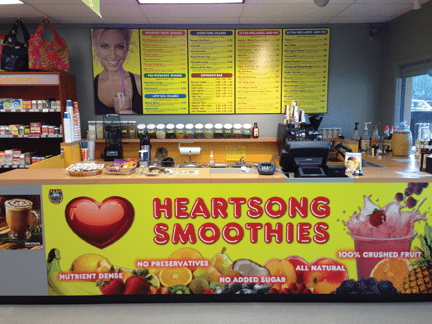 Heartsong continues to come out with healthier smoothie choices which can really make a big difference to your health goals. In one 20oz. drink you can receive a full day's supply of vegetables and fruits, protein, vitamins and minerals, enzymes, and fiber while tasting delicious! Heartsong Smoothies are not just the juice of fruits and vegetables but contain the whole fruit or vegetable. When you consume the whole plant in liquid form with the natural fiber, you are doing part of the job that the mouth and the stomach normally does. The liquid food is able to leave the stomach faster to enter the small intestine resulting in higher/faster absorption.
Our newest additions to our extensive smoothie list are the Super Green Monster, a Weight Loss Special, a Detox/Cleanser, and a Heart Miracle Smoothie.
In a perfect world, before modern industrial man overpopulated it, there were sufficient nutrients in the ecosystem that would perfectly supply us with all of the vitamins, minerals, amino acids, essential fatty acids and compounds necessary for our bodies to maintain vibrant health. But now, with 80,000+ man-made chemicals in the environment, over-farming, genetically engineered crops, pesticides and herbicides, and other industrial wastes—it has become necessary to supplement our diets with concentrated nutrients. And the best place to find these nutrients are in organic, low temperature or freeze dried concentrates of green super foods.
At Heartsong, we use 100% crushed fruits and vegetables, spray-dried organic super food boosters, potent liquid multi-vitamins, raw honey, cold-pressed virgin plant oils such as hemp oil,  flaxseed oil, and marine oils.  All of the oils that we use in our smoothies are fresh and refrigerated.  We source out organic milks such as hemp, almond, coconut, and soy, and a variety of proteins—including whey and whey isolate, soy, and raw sprouted grain protein.
Try our smoothie formulas or custom make one made exactly to your own specifications. We can do it, and for a reasonable price.