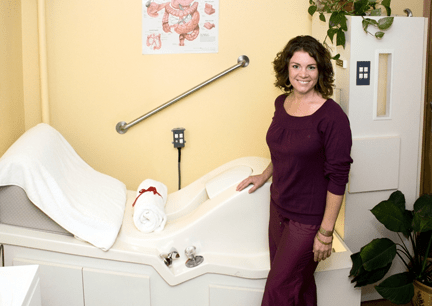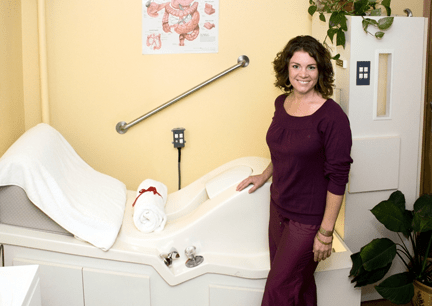 We spoke with Helen Mahoney who offers Colon Hydrotherapy at the Hidden Springs Wellness Center.
How did you get into such an unusual field as Colon Hydrotherapy?
I began experimenting with cleansing and natural healing 13 years ago to address my own health challenges.  I learned that colonics, or colon hydrotherapy, can be a powerful step in truly healing the body.  Healing cannot happen unless the body is clear of unwanted waste.  It is a major part of my wellness program, keeping me in good health despite a chronic illness.  Because it has made such an impact in my own life, I'm incredibly happy to offer the service to others.
What are some of the benefits?
I have seen clients get significant relief from back pain, impaired immunity, headaches and premenstrual syndrome, ease irritable bowel symptoms, and significantly improve chronic constipation.  It is a crucial part of any detoxification program, assisting the body in removing toxins.  I also offer colon hydrotherapy as an alternative preparation for colonoscopy.  Many people report that colon hydrotherapy is more comfortable than the traditional laxative preparation, and new studies are showing that it can be more effective.
What inspired you to practice in Ashland?
I was born in Ashland.  My husband, Devin, and I both grew up here.  We met at Briscoe Elementary School! I spent 10 years in California, where I studied massage, colon hydrotherapy, and natural healing.  I really wanted California to be home but when I returned to Ashland in 2003 I instantly knew that this was where I would stay.  Devin and I reconnected shortly after I returned, and we started our family.  I love this community, both professionally and personally, and my whole family is very happy here.
Some of our readers may not know what Colon Hydrotherapy is. Can you explain how it works?
Colon Hydrotherapy involves the very gentle infusion of water into the colon or large intestine via an FDA-approved and regulated medical device.  The flow of water is slow enough to allow water to gently flow into the deepest part of the colon.  Water is a medium that hydrates and loosens debris, stimulates peristalsis  (the body's natural muscular movement that stimulates bowel movements) and can produce a complete evacuation of the colon.  In each session, my goal is to strengthen the body's natural ability to expel waste.
What should your clients expect when they arrive for an appointment?
After checking in with our front desk professionals you may have a cup of tea as you fill in your intake form.   You may then spend ten minutes in our fitness center on one of our K1 Vibrational Therapy machines. This immediately increases circulation and stimulates your lymphatic system.
Then we go to my private treatment room, where we will speak briefly and go over your form so I can learn about your specific health concerns.  The colon hydrotherapy session will last about 45 minutes, during which time we will fill and empty the 5 feet of your colon numerous times.  I use an open system, which means that the waste empties into an open basin. Your body is always covered and there is no odor as the system constantly flushes waste away.
My clients are made very comfortable, enjoying hot packs for the abdomen, aromatherapy, and nutritional counseling.  I teach strategies for wellness that anyone can use every day.  After the colonic, most of my clients enjoy our infrared sauna, cold plunge tub, and private showers.  I love offering the use of our full Detox Center at Hidden Springs.  You may also enjoy a Sacred Clay bath and steam shower along with your colon hydrotherapy.  We offer many services to aid in full detoxification.  This is a comprehensive cleansing program!  I make sure that my clients are fully supported in their cleansing, whether during a single colonic or a series in combination with a complete detoxification program.
How important do you think Colon Hydrotherapy is in creating overall health?
Clearing the colon of debris can contribute to a substantial improvement in health, but true healing occurs when we address many levels of wellness.  I consider all of the pathways of elimination to be equally important.  However, when we empty the colon, the small intestine is triggered to release waste, which stimulates the liver and gall bladder to flush.  We can get a deep effect with a simple therapy.   In this sense, colon hydrotherapy is an important part of a whole health strategy to create true and lasting wellness.  I certainly encourage my clients to make lifestyle changes in order to minimize their exposure to toxins, eliminate toxic build up with periodic cleansing programs, and promote health with nutritional supplementation.
What part of your work do you enjoy most?
My clients!  It brings me so much joy to witness the significant improvements they experience.  It inspires me to see how even the most challenged person can change their life with just a few simple steps.  I received an email this week from a client who thanked me for literally changing the course of his life. When he left my office he was more relaxed than he had been in years, and the effects of that one session lead to many changes in the following days.  It really is an honor to assist my clients along their journey toward better health.
What do you like to do when you are not at Hidden Springs?
My children and our dog keep me very busy at home!  I enjoy hiking and biking and rafting with friends on the weekends.  We camp a lot in the summer.  I love this valley and all that it has to offer us.  I also enjoy my time at home, creating gardens and cooking and experimenting and one of my hobbies is graphic design.
Throughout December and January, Helen is offering $10 off the price of her colonic sessions.  Call Hidden Springs at (541) 488-8858 to schedule.  More information and an animated video can be found at www.ashlandcoloncare.com