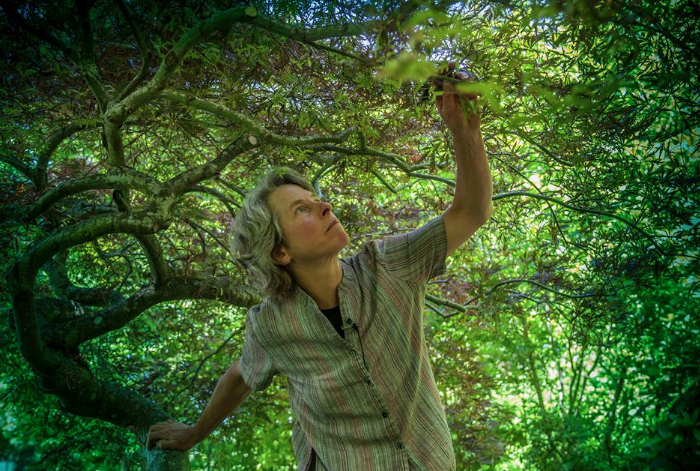 I'm Jule Silverwood, Aesthetic Pruner
I'm taking root in the Ashland area after several years of familiarizing myself with the people, culture, and horticulture of the Rogue Valley—long enough to see that there is a need and appreciation for the services I offer.
I love how people here value nature, health, creativity, innovation, and how they cultivate home. I'm looking forward to becoming a settled part of this community!
For the past 17 years, I serviced a regular pruning clientele in both the SF Bay Area and Portland where I've followed my passion for and honed my skill in the craft of Aesthetic Pruning.
I'm pleased to bring these skills to my new clients in Ashland. In the future, I plan to offer educational events with presenters from the Aesthetic Pruners Association­—introducing the community to the philosophy and practices of this horticultural craft.
A three-layered background in pruning
1984 – BS in Horticulture: focus on Landscape Design & Fine Gardening, with a magnetic attraction to the art & science of shaping plants through pruning.
1995 – Certified Arborist: fascinated by modern tree biology discoveries, my pruning practices were updated radically!
2004 – Certified Aesthetic Pruner: found the agreement between traditional Japanese pruning practices and modern tree biology; Deepened the aesthetic, architectural experience of pruning; and introduced the visionary, evolutionary aspect of crafting living, woody structures to enhance garden design.
Altogether I have over 40 years of horticultural background that includes organic farming, landscape design, installation and maintenance, as well as a special focus on pruning garden-scale trees and shrubs up to 15 feet. Specialties include Japanese maples and pines, dogwoods, lilacs, & espalier fruit trees.
How I work with clients
I endeavor to inspire, educate and elevate people as we discuss creative solutions. I enjoy drawing out my clients, helping them clarify the feeling and function they want to cultivate in the green shelter surrounding their homes.
julesilverwood.com
http://ashland.oregon.localsguide.com/wp-content/uploads/2017/10/Screen-Shot-2017-10-25-at-4.28.29-PM.png
471
700
Jule Silverwood
http://ashland.oregon.localsguide.com/wp-content/uploads/2018/05/logo-1-300x76.png
Jule Silverwood
2017-10-25 16:29:56
2017-10-25 16:29:56
Hello Ashland!