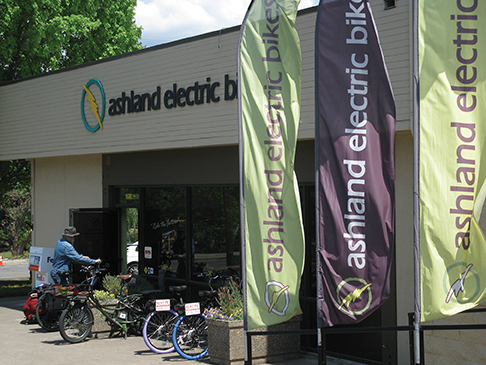 Well, the monstrous winter that we were dreading (or dreaming about) didn't quite materialize this year now did it? All the precipitation has been surely appreciated and the colder temperatures seem to be behind us. The early portents of Spring are nudging forth in gardens all around town. For dedicated bike commuters its a welcome turn of the yearly wheel. For the rest of you, maybe its time to start thinking about bicycles again!
As we begin our eleventh year serving the needs of our region it's great to see the momentum building for electric bikes in all categories. Different folks are finding varied uses for their e-bikes. Entrepenuers are hauling tools and equipment, mom's are shuttling kids to school, parents are considering their teenage childrens' first e-bike rather than a car, and even trail riders are enjoying the increased range and capability that's available with electric assist. Everyone you see gliding past with smiles on their faces have discovered how much fun it can be to travel 'greenly' about town and turn every trip into a pleasurable adventure.
As the U.S. continues to embrace e-bikes in a bigger way, the industry is expanding offerings that are tailored to our specific desires. We Americans love power and speed, so bikes destined for our soils are endowed with more of both than their counterparts in Europe and Asia. Here in Ashland that's especially helpful with our profusion of hills to be navigated. Now that those hills are clear of ice and snow its time to get out and ride.
So, if you own an electric bike, schedule your Spring tune-up to be sure that your ride is ready for the season. If you haven't taken the plunge just yet, its also a great time to explore your options. Days at the shop are more relaxed than they will be in a short while, so we can be extra attentive with you, and most of the new models for this year have arrived. Come see what the e-bike buzz is all about. Experience how much fun being a part of the solution can be on two wheels!