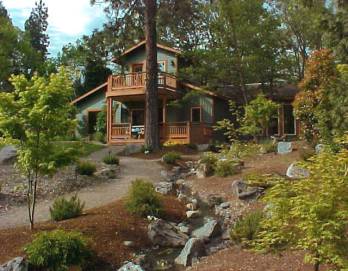 Welcome Oona! The practitioners and staff at Hidden Springs are delighted to welcome esthetician Oona Johanna Meade onto our team of wellness practitioners. Oona offers organic facials, waxing (for both men and women), lash tinting and body scrubs. She also offers a nourishing kombucha-based skin care line called Komboona, which will be available exclusively at Hidden Springs.
What we love about Oona:
Here's what we already love about having Oona (daughter of mythologist/author Michael J. Meade) on board: She combines her professional treatments with visionary intentions. That's right up our alley, leveraging the powerful mind/body connection. Oona does this by customizing affirmations and visualizations for each client's personal wellness path.
Where did Oona come from?
She moved here from Seattle in 2004 to accept a position in hair/makeup for our world renowned Oregon Shakespeare Festival, where she continues her involvement by teaching workshops on theatre makeup through Southern Oregon University's Shakespeare outreach education program. Oona has also taught at The Imani School of Esthetics in Ashland and works on local film projects, most recently The Walk In, which was in last year's Ashland film festival. This past season, Oona taught theatre makeup to intergenerational classes of the worldwide Road Scholar program, based in Boston, Massachusetts. Oona has three daughters – Stella, age 11; Zoë, age 8; and Nellie Lu, age 6. You might have seen her riding through town on her orange Yuba Mundo cargo bike.
What is Oona passionate about?
Oona loves helping bring out the natural glow and feeling of optimal skin health for residents and visitors alike. Her interest in alchemy for the skin developed early in her youth. After 15 years of experience in the beauty industry – from print work, fashion, and runway in New York and Seattle –  she developed her own line of products,  a natural next step. The inspiration for it came in one magic moment.
The conception of Oona's products:
Oona was home one evening and her three young daughters were asleep. She opened her dark refrigerator (the light had never worked) and as she reached for a bottle of kombucha, the light came on! In the refrigerator, and inside her! An idea was conceived: "If I'm putting this delicious drink in my body for its anti-aging properties and constitutional balance, why not put it ON my body too, since our bodies absorb whatever we put on them?"
Komboona – the name came from combining Kombucha and Oona together – was born in that moment. What followed was an alchemical evolution that eventually developed into her five-product, pro biotic-based skin care line.  With good fortune (and intention!) Komboona will soon be offered in Whole Foods throughout Washington, Oregon and parts of California. As she likes to say, "This product is so fresh and natural you can eat it!"
October specials with Oona:
Oona is excited to join the Hidden Springs team, and integrate her esthetician practice within the cornucopia of wellness practices.  Come and meet Oona in October when she is offering two specials during the month. The first special is 10% off on her facials with hand held galvanic. They are normally $100, but in October they are only $90. The second special is 10% off of any of her Komboona skin care products. Her hours are Mondays, Tuesdays, Thursdays, and Fridays, from 9:30am to 2:00pm, and every other Saturday from 10 to 7. You can book Oona by calling Hidden Springs at 541-488-8858.