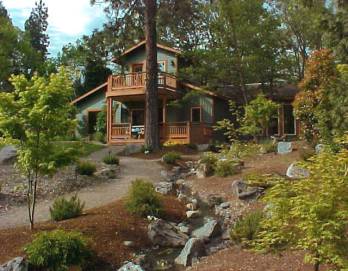 Hidden Springs has been providing holistic health care services in Southern Oregon for 13 years now. We asked the owners, Rod and Brooks Newton, to tell us about their unique healing facility, a rejuvenating sanctuary in the heart of Ashland.
How did Hidden Springs come about?
Brooks: Back in the late 90's, we were teaching health classes and seminars in our home and ran out of room for all the people who were coming. We decided to build a center and found a great lot downtown near Ashland Creek. We had already signed the papers when the realtor told us that the owner's sons didn't want him to sell. The realtor said we could legally hold him to the contract, but we respected the sons' wishes. So, we released the contract, and trusted that something else would show up.
Rod: Are we glad that we did! The realtor called several weeks later to say that he had found a place he thought might work even better for us. It was located (hidden!) behind the Ashland Shopping Center, with tall trees and a pond. I thought, "Yeah, right. We've lived here for 15 years and I know there is nothing like that behind the Ashland Shopping Center." Well, we walked onto the property and were instantly blown away! It was real — tall trees and a pond. Talk about a hidden gem! I think our first words were, "Where do we sign?"
Brooks: We learned that Native Americans had met here to resolve conflicts between their tribes. Now it seemed destined to become a place of healing in the community again. A friend with strong intuition noticed what he felt was a "power spot vortex" so we sat together there and asked the land what it wanted to have happen. We also invited several elders skilled in guided imagery techniques to help us journey into the future for a glimpse of what might be. We all saw the same thing — powerful harmony amongst a staff of holistic practitioners. A healing team. That was the priority then and it remains the priority today.
Rod: That vision expanded our original intention, which had been to build a place just big enough to do our work. But we kept hearing: "Build it bigger!" It really was one of those "if you build it, they will come" kind of things. Although it was a financial stretch, we trusted the guidance and built twice the facility we had first planned. That created some anxiety the first year, until the "they will come" part began to happen, which it did in a hurry!
What was your biggest surprise?
Brooks: We didn't anticipate how much of a community center Hidden Springs would become. We rented out the larger rooms, when we weren't using them, for weekend and evening events, and it was heartwarming to see how many groups quickly adopted Hidden Springs as their community home — groups like the Mankind Project and the Rose Circle.
What all is offered at Hidden Springs?
Rod: If it has to do with genuine healing, maintaining health, and expanding consciousness, it's probably happened, is happening now, or will happen soon at Hidden Springs!
We have twelve practitioners offering Naturopathic Primary Care, massage, colon hydrotherapy, personal coaching, fitness training, yoga, and house inspections for health factors. We have our own natural product dispensary and offer classes in communication skills, detoxification, personal effectiveness, and functional fitness. We have a fitness center that includes a holistic health spa with infrared sauna and cold plunge. But the truly unique feature is how the practitioners work together to support everyone's clients. I don't know of another health center in our area that offers the synergy of services that we do, with such a team spirit of heartfelt cooperation.
Are there any other unique services that Hidden Springs offers?
Rod: Our biannual, spring and fall, 28-day cleanse has become very popular. We also do a Four Day Fabulous Fat Flush Cleanse Class (great for losing weight) several times throughout the year, and we offer The CHI Practice through weekend trainings, evening classes, and private coaching. The CHI Practice helps people create what they really want in their lives using their own life force.
Brooks: I'd like to add something about our Fitness Center. It is small and quiet, and open 24 hours a day, seven days a week. It's not for everyone – some prefer the bustle of a busy environment, or more equipment that a larger facility offers. But our members absolutely love it!  Most of the time it's like having your own personal gym, either to yourself, or with one or two other members present. We have everything a person needs for a great workout, no matter what their fitness level is — kettle bells, medicine balls, bosu balls, free weights, weight machines, treadmills, elliptical machines, and bicycles. Plus, we are the only fitness center to offer oxygen while you exercise, whole body vibration plates, and an infrared sauna with a cold plunge. You can even drink oxygenated water while you work out!
Rod: Every Monday morning at 10 and Friday morning at 11:30, the place really rocks! That's when our trainer, John Hacker, does his fantastic group functional training classes. Talk about positive energy! And every class is different. John's program provides cost effective personal training where you can learn new ways to train and get a great, fun workout with other people.
You haven't said too much about how beautiful
Hidden Springs is.
Brooks: It is! Sometimes people just wander in to sit on the grass and have lunch or watch the geese in our pond. We owe a big thanks to our master gardener, Paul Garber, who keeps the place in such wonderful condition all year round.
Rod: I feel that Hidden Springs stopped being so hidden when we mobilized the community during the cell tower debate a few years ago. It was remarkable to meet so many people who expressed their appreciation for Hidden Springs, which they felt was their place. It was fulfilling to realize how our decision to expand beyond our own living room has created such a valued community center.