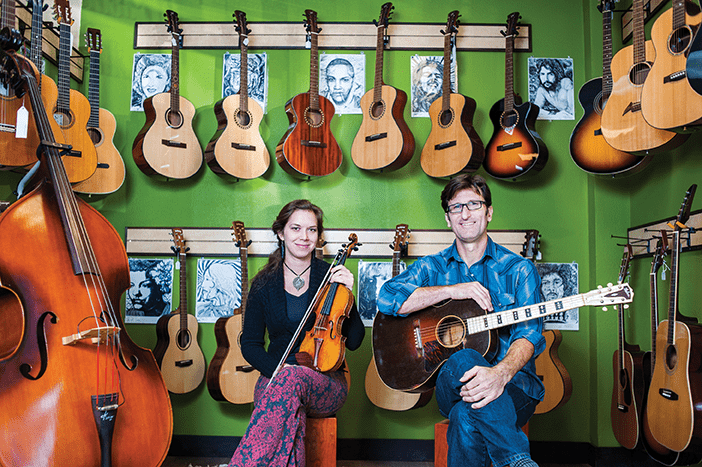 Hello everyone! All of us at Hilltop Music Shop would first and foremost like to thank you for the
incredible support we received during our grand opening on December 5th! We had a blast –
our little store was packed with amazing musical people all day, we had abundant food and
drink, and saw lots of familiar faces as well as many new ones. We felt incredibly lucky to have
the opportunity to become part of this wonderful community by serving the needs of those who
love and want to make music. Thank you for the warm welcome!
For those who may not be familiar with us yet, we are a new music store in Ashland which just opened at the beginning of September. After purchasing what was formerly Fretwell Music, we have kept the crucial model of a friendly, community-oriented music store while improving the physical space, adding lots more inventory, and ramping up the repair services offered.
Our inventory includes a wide array of instruments for every budget, all of great quality. We have a great mix of acoustic guitars, from starter instruments to rare and hard-to-find vintage pieces, to selections from cutting-edge new guitar companies that give the big brand names a run for their money in quality, looks and price! We have an incredible electric guitar and bass section, along with an array of amps and pedals that will knock your socks off!
Our ukulele selection is the best in the valley, and includes fantastic deals on quality beginner instruments to extremely rare and and high-end ukes for the discerning player. You are invited to check out our vintage and new four and five-string banjos, mandolins, vintage drums, hand percussion, violins, and a comprehensive selection of strings and accessories for most instruments.
Need to do something with that instrument that's been collecting dust under your bed for years? We buy, sell, consign, and trade musical instruments and gear, so bring yours to us for evaluation. Need a restring, setup, or more extensive repair? Our capable team can take care of that, with a quick turn-around time and reasonable rates! We offer guitar, bass, and violin lessons at the shop, or can refer you to a teacher for any other instrument. If you would like to start playing music in a social setting more often, you can come to our weekly bluegrass and folk jam session on Monday nights from 6:15 to 8:30. All levels are welcome.
We look forward to meeting you and supporting you in your journey with music. Stay tuned!
Hilltop Music Shop
1652 Ashland St.
Ashland, OR.
(541) 482-7745
Check out their website here