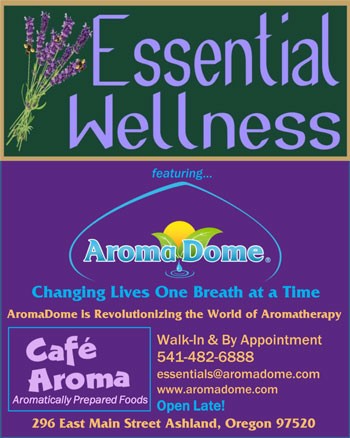 Introducing a brand new, all organic, vegetarian, gluten-free, one-of-a-kind cafe in the heart of Ashland – next door to Bloomsbury Books.                                                                                                                                                                                                                                                                                                                                                                                                                                                                                                                                                                                                                                                                                                                                                                                                                                                                                                                                                                                                                                                                                                                                                                                                                                                                                                                                                                                                                                                                                                                                                                                                                                                                                                                                                                                                                                                                                                                                                                                                                                                                                                                                                                                                                                                   
Everything we serve from the tangerine, spearmint, and black pepper salad dressing gracing our mixed green salad with pine nuts, mandarin oranges and optional goat cheese, to our unique hibiscus tea, accented with orange, lemon and cinnamon – everything is loving prepared with Young Living Essential Oils. Our famous, most popular, lemongrass soup will not disappoint!  Made with a split pea base, potatoes, coconut milk, celery, cilantro, kale and sprouted non-gmo tofu, this aromatic wonder is beautifully accompanied by our sourdough oat chia bread.
And did I mention our delicious smoothies? Well these are to live for! Rejuvenate yourself with our vanilla nutmeg smoothie made with almond or coconut milk, frozen banana, protein powder, vanilla, agave and nutmeg oil or our most delightful Ningxia Red juice smoothie made with an ounce of Ningxia Red juice, a whole cup of blueberries, frozen banana and orange oil.  What's Ningxia Red? – the highest quality goji berry from a remote, pristine region of China.
We have just added Cleopatra's Breakfast, a new absolutely delicious black bean dish with red & yellow peppers and onion sautéed with bay leaf, thyme & cumin oil on top of a gluten free, non-gmo, organic corn tortilla topped with organic melted cheddar cheese. You will moan in sheer delight through every bite!
What is so special about adding pure essential oils to our food? First off, in order for any essential oils to retain their medicinal compounds, they MUST be grown, harvested and distilled absolutely properly. Otherwise, all you get is a product with fillers, added chemicals and maybe at most, a nice smell. But when essential oils are made properly in integrity, you can literally feel your body's frequency & vibration rise! As the owner of Essential Wellness, I love to watch people begin to eat our food. At first they are amazed at the delicious flavor, but then people start to get happier and filled with more life force energy. Cooking with Young Living Essential Oils not only makes food more nourishing, it creates a higher vibration food. My intention of opening Café Aroma at Essential Wellness was to provide our community with a place that would go beyond "organic" food and be a place that nourishes bodies, brains, emotional and spiritual bodies.  
Ask anyone how they feel when they first walk into Essential Wellness. The unique ambiance of hand-painted silks, chandeliers and walnut wood community table come to life in this sacred space. We also have the AromaDome Wellness Center where you can lay in your own personal dome and experience the effects of containing diffusion of Young Living Essential Oils. One must truly experience this to understand its power. But I will say that the transformations in the AromaDome have far surpassed what I had imagined. Next month we will focus this blog on our Essential Wellness Educational Loft, where we offer amazing classes like AromaYoga and in-depth essential oils classes!  
Essential Wellness
296 E Main St.
(541) 552-1244
Check out their website here