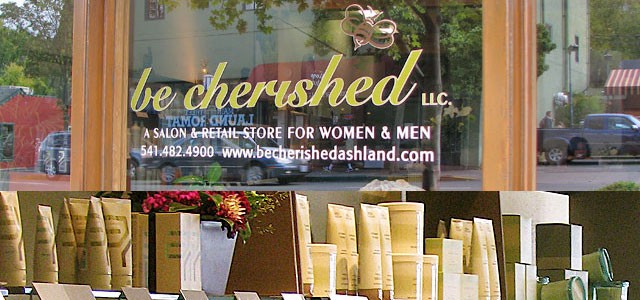 I have been working in salons and spas for the past 5 years and have always had easy access to spa services, such as facials. Every time I saw a guest walk out of the facial room relaxed, skin glowing, I would think to myself, "Why don't I get a facial?" For some reason or another, I always put it off. Now I regret it! I have no idea why I ever put this soothing, skin rejuventing service off? From here on out, I will be receiving facials on a regular basis.
In my mind, I thought a facial consisted of a facial massage, some steam, cleansers, creams and painful extraction. To my surprise, it was so much more and without any pain! My facial was performed by my lovely coworker, Tiana, who has been an esthetician for 8 years. She is professional, knowledgeable and has a calmness about her that made it easy for me to relax. I chose a level III facial, which lasts 1 hour and 15 minutes. As I got settled in the cozy esthetics bed, Tiana asked me about my skin issues and concerns. I told her my main concerns were the fine lines around my eyes, the dryness I experience this time of year, and my uneven skin tone. Tiana took this information and tailored a facial that met my individual skin care needs.
My facial began with warm towels being wrapped around my neck, face and upper chest. As  I breathed in the calming aromatherapy oils, Tiana did a deep pore cleansing treatment using a smooth rhythmic touch.  Next, the steam machine was turned on and directed toward my face; it was set to a comfortable temperature and I had no difficulty breathing. While my skin was softening and soaking up the moisture, Tiana placed warm towels on my feet. She then proceeded to give my feet and calves a moisturizing treatment, which was a total bonus I had no idea about! Once my skin was prepared from the steam, it was time for the part I had dreaded….the extractions! Truth be told, I am kind of a baby when it comes to pain, however, to my delight, the extraction process was only an ever-so-slight squeezing sensation. Tiana was gentle ,but got the job done! Next she moved on to my favorite part: the head, neck, and shoulder massage and the facial pressure point massage, which was so relaxing I almost fell asleep. I never realized how much stress I was holding in my face and it felt great to let all that stress melt away under Tiana's expert touch.
Next, Tiana chose two treatment masques that met the needs of my skin care concerns. The first one, a hydrating masque, provided the deep moisture my skin so badly needed. The second, a collagen mask, helped to boost the collagen and elastin in my skin, to plump up and fill in my fines lines and wrinkles, and it evened out my overall skin tone and redness. While the masques were on my face, there was another unexpected added bonus…Tiana gave my hands and arms a moisturizing treatment. As my first ever facial experience came to an end, Tiana applied a light toner, a facial moisturizer with SPF and an eye cream to my face. As I exited the treatment room, I realized I was one of those guests I had formerly envied, emerging relaxed with glowing skin!