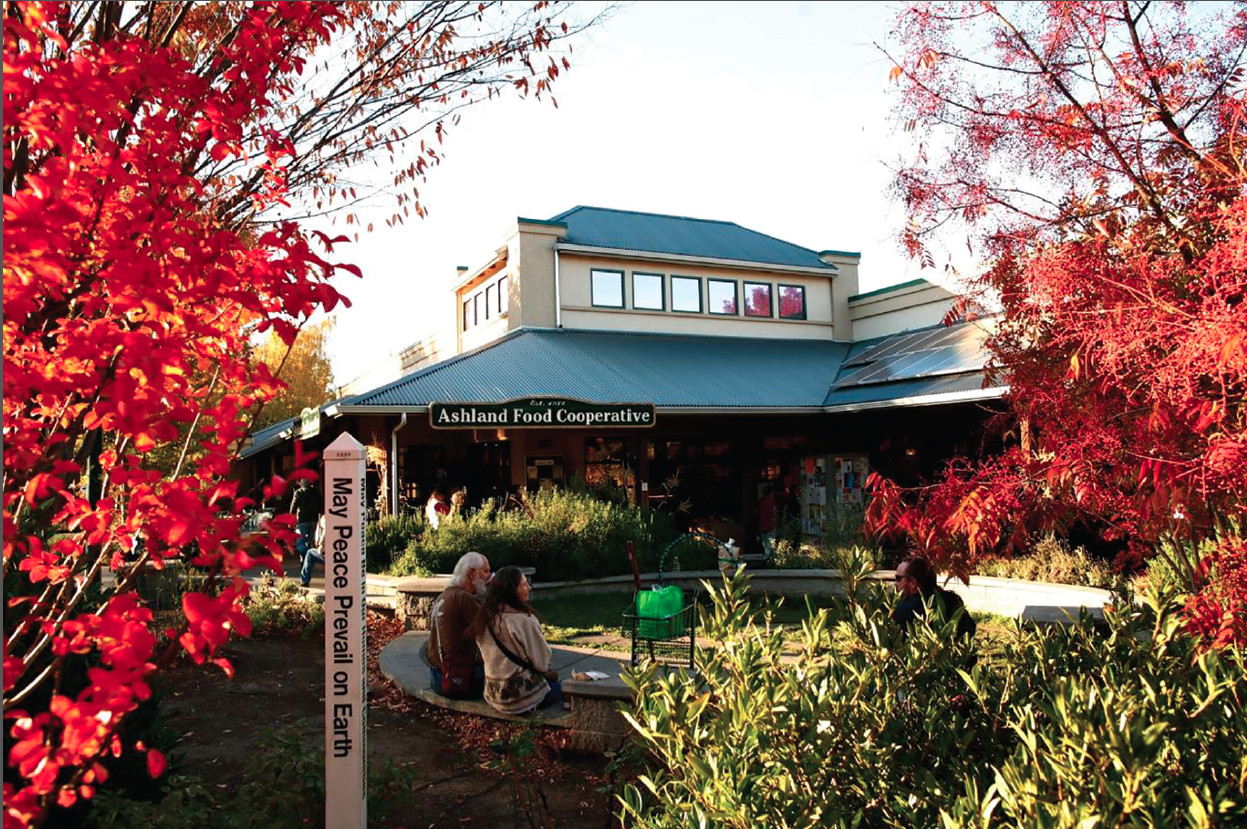 Forty-six years ago, a group of families formed a buying club to access sustainable, local, and organic food as an alternative to modern industrial agriculture. This humble foundation of social and environmental responsibility started the Ashland Food Co-op and has shaped every decision we've made since.
That's why we have some big goals. By 2030, we're planning for the Ashland Food Co-op to be zero waste and carbon neutral, and a living model of cooperation with the laws of nature in all our affairs. From energy and water conservation to LED light fixtures upgrades, every year we make progress with this end goal in mind.
We use energy from climate-neutral renewable sources, and we use only what we need. We purchase 100% renewable electricity, offset all of our business-travel carbon emissions, and use Water Restoration Certificates to decrease the impact on critically dewatered rivers in our region. In 2016, we expanded our rooftop solar array, adding 150 Oregon-made Solar World panels generating 42kW towards our power needs.
In April, we will celebrate sustainability and Mother Earth all month long. We invite you to join us at one of the following events.
•  Zero Waste Hero
Improve your conservation practices with tips and tricks for a zero waste kitchen while enjoying recipes designed to reduce your food waste. Sign up at www.ashlandfood.coop/events.
•  Bear Creek Clean Up: Ashland
The Ashland Food Co-op invites all community members to join us in an effort to keep our Bear Creek clean. This year we are clearing blackberries from Ashland Creek Park to slow their march into Bear Creek. Ashland Parks & Recreation will provide all gloves and gear needed to remove blackberries. Please wear comfortable clothing you don't mind getting dirty and closed toed shoes. Meet at Ashland Creek Park on Saturday April 21st at 9am. Snacks and coffee will be provided.
•  Co-op Sustainability Tours
Learn what your Co-op is doing to reach it's 2030 zero waste goal. We will be offering 30-minute walking tours of our sustainability efforts from Noon to 2pm on Earth Day, Sunday April 22nd.