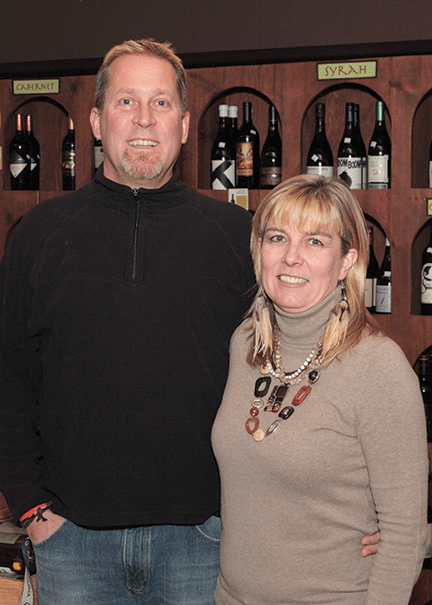 Pinot Noir remains the state's unrivaled king, but Pinot Gris and Pinot Blanc are noble relatives that fill a different, more quaffable, role.  Almost since the beginning, Pinot Noir has been Oregon's claim to fame—it's now an internationally known calling card. It has also stood apart, isolated and alone.
For Willamette Valley winemakers, that has posed a challenge. What is Pinot Noir's natural companion? Must it be Chardonnay, as in Burgundy?   The state does boast some excellent Chardonnays. Rieslings, too, which thrive in the cool climate. But the white companion grapes Oregon vintners are embracing are Pinot Gris and Pinot Blanc, both mutations of Pinot Noir.
After nearly 50 years, it would seem long overdue for Pinot Gris to claim its rightful place. Eyrie's David Lett brought Pinot Gris up to Oregon in 1966—a total of 160 cuttings taken from the only four vines in the collection at University of California at Davis.   In 1970, Lett made the first commercial Pinot Gris in America.  It took another two or three decades of slow, steady growth—in vineyard acres and producers—before the grape variety gained recognition.  Today, Pinot Gris is gaining strong recognition in both the Northern and Southern part of Oregon.
Some can't-miss food matches with Pinot Gris are shellfish, light freshwater fish and poultry. For elegance, purity of flavor, floral aromatics and under-lying minerality, select a 2011 example. For a rounder, fruitier style, look for a 2012.
The history of Pinot Blanc in Oregon is even more tangled and confusing. The first wave of plantings in the Willamette Valley turned out to be mislabeled. What was thought to be Pinot Blanc was actually Melon de Bourgogne—the grape of Muscadet.  Genuine Pinot Blanc cuttings went into the ground in the early 1990s.   When tasting large flights of both wines, clear varietal differences emerge.
Generally, Oregon Pinot Blancs are less fleshy than Pinot Gris. But the Pinot Blancs show more minerality, accompanied by bracing acidity, citrus fruit and lightly peppery highlights.  Pinot Blanc is perfect with crab cakes, mussels, ceviches, and a wide variety of flavorful appetizers. It is especially good with hors d'oeuvres that are a bit salty and rich.
Brian's Pick: St. Innocent 2011 Freedom Hill Vineyard Pinot Blanc. It has a nose of stone fruit, melon, ripe apple and hints of ginger. Melon, stone, and pomme fruit flavors blend with citrus and floral notes layered over a core of minerality.  This vintage is finished completely dry.
Lisa's Pick:  Bethel Heights 2011 Pinot Blanc:  Aromas of orange zest Meyer lemon, with hints of yeast, nutmeg, and black tea.  The palate features snappy acidity typical of the 2011 vintage over asian pear, golden delicious apple, and hints of lime.
Adapted from Wine Enthusiast, published on Aug 8, 2013, by Paul Gregutt
http://www.winemag.com/Wine-Enthusiast-Magazine/September-2013/Oregons-Other-Pinots/
http://ashland.oregon.localsguide.com/wp-content/uploads/2013/04/WEB_wine_cellar.png
605
432
Ashland Wine Cellar
http://ashland.oregon.localsguide.com/wp-content/uploads/2018/05/logo-1-300x76.png
Ashland Wine Cellar
2013-08-21 22:10:30
2013-08-21 22:11:06
Oregon's Other Pinots