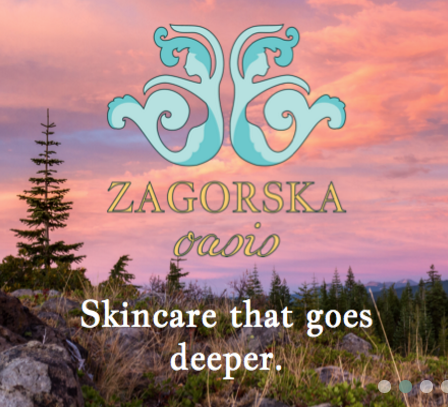 Autumn has arrived! There's a brisk chill to the air, the leaves are changing colors and it's harvest season. At Zagorska Oasis through October and November, we are offering an exclusive seasonal release of our healthy handmade Pumpkin Chai Latte products and services. Try our Pumpkin Chai Spice Sugar Scrub for a whole body exfoliation treat, or our Pumpkin Chai Luxe Facial to restore radiance and hydration. We are also offering a complimentary hot mug of Pumpkin Chai latte with any pumpkin spa service. Purchase our sumptuous Pumpkin Chai Latte skin care products made in-house, such as Whipped Body Moisturizer, Massage Oil, or Enzyme Mask to extend your spa experience at home.
Pumpkins are all the rage, and we just love all the nutritive benefits they have to offer. The orange color means it's beta carotene rich, and those antioxidants provide repair to UV damage as well as anti aging properties. Pumpkins also contain vitamin C, which is essential to collagen building, and alpha hydroxy acids (AHA's) to help smooth & improve the texture of the skin, assist in lightening pigmentation, and enhance the production of collagen & elastin. AHA's are also great for assisting with acne by drying excess oil production & unclogging pores. We then added cream, which naturally contains lactic acid, leaving the skin silky smooth and luminous. The chai spices not only provide delicious earthy aroma, but also invigorate the skin, stimulating circulation and increasing oxygen flow for a healthy glow.
Our experienced esthetician, Diana Taracena, has had almost 20 years of experience with natural and organic skincare, and our Pumpkin Chai Seasonal services and products are her brainchild. She has made lotions, salves, scrubs, soaps, lip balm, oils and perfumes. She loves blending and customizing skin care products for meeting the needs of each individual client, and is well versed in herbal remedies and aromatherapy.
We invite you to stop in for a complimentary skin consultation with Diana, and visit our blending bar, where you can create your own personal face or body care products including 3 actives ingredients, 2 essential oils and 1 luxury oil. Diana and all of our "blendistas" are knowledgeable and happy to guide you in your blending bar experience. We also offer blending bar parties for birthdays or any occasion, everyone gets to take home their own customized creation! We look forward to seeing you for all your relaxation needs this fall and wish you all a happy harvest season.

If you haven't stepped into our salt cave sanctuary, please come in for a complimentary tour. We offer a local's discount on Monday & Tuesday of 20% off as our continued appreciation for your support.