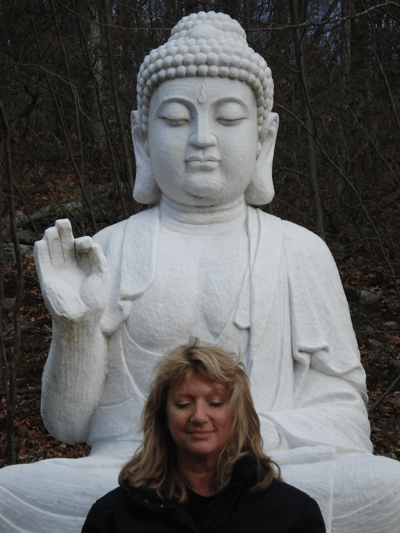 Through today's exciting science of Epigenetics, we come to understand that we are not relegated to simply live to the extent of the gene pool into which we are born.
This new science states that as we adjust our beliefs, our perceptions, our emotions, our words, our thoughts and our attitudes, we thereby positively affect our genes.  Very simply stated, the placebo effect is a measurable, observable or felt improvement in health or behavior that is not attributable to medical or therapeutic interventions.
Old thought: My genes control me.
New science:  I change or exert control over myself as I respond to the world around me.   The Invincibility Series thought is, "I am always free to change how I respond to my world.  So as I change the way I see the world, I change my genetic expression.  I am not victim of my genes, I am the master!"
In this light, and simply stated, at Invincibility Series, we incorporate Quantum I-Am-Isms© for daily use as a part of our Invincible Practices which help us change our beliefs, perceptions, emotions, thoughts and attitudes to the outcome that we seek in our lives.
This month we invite you to enjoy utilizing some of our Quantum I-Am-Isms© that may just change your genetic environment and perhaps the world you live in now, to the world you have always dreamed it could be!
The Invincibility Series
Quantum I-Am-Isms©
Please enjoy using these as Quantum stated truths for/of your life.  They are meant to either be a guide for your own words or you may follow what I have been blessed to offer you.  Either way, use all positive emotions to fuel your perfect life creation!
• I speak, think, feel and project only that which is joyous, powerful, positive and loving which is currently true, OR, I speak, think, feel and project only that which is joyous, powerful, positive and loving which is ON IT'S WAY TO BECOMING true, Now!
• I-Am a self-honoring being living my life honoring the whole of creation.  My role on our planet is essential to my own becoming and the light I am to myself illuminates the path for all others.
• I Live in the power of YES!  YES opens doors I do not yet know to open.  YES opens me as I live in the greatness I-Am already though not yet fully awakened to.   YES!!!  I-Am YES!!!
• I-Am the author of my life's story; re-writes are an ongoing event as I custom craft my ideal life and I absolutely LOVE the life I am privileged to live!
Lovingly, always, Aneeahseah
http://ashland.oregon.localsguide.com/wp-content/uploads/2013/06/ANEEAHSEAH_BUDDHA_med.png
533
400
Aneeahseah
http://ashland.oregon.localsguide.com/wp-content/uploads/2018/05/logo-1-300x76.png
Aneeahseah
2013-07-28 03:41:59
2013-08-28 03:42:30
Quantum I-Am-Isms©