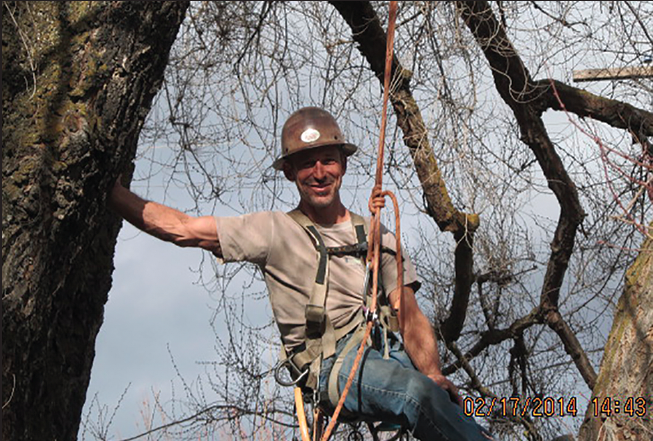 If you were not aware of such a thing, you are missing out! Last year, the City of Medford hosted a tree climbing competition in Hawthorn Park. This year the competition will be held in Ashland's jewel, Lithia Park on Saturday May 11th, HOORAY!
If you have never seen a competitive collection of championship climbers of trees, you are in for a treat. As a past (and maybe current) competitor and judge, I can attest to the amazing skill level of the best climbers on the planet, unfortunately, the older I get, the better I was…
This competition is friendly, but the competition is fierce, and fast. This is a "clean" event and no trees will be harmed, i.e. NO climbing Hooks or spurs will be used in the set up, or the events themselves.
The events will be a "work climb" with various stations throughout a canopy, an "aerial rescue" wherein a climber must ascend capture a very heavy "dummy" and get his or her victim to the ground, a 'throwball" event with accuracy the trick of the trade, a "speed climb" that is just that, a race to the top, and a "how fast can a human go straight up a rope" event to a VERY respectable height!
All these events are timed and the best climbers will really blow your mind with how easy, they (not me) make it look. The top finishers go on to the grand finale, the "masters challenge" which is timed as well, with "style" points awarded as a prompting to wow the crowd… The competition is open to all comers, as long as all your gear meets the stringent safety inspection, but if you haven't competed before, you better pack your lunch, you will be going up against the best the west coast has to offer!
Safety is the No.1 rule at these events and it doesn't seem to slow anyone down much, if at all.
There will be plenty of things to see and do there, so plan on NOT being bored for the majority of the day! Spectating is free as always, great friends to be made, and a lot of thrills with hardly any spills will be the order of the day – it really is a must see! This is a very professional event that reveals just how far the field of arboriculture has come since people have started climbing trees.
I am not aware that Lithia Park has ever hosted an event like this, and it should be a perfect setting for our Tree City U.S.A.
Contact the parks department for further info, or watch for the crowds gathering under the trees, looking skyward!
Hope to see you there cheering on your favorite tree guy/gal!
Comments