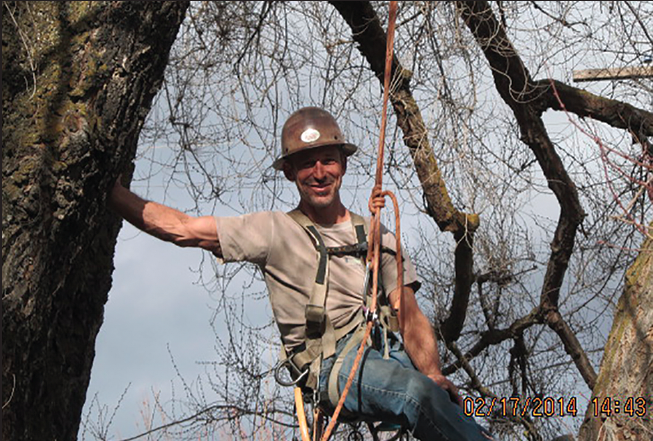 Tom Myers, founder, owner and commander in chief of Upper Limb-It Tree Service has recently passed on to the other side.
When I blew into the valley 17 or so years ago, I blindly stabbed my finger into the yellow pages of the phone book somewhere between "Travel" and "Truck" looking for a tree climbing job, and Tom answered the phone. The best phone call I ever made! I worked for Tom for about 8 years, and looking back on my career, he was the greatest guy you could ever have sign your paycheck. When I asked him why I didn't need to fill out a time card for hours worked, he replied, "Dude, if I can't trust you with my money, how in hell can I trust you to care for my clients trees?" Wow, when I think about that, it really hits home. 
Tom was respected, admired, and adored by pretty much everyone I have ever met. A true champion for trees, he had the uncanny ability to balance professionalism with emotion, and how, did Tom love trees!
Working for Upper Limb-It was like working for family, and the friendships made will be lifelong. Tom came to bat for me more than a few times, and really stuck his neck out, I really dig that in a tree guy! He never made a call on a tree I didn't agree with, and I called upon him for a second opinion many times when I just couldn't figure stuff out. He had a "gift" to read a trees' mind, so to speak, and I hope it rubbed off on me! Like every tree guy, he started out with an old truck, a chainsaw, and a hank of rope, and turned it into the most trusted and respected tree care operations in the area! He stayed on the leading edge of new techniques, but buffered it with the old school of knocks, and won, in my opinion! 
When you said something that made him laugh, it warmed your soul, as he had the most heartfelt, genuine laugh, it was like winning the lottery!
I have, over the course of my lifelong career of caring for trees, worked for many companies, municipalities and contractors. Working for Tom was like a paid vacation! We actually looked forward to Monday mornings! 
The most remarkable aspect about his business is the fact that he upped the bar in the realm of tree work in the area in a time and place of loggers being out of work, it wasn't hard to get someone to do anything to your tree if you were willing to sign the check. Tom didn't waver, held his ground and convictions, and said " @#$% You, I'm NOT GOING TO TOP YOUR TREE!" Guess what? That bold move did more to raise the standard for the betterment of tree work in this town than anyone before him. Thanks Tom, I really appreciate that!
They broke the mold when Tom was made, and it makes me sad when I go for the phone and I know he can't answer. But I have to think about how damn lucky I was when he did answer the phone a short 17 years ago, and how fortunate I was to glean his wisdom, insight, and tact. I love you Tom Myers, climb in peace, buddy…