Interviews
Rogue Valley Metaphysical Library and Awake Café/Gallery Grand Opening Announcement
Rogue Valley Metaphysical Library (RVML) is a specialty lending library and event center with thousands of items to borrow or exchange on a variety of metaphysical, spiritual, paranormal and personal development subjects. Entering their 19th year serving Ashland, RVML now celebrates the opening of their new expanded facility at 1757 Ashland Street, one mile west of I-5 exit 14, now including a café and art gallery. Come tour this new community hub at their Official Grand Opening Party on Saturday, March 16 from 4 to 7pm.
In today's interview, I speak with Jordan Pease, RVML's founder and Executive Director, about the services that RVML provides to the community and about their brand-new facility that opened last month.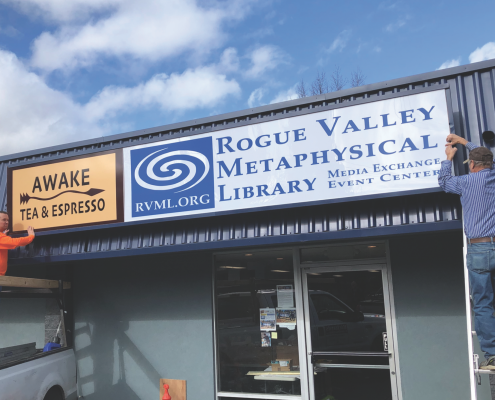 Jordan, it's great to hear that RVML is growing. What's new and different about your current location?
Thank you for doing this interview Shields. We're very excited about opening this brand-new facility. It's larger than before, and also has a new coffee shop and art gallery called Awake Tea & Espresso. This space doubles as an event center as well.

We're also building a section called the "Media Vault" which has a bunch of really interesting literature and audio visual materials that we've been stockpiling over the years, but are packaged in a manner that makes them difficult to catalog and shelve in our main collection.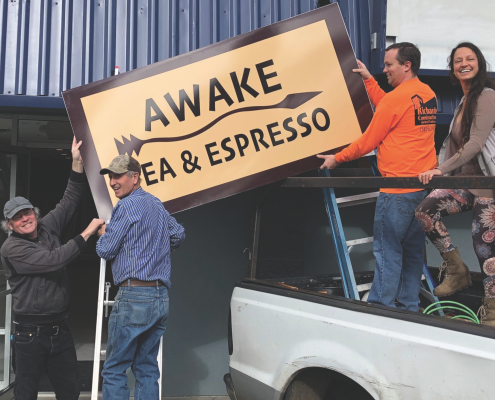 Please talk about the services that RVML provides.
For most of our 18-year history, RVML has provided three services: the Lending Library, event production, and since 2008, the Media Exchange. People with a membership can check out books and DVDs, and everyone is welcome at our events.

The new Media Exchange is about five times larger than it was at our last location. It's an informal system with thousands of books and A/V materials covering all subjects that people can trade, on the honor system basically, with no membership required. Some people say it's like a used bookstore with no cash register.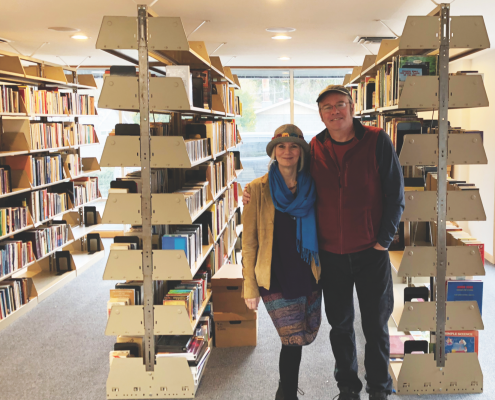 RVML is well known for producing events. Please explain that history a little.
There's a button on our website called "Events Archive." There is a lot to see there. First, people can see the calendar archive of the hundreds of events we've produced and hosted over the years. Probably close to a thousand actually, not even including the ones we've produced since 2010.

Also, there are links to about half of the recordings from our Lecture Series. They're free to watch, and there are about 250 of them. The full catalog of our Lecture Series recordings are available to check out on DVD in the library, almost 500 of them I think.

In 2015, we began producing an annual Conference Series called Architects of the New Paradigm. That's been a major endeavor for us, and is a significant counterpart to our library now. All those recordings are linked there too. 2019 will be the 5th Annual ANP Conference, which will happen September 28-29 in Seattle, WA.
Tell us about the new coffee shop.
We're very pleased with how well it turned out, and it will be open almost all the time! From 6am to midnight every day, except on certain nights while there are events happening in there. It's also nice and quiet- we carpeted the walls, and made sure that there are plenty of electrical outlets everywhere too. It's more than just espresso and tea actually. Other popular local restaurants and bakeries bring their healthy grab-and-go snacks and treats over daily.

Partnering with another complementary business has long been a desire of ours, and books and coffee are a natural pairing, of course. But managing a retail food-service operation parallel to the non-profit has been beyond our scope and ability, until we found Connie!

Connie McGonagle is a native Rogue Valley entrepreneur and community activist who has been operating Hot Stuff Espresso in Ashland for the last 16 years. We are delighted to welcome her as our cotenant, bringing her passion for art and coffee house culture to add another dimension to RVML's services. Her premier art show has over 150 pieces.
What kinds of events are you planning to hold at your new Event Center?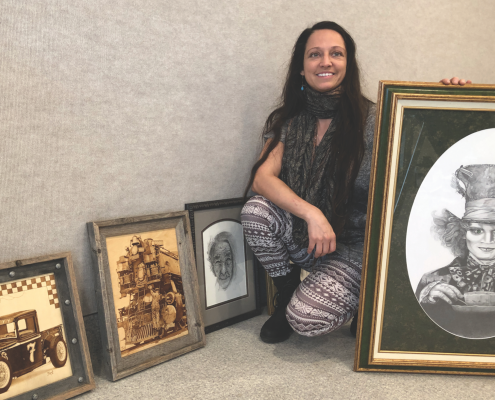 Our new "in-house" presentation area is about half the size of the one we had for nine years at our original location in the Railroad District. It seats up to 40 people, and we share it with the coffee shop.

RVML plans to produce about eight events each month on Tuesday and Thursday evenings, 7-9pm. Those will be lectures and films, beginning April 4th with a four-week series on Thursday nights. It's about learning practical critical-thinking skills, taught by Marla Estes and Rob Schlapfer, using a curriculum that RVML helped design. We're really excited about offering this course, we've wanted to for a long time, and Rob and Marla are really, really good at what they do. This series will repeat a second time in May.

Other nights of the week the coffee shop is planning all kinds of other events like poetry and play readings, stand-up comedy nights, music events and performance art.
Does RVML have a particular mission statement?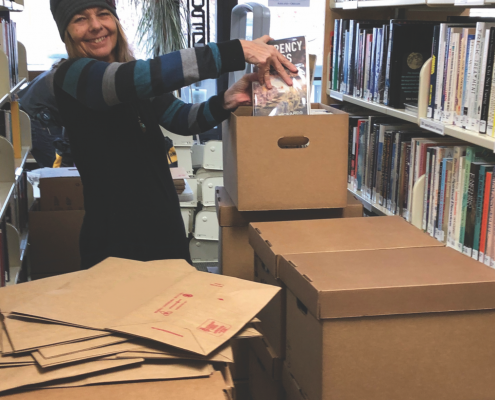 Yes, certainly, we actually have two. For about 18 years, RVML's official mission has been "Providing easy access to information that inspires, heals, and connects." The community building aspect is a core concept. That word "metaphysical" in our name has been awkward for us because to some people, it has off-putting connotations.

Some time ago, we appended our mission statement to include "with emphasis on practical solutions to the world's critical challenges" because that's really what drives what we're doing here. "Applied metaphysics" might be a good term for it.

We're less about abstract philosophy, and more about pragmatic and thoughtful "doing" in areas like parenting, business skills, personal development, media studies, psychology – subjects like that which are not typically associated with metaphysics. We include many other subjects that are just darn fascinating! Inspiring wonder and inspiration are a central part of it too.

The second one is our "philosophy statement." It's really cerebral and dense, and pretty grandiose actually, but it does capture a key element of our work; the idea of a "blinders-off" approach to navigating the modern world. Here's how it goes: "Our ability to discern truth is enhanced by exposure to a broader perspective on the human experience. As we integrate new truths into our awareness, the expansion of knowledge in the collective mind advances the evolution of human consciousness." This is also meant to imply that true wisdom is distinct from just knowledge. Learning to be wise takes more than just knowing a lot of facts, and Humanity does it best collectively.
Where to all the materials come from?
Our lending collection is pretty unique. As far as we know, it's among the largest of its kind. We're a 501c3 nonprofit, and we don't really have an acquisitions budget. Most of our materials are donated, and we're very grateful to the abundant generosity of the community that supports us. It's amazing actually that it continues to work so well.

All donations qualify as tax-deductions, and we happily offer those receipts, but we've found that people usually decline them. We record all donations anyway though, for grant writing purposes, etc. There's an after-hours donation box in driveway for easy "drive-by" donations too.

We accept books, DVDs and CDs; any subject, any condition. No magazines or encyclopedias please. Monetary donations are welcome too of course, there's a donate button on our website.
Jordan, is there anything else you'd like to add?
Sure, thank you. It's a real privilege to do this work and there have been so, so many terrific people involved since the very beginning of RVML in 2001. I am very grateful to have had so many dedicated staff and volunteers over the years that have made it possible to conduct RVML's mission, most recently Christina Stewart and Nikki Clifton, and long-time Board Member Lori Lorenz.

Completing the building remodel was an enormous undertaking in itself, and construction projects are notorious for budgeting, scheduling and permitting difficulties. Thank you to our new neighbors for their patience and accommodations, and to our great construction crew led by father-and-son team Tom and Nick Richards.

And thank you too Shields for continuing to spotlight local businesses and organizations in the LocalsGuide. It's a really great component to living in the Rogue Valley, and we're very lucky to have it as an ongoing resource.
Chamber of Commerce Ribbon-Cutting Ceremony: Friday, March 15, 9:30am
Grand Opening Party with Wine & Cheese + Door Prizes: Saturday, March 16, 4-7pm

Learn More:
Rogue Valley Metaphysical Library & Awake Café
1757 Ashland Street, Ashland, OR 97520
One Mile West of I-5 Exit 14
RVML (541) 552-9119
Hours: Daily 10am-6pm, Closed Sunday-Monday
www.RVML.org 
www.facebook.com/RogueValleyMetaphysicalLibrary
Awake Café (541) 420-0490
Hours: Daily 6am-Midnight
www.AwakeAshland.com
www.facebook.com/Awake-Cafe-Gallery