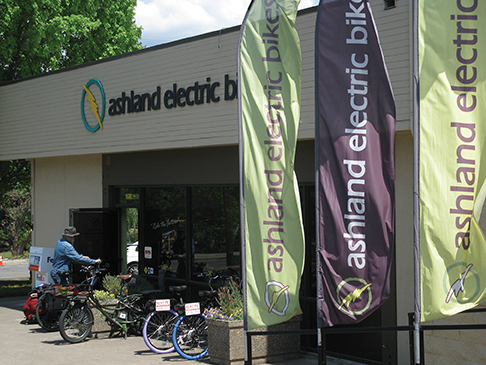 Small-town rumor mills can be cruel neighbors, grinding facts into nothing more than wisps of half-truths and misinformation. This seems to be even more prevalent whenever it relates to the selling of a local business. To that end I find it necessary to speak out and share this "state of the union" address concerning the landscape here at Ashland Electric Bikes.
Yes, it is true that I have the business up for sale. However, it is not for lack of success that I've made this decision – quite the opposite is the case. Sales are brisk again (this summer smoke season notwithstanding), the service department is growing rapidly, and our rental program continues to expand. In fact, I am the most inspired I've been about the shop in quite awhile. The new bikes, products, and protocols for enhanced shop-wide performance that we are getting into place for next season are exciting. All is well and, I daresay, it's the best its ever been.
What is also true is that I'm older than you may think and my personal desires are calling for the time and space that comes with retirement. Some of that will still relate to the bicycling movement. For example, I've begun strategizing with some others around the idea of a non-profit with the goal of creating more local bike culture and community building. Alas, now I'm getting ahead of myself! Needless to say, all that I have yet to accomplish in this one grand life cannot be realized while I'm at the helm of this growing business.
Perhaps the final piece of information that I want to share is that the unfolding of my next chapter can ONLY be achieved as a result of the successful sale of the business. Retirement is the end game; selling the shop is the means to that end. In other words, the idea that I may at some point just close the doors is simply NOT AN OPTION. It will be business as usual, providing stellar service, listening to our customer's needs first, offering the best value-per-dollar products we can source, and promoting the benefits of e-bikes everyday.
So, there you have it – the true facts. Accept no 'alternatives', and please share what you now know to be true if you hear misinformation about the future of Ashland Electric Bikes being spread. Thank you!
Comments