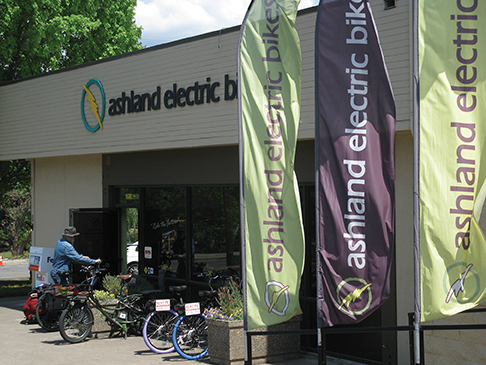 I ran across another article, this one by Julie Kraus at GrindTV.com, that I would like to share in part with you this month. She presents some great statistics regarding electric bikes around the world as well as her own personal experience riding one for the first time. Her story and the realizations that occur after her time in the saddle are music to my ears. Its a similar story to what we hear repeatedly from folks here at the shop. Enjoy!
"Bike Europe reports that 2016 figures for European Union imports of e-bikes show a massive 60% increase compared to 2015 figures. E-bikes are not going away anytime soon. There are already 200 million pedal-assisted bikes on the roads today, and 'Electric Bikes Worldwide Reports' predicts that number will rise to 200 billion-yes, billion-by 2050.
So maybe it's worth at least test driving one of these smooth rides to get a sense of just how they work. I did, and upon my first boost up a neighborhood hill, a little gasp of unadulterated joy escaped from my lips. It felt a bit like riding on a witch's broom or suddenly getting a personal jet pack.
I ride bikes seriously, yet could still find the simple joy in a little pick-me-up. An e-bike will never replace my totally human-powered two-wheelers (you do still pedal an e-bike), but I was won over by the vision of having a rig for all those times when I get in my car to accomplish mundane stuff. Just think of how much more fun it would be to do some of life's dirty work from the seat of a magic broom.
But sheer joy is just one of the perks of owning an e-bike. The applications are vast for people of all ages and abilities, and even diehard cyclists, who typically wouldn't touch an electric bike with a 10-foot pole, might be surprised by e-bikes' tangible benefits.
*An e-bike gives non-cyclists a less intimidating entry into the sport
*You can explore with your aging parents, or they can ride with your kids
*It can equal the playing field for couples with different riding abilities.
So, here it is again… the good news story about the growing electric bike movement. Come join the two-wheeled revolution!