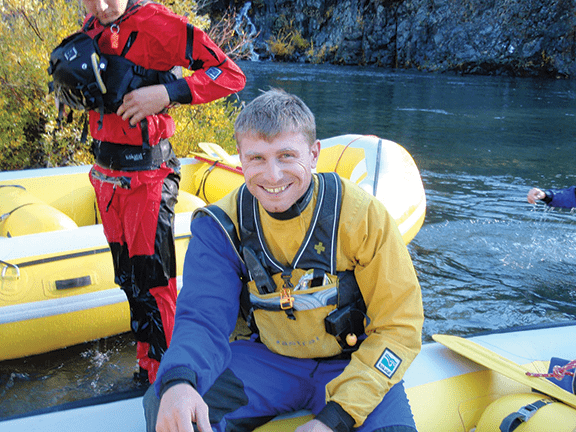 June 25-27, 2014
www.RogueRiverTrips.com | 1-866-213-7754
Imagine kicking back on a warm sandy beach after a day of rafting down the pristine, remote, and beautiful Rogue River. With your toes in the water and the smell of a delicious dinner being whipped up nearby, it might be hard to beat this scenario. But, wait, there's more. Let us introduce to you a Rogue River Journey called "Pints at Paradise" – a multi-day river trip for beer lovers.
Pints at Paradise is a three-day whitewater rafting trip sure to quench your thirst for – not just good beer – but EXCELLENT beer. Taking place on the Wild & Scenic Rogue River, participants will enjoy three days of rafting and two nights of tasting delicious Rogue Valley microbrews. Nick Ellis, owner and head brewer at Opposition Brewing Company, will be joining the trip to talk about all things beer – brewing, tasting, and philosophy.
Whether you are a beer connoisseur or novice, this trip will keep you entertained, your taste buds happy (or do we mean "hoppy"?), and your outdoor spirit satisfied. The first day starts at Grave Creek, the boundary for the "Wild & Scenic" stretch of the Rogue River. That night will be spent along the banks of the river, where our guides will whip up beer-pairing appetizers and a delicious steak dinner. Our camp is a Rogue River Journeys outfitted camp and is set-up prior to our arrival. We specialize in ultra-comfortable camping: tasty (+ local + organic) food, thick sleeping pads, huge tents, and everything you need to feel right at "home on the river."
Day two starts off with coffee, coffee, and more coffee. We'll eat breakfast and then push off for a day of the Rogue's best whitewater. Our evening will be spent at Paradise Lodge where, once again, the beer will flow. Paradise Lodge is aptly named and provides a beautiful and remote lodging experience in the middle of the Rogue wilderness. This is where we'll literally enjoy "Pints at Paradise."
Day three finds us floating through the most mellow and beautiful stretch of the Rogue. We'll have lunch and a toast to delicious beer and the Rogue River before reaching Foster Bar, the conclusion of the trip.
For more information about Pints at Paradise or to make reservations, call Will at the Rogue River Journeys office at 1-866-213-7754 or visit us online at www.RogueRiverTrips.com.
Don't care about beer? We have Rogue River trips launching each week from May through October. Most of our trips are family friendly and great for kids 6 years and up. We'd love to float the famous Rogue River with you – make your summer plans today!