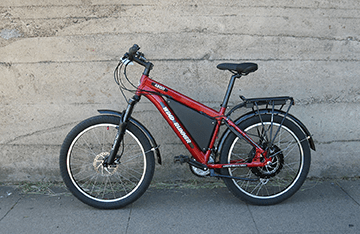 Last week I took a fun and easy ride on the High Lakes Trail. The first time I tried to ride that trail in 2016, was on my acoustic bike. Less than three miles in my left knee was talking to me, and by the fourth mile I decided to turn around. I thought my knee was finally good enough after an ACL reconstruction surgery, but I was wrong. Discouraged by how far I had driven to bike so little, it would be another four years before I would get back on that bike. These days my acoustic has been retired and I enjoy the electrified version of biking. I find I can go further and enjoy my rides more. Giving me the opportunity to go for a long ride on Sunday and still feel good enough to scale some vertical walls on Monday.
If you're like me and you've found that electric bikes have enabled you to explore more on two wheels, then here are some other options for some end of summer adventures.
Ride the Rim
At Oregon's very own National Park, this 33-mile ride is a nice step up for folks that are used to the local 20-mile rides to and from Medford and Jacksonville. This year's official Ride the Rim days are scheduled for September 10th and 17th. There will be shuttles to help people get to and from locations and 25 of the 33 miles of road will be closed to vehicle traffic. If you're interested in participating make sure to grab your helmet, as they are required, and sign up by September 5th. 
Three Sisters Scenic Bikeway
Starting in the historic town of Sisters, Oregon, this ride will take you past historical sites. You'll follow the Deschutes River, you'll be provided with spectacular views of the Cascade Mountains, and you will end at the stunningly beautiful and Iconic Smith Rock State Park. At 36.7 miles one way this can easily become a midway step up, by making it an out and back trip and logging over 73 miles.
The Oregon Coast
If you've been enjoying your e-bike for a while now and you're an adventurous soul who is looking for multi-day bike trips, then the Oregon Coast might be for you. You'll have to set up a shuttle system, but the 369-mile ride along the coast from Astoria to the California border will be full of breathtaking coastal sites and a few days respite from the valley's summer heat.
Whatever you choose, we hope you enjoy the beautiful scenery mother nature provides in our wonderful state, laughs with good company and many wonderful adventures on your electric bike.