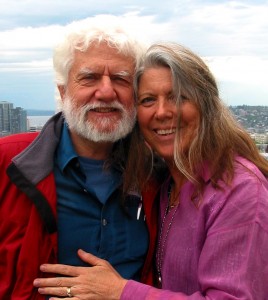 People ask us questions like, "What is 'New' Tribe?" We say, "You can take people out of tribe, but you can't take tribe out of people." Tribe is who we have been for hundreds of thousands of years, but we can't go back – NEW tribes emerge from new consciousness!
What problem does "Tribe" solve?  There is something about having deep, committed people in our lives that is vital for us as humans. Recently, sociologists have identified a kind of depression and isolation that did not exist before and it's growing more extreme. In the US, one out of four people now claim they have no one to talk to. Humans require face-to-face connection.
Why is it time for tribe now? Now is the time because people's nervous systems are on overload. We are faced with many stresses and require others to help us evolve and navigate through the blizzard of distractions. It's time to reclaim the commitments and structures that create "belonging."
What do you do in tribe? Like family, we meet together, eat together, play and pray together each week. Recently, a dozen of us helped Norm and Brenda paint their new house. The previous week the tribe showed up to support Jack at his art opening, afterwards, we went out for late dinner, laughed and shared stories. It's what we do, we're family. We designed our tribe to be a cauldron for evolving as loving humans.
Do you live together? Our tribe design is non-residential; we live in our own homes. We share values and structures that work. We have made specific commitments to each other and to stay in Ashland. Ideally, we like to be bicycle distance apart.
Why did you build your tribe? After years of experiencing deep connection with people in seminars, then never seeing them again, we wanted it right here in our hometown. It took us 7 years to figure out how. We want to share with you a blueprint for creating deep community within a year.
What does your training do? It teaches how to deepen love and intimacy in people's lives, establish common understandings, as well as create a safety net to navigate rapidly changing times.
This May event is designed especially for Ashland people. Visit our website and read the Communities Magazine article to get a taste of what we're doing. Call us at 541-482-2335.
Time For Tribe
258 Greenbriar Place
Ashland, OR. 97520
(541) 482-2335
Check out their website here
http://ashland.oregon.localsguide.com/wp-content/uploads/2016/03/ZB-SeattleI1-268x300.jpg
300
268
Bill Kautch
http://ashland.oregon.localsguide.com/wp-content/uploads/2018/05/logo-1-300x76.png
Bill Kautch
2016-03-23 14:36:54
2016-03-23 14:36:54
Surround Yourself with Deep Community