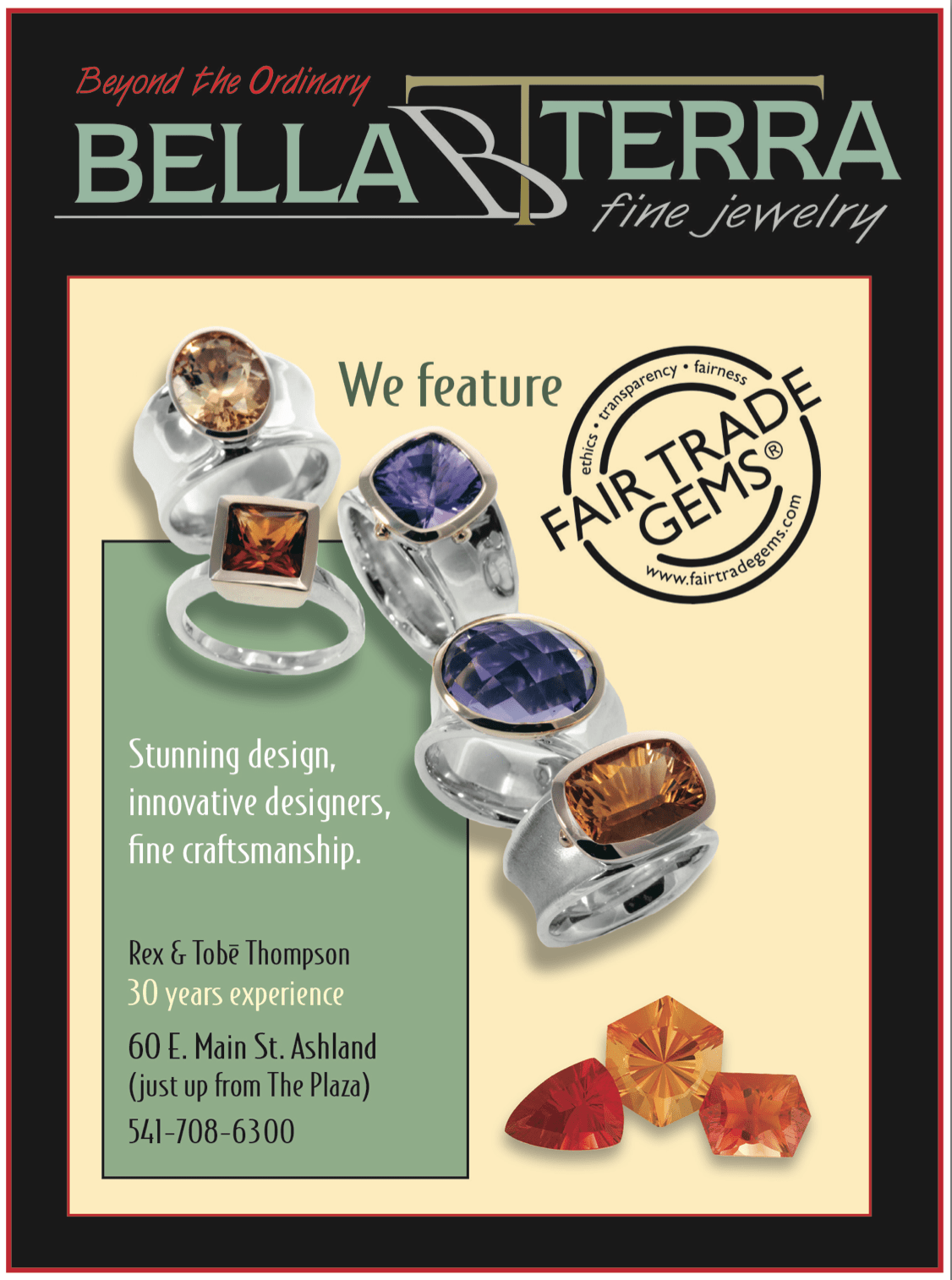 As the owners of Ashland's newest jewelry gallery, we want to thank everyone, locals and visitors alike, who have been so supportive. Since our opening earlier last month, hundreds of well wishers have ventured through our doors with friendly smiles and sincere words of welcome. We can not count the number of people who have walked in to say "Congratulations" or "Great to have you here". It's a wonderful thing to live and work in a town where someone will take time from their busy day to reach out to a newcomer. We are extremely pleased and excited to be part of this vibrant community.
Bella Terra Fine Jewelry is a new store, but by no means are we new to the world of gems and jewelry. Thirty years ago, after graduating from Chico State University, Rex completed intensive training in jewelry arts and gemology at the Gemological Institute of America (GIA) and has been actively working in the industry since. For those unfamiliar with the study of gemology or the term gemologist, think gem "knowledge-gist", a person who is trained in the history, formation, characteristics, identification, and evaluation of gemstones. There are more than three thousand identified gem varieties. Knowledge of mining practices, sourcing, treatments, enhancements and valuation is critical to provide our customers with accurate information and guidance.
Tobe also completed classes at the GIA while working there as a Student Services Administrator. In 1993 we opened our first retail jewelry store, Fire & Ice Alaskan Gold Design in Juneau, Alaska and have enjoyed the trials, tribulations and rewards of self employment for the over twenty years. In late 2012, ready for a change, we decided to relocate to Southern Oregon to be closer to Rex's sister and brother who both reside in Medford. A walk through the streets of downtown Ashland on a brisk January evening convinced us we had found the new home we were seeking and the wheels were set in motion to create Bella Terra Fine Jewelry.
Bella terra translates to "beautiful earth". Our aim is to offer our customers beautiful treasures from the earth in jewelry and craft in a range of prices. After thirty years in jewelry we have many friends who are talented designers and gem cutters whose work we will feature. Our emphasis will be to promote one-person, mom and pop and small workshop studios. Bella Terra is located at 60 East Main in downtown Ashland (just up the street from the Plaza) and is open daily from 10AM to 6:00 PM except Sunday.
Please come say hello!
Comments