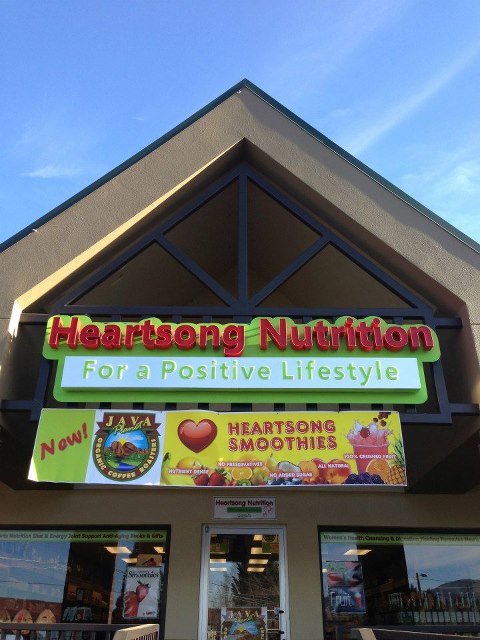 Without good health, the quality of life can be severely diminished.  Men have traveled the world and spent fortunes on the search for substances that can bring health and increase lifespan–in search of the fountains of youth. They have sought out mushrooms from the mountains of Nepal; plants from the Rainforest; animals from the arctic; and sea creatures from the oceans all in order to get molecules that can heal and sustain a healthy physical life. Today, we don't have to travel the world to seek out these substances, we can find all of those exotic health elixirs and formulas right in Ashland's Heartsong Nutrition Store.
With over 60% of the American population being metabolically challenged, it's a safe bet that a Heartsong Gift Certificate would please just about anybody.  Anyas and Jim have been in the Health Supplement business for twenty years, and they stay up on all of the new products that constantly come on the market.  The store is thoughtfully laid out by body system, whether it be Digestion and Cleansing, Heart Health, Brain Health, Diet and Energy, Sports Nutrition, Anti-Aging, Skin Care, or Sleep and Anti-Stress.  They can answer most product questions and they have access to an immediate product hotline.  If they can't answer a product question, they will research it for you.
Heartsong also has really good Smoothies and Espresso drinks.  They can custom make No Sugar Added, Dairy-Free, Smoothies and add any of your favorite Green Foods or Energy Boosting supplements.  And, they taste fruity and delicious.  You would never know that some of the Heartsong Smoothies have up to 10 different fruits and vegetables in them because you would think that you were drinking a milkshake.  It's all Organic where possible, non-GMO, non-chemical additives, and no sugar added.
So what better gift to give than a gift that leads a loved one to better health and a better perfect body image——-THE HEARTSONG GIFT CERTIFICATE!