Enoteca
The Local Pour – Wine News from Ashland's Enoteca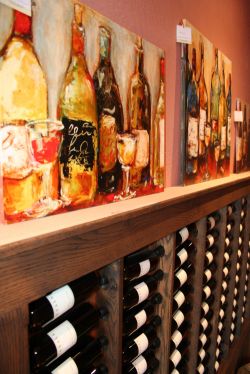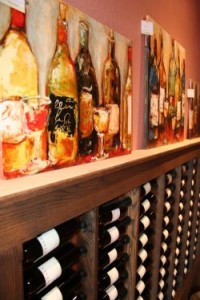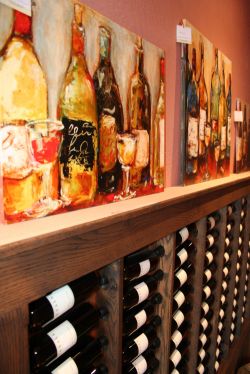 As spring approaches southern Oregon, we welcome the warmer weather and fresh fish that comes with April and the peak of Oregon's Spring Chinook salmon season.   And what better way to celebrate Oregon's seasonal fare than to compliment the fresh flavors of spring Chinook salmon with local wines from southern Oregon?
At Enoteca, we recommend the following delicious recipe for seasonally hooked Chinook… Maple Pepper Salmon Bites paired with EdenVale's Reserve 2007 Chardonnay ($20/bottle at Enoteca) or EdenVale's Reserve 2006 Pinot Noir ($30/bottle at Enoteca).
Maple Pepper Salmon Bites
This is a very simple recipe to make- just remember to start marinating the salmon the day ahead.
Ingredients:
1 cup maple syrup
1/3 cup soy sauce
24 ounces skinned salmon fillet
¼ cup freshly ground black pepper
Preparation:
Cut salmon into bite-sized cubes.  Combine maple syrup and soy sauce in a medium-size bowl and add salmon, making sure the fish is fully immersed in the marinade.  Cover and refrigerate for at least 24 hrs.
Grease a cookie sheet covered in aluminum foil with oil.  Preheat oven to 500°F.  Put pepper in a small bowl or plate and dip top of salmon pieces into pepper.  Place each peppered piece on foil, then cook in oven for 3-4 minutes.  Serve immediately.
Wine Pairing suggestion:  EdenVale's Reserve 2007 Chardonnay or EdenVale's Reserve 2006 Pinot Noir.  Salmon is a little bit of a fatty fish so it pairs well with acidic wines, including most whites and medium bodied reds.  EdenVale's Reserve Chardonnay maintains a slight acidity, which cuts through the fish's fattiness while the buttery flavors of the wine combat with the richness of the salmon.  If you're in the mood for a red wine, medium bodied reds like EdenVale's 2006 Reserve Pinot Noir will pair well with this dish.  EdenVale's Pinot offers a well-balanced acidity paired with fresh strawberry and pomegranate fruit and a fresh pepper finish.
Whether you're trying this recipe or another great preparation of seasonal salmon here are some simple rules to remember when pairing wine with food:
Tannins and acids combat rich fatty foods-think steak and tempranillo or creamy brie cheese and pinot gris. Match bold foods with bold wines and light foods with light wines.   While acid stands up well to fatty foods, it is also the best match for acidic foods like salads, citrus marinades and tomato-based sauces.  And most importantly, drink what you like!
Interested in experiencing more wine and food pairings?  Visit Enoteca in the downtown Ashland Plaza for their monthly Wine and Food Pairing Weekend, on the first weekend of every month.  Upcoming Pairings: April 5-6, 2013- Oregon Seafood and Wine Pairing
Comments