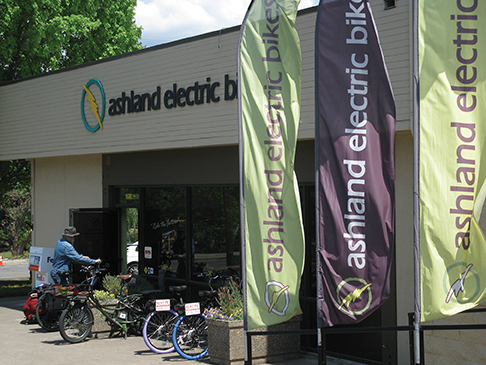 This year at Eurobike, the biggest and oldest bike show on the European continent, total floor space allocated for electric bikes was equal to that for standard pedal bikes. This is only the eighth year that ebikes have been presented at the show at all. It's a clearcut sign of the times; ebikes are here to stay and they're changing the face of personal transportation. Granted, here in the U.S. we're a bit behind the European curve as we always have been when it comes to all things bike culture related, but the ebike momentum is definitely on the rise on this side of the pond as well.
One of the greatest benefits of my job is sharing with folks as they have their first electric bike experience, seeing the amazement they feel, and watching the wheels start to turn in their minds as they begin to imagine all the advantages that these wonders on wheels can bring to their lives. So many people would love to be less reliant on cars for their day-to-day activities and an ebike makes that transition very easy. They bring the pleasure of bicycling within reach of so many more people regardless of age or physical restrictions.
A common misconception is that there's no exercise with an ebike and therefore your physical fitness will deteriorate. Nothing could be further from the truth. The majority of riders report that they log far more time and miles on their ebikes than they currently do on their traditional bike. The net results are greater strength and mobility, loss of weight, and a general higher level of well-being. After all, how can you beat a pleasant ride on a beautiful day for its ability to boost your mood and relax your mind!
If you still haven't had the ebike experience, come on down to the shop and see what's possible for you. Take a short test ride or rent one for a few hours and discover how easy and fun it can be to add two-wheeled travel to your lifestyle. We're sure you'll be glad you did.