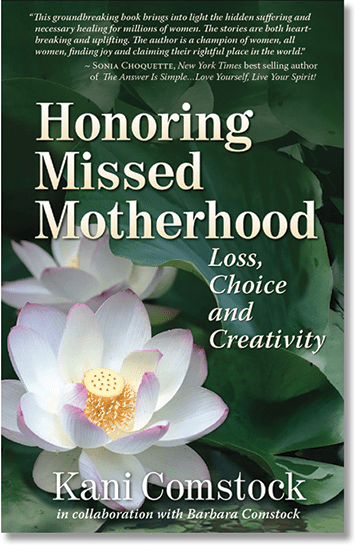 Perhaps you, or someone you know, had a miscarriage or abortion, gave up a child for adoption, were unable to conceive or chose not to have a child – what I call missed motherhood. I know I have. In many situations of loss, people come together to grieve and heal. But millions of women go though life without being able to adequately share their grief.
Silence and denial are common strategies for surviving missed motherhood. Ironically, although denial may initially seem to help us cope, when left unacknowledged, the loss becomes unfinished business, capturing our creative energy and diminishing our ability to live life fully and in the present.
Research has shown that it is powerful to explore, discover and express feelings using language and be listened to by others. Loss acknowledged, honored and grieved enables healing to occur. The loss doesn't disappear, but the grief can, and our experience of the loss can shift.
Unacknowledged and unshared feelings create isolation and separation. When there is no place to acknowledge our losses and process the pain, the loss and pain can define and limit us. Putting our feelings and thoughts into words opens space to become fully present to opportunities that are available to us in life now.
Our expectations about our life and sense of self are often seriously impacted by missed motherhood. Children or no children is a huge part of our definition of how we want our life to unfold—it's really a centerpiece, which we envision being able to control. Women without children, whether by choice or by chance, live outside the mainstream.
For women who choose to be child-free, acknowledging what they have lost out on can be perceived as regret, even when that is not the case. They can benefit from support for their decision, and acknowledgement of the gains and losses incurred.
One of the problems with sharing is that others often try to solve our problems by diminishing them or fixing them. All of us who have experienced this know that it doesn't work and often results in more repression.
A sharing circle where everyone is free to share their thoughts and feelings and be listened to is a nurturing and healing space.
Sharing Circle for Women Without Children
Facilitated by Barbara Comstock, Kani Comstock, Freesia Bradley-Modica
Tuesday, February 11th at 7PM at Rose Circle office, 295 N. Main St. Suite #6
RSVP at www.missedmotherhood.com