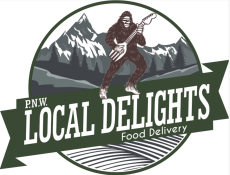 No, not the search for Big Foot! The hunger search! You know the one: you're so hungry you're irritated, could eat everything in sight, and you're ready to defer your decision-making skills to your 4-year-old. Yup, eating healthy goes right out the window – again!
PNW Local Delights has the answer. We offer delicious ready to heat-and-eat meals delivered right to your doorstep, or to various gym locations throughout the Rogue Valley. Enjoy living the local life and leave the local cooking to us. Use our meals to compliment a busy work life, a new workout plan, or weekend at the lake. Also, our subscribers enjoy automatic discounts the more they order.  Follow these three, simple steps to get started:
Fill Your Crate! Go to PNWLocalDelights.com and click on ORDER NOW. Choose from two different subscription plans: a One Time Order, or a Weekly Ongoing Order. Add at least five items to your order, choosing from customizable meals, specialties, bulk products and more.
Submit Your Order! Order by 8:00pm on Thursday for a following Monday delivery. Choose from convenient pick-up locations around the Rogue Valley or select home delivery. (Weekly Ongoing Orders receive notifications of new menu items and order deadline.) Easily change, skip or pause an order.
Enjoy and Exchange! PNW Local Delights are individually packed in microwave safe containers and delivered cold every Monday by 2:00pm. Meals come in insulated crates, or totes with an ice pack inside. NOTE: You do not need to be home to receive meals. Enjoy delightful meals ready-to-eat all week! Simply leave your empty crate, or tote with ice pack, on your doorstep every Monday morning and arrive home to your new order. If using a pick-up location, drop off empty crate, or tote, when you pick up your new order each week. We'll send you a notification when your order is available for pick up at your designated pick-up location.
PNW Local Delights wants you to have the time to play outside longer, finish the work in the yard, and maybe even complete the search for Big Foot. We offer B.F.A. (Big Foot Approved) organic, non-GMO, no preservatives, gluten free, dairy free, paleo, vegan, and AIP options. PNW Local Delights has something for everyone looking to achieve a healthy lifestyle. Subscribe now using this 20% discount code off your first order! Discount Code: PNWLD18