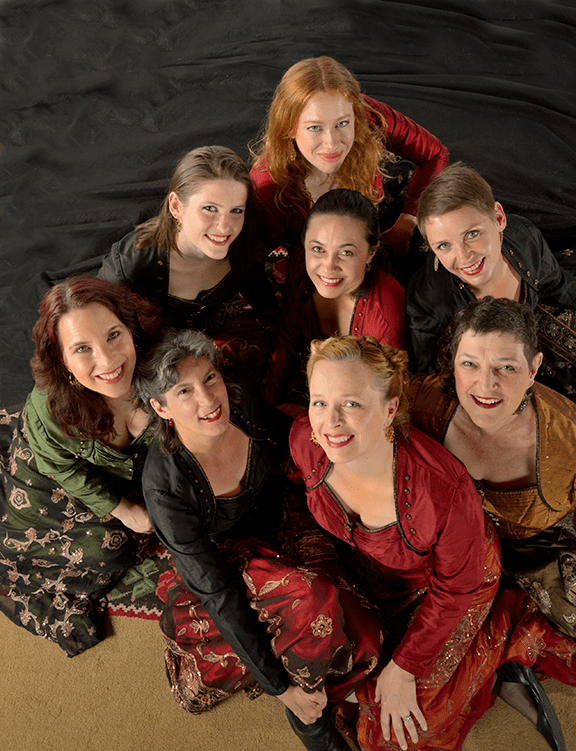 Before telling you about our October Shows, I would like to thank the 475 people who came to see 9 Jeffs perform last month.  I especially want to thank all the Jeff musicians– Pevar, Fretwell, Jones, Ebnother, Richmond, Kloetzel, Stanley, Smith, and Addicott – and the MCs Jeff Golden and Geoffrey Riley for putting on a great show.  A great, big thanks goes to Grizzly Peak Winery who donated their property for the show, to Jeven of Tabu who fed the musicians as well as selling barbecue at the event and to all those who volunteered.
My biggest thanks goes to Dee Fretwell of Modern Roots Foundation, my co-producer.  It was wonderful only having to do 50% of the work.  With her, the event was so much more successful.
Kitka on Saturday, October 11, 8 p.m., at the Unitarian Fellowship, 87 4th St. Kitka is an American vocal arts ensemble inspired by the stunning dissonances, asymmetric rhythms, intricate ornamentation, and resonant strength of traditional Eastern European women's vocal music. Celebrating its 35th anniversary, Kitka will include its most popular music that audience members often request including music from Ukraine, Russia, Balkans, Greece, Bulgaria, Georgia, and other Eastern European countries.
Dan Crary and Beppe Gambetta on Friday, October 17, 8 p.m., at the Unitarian Fellowship. Gambetta is widely recognized, as the leading flatpick guitarist of Europe and Crary is one of the founders of the modern flatpicking movement. The repertoire combines elements of Gambetta's Ligurian and European roots with Crary's celebrated innovations for the American steel-string guitar. The result is a unique fusion of instrumentals and songs that cross all barriers of culture, language and politics. Between songs, you'll get to hear a few of their best stories of adventures in far countries and along distant roads.
Scottish Fiddler Alasdair Fraser and Cellist Natalie Haas on Saturday, October 25, 8 p.m., at Havurah Shir Hadash, 185 N. Mountain. Fraser and Haas recently released their forth CD Abundance. They once again have unleashed their dazzling teamwork, driving, dancing rhythms, and shared passion for taking the infectious melodies and grooves of Scottish/Celtic music on an exciting new journey. Haas is one of the most sought after cellists in Celtic music today, having appeared on over 50 albums. Fraser, acclaimed by the San Francisco Examiner as "the Michael Jordan of Scottish fiddling," has a concert and recording career spanning 30 years, with a long list of awards, accolades, television credits, and feature performances on top movie soundtracks.
Tickets are available at www.stclairevents.com, 541-535-3562 of the Music Coop in downtown Ashland.