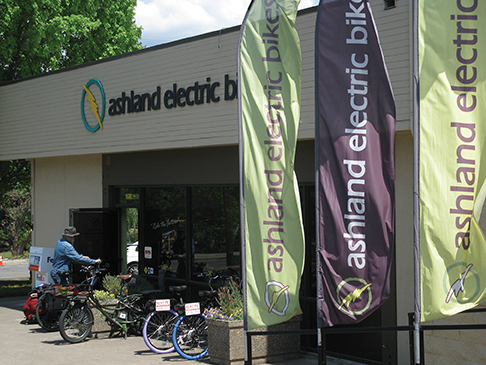 There's a lesson that I keep learning again and again as the owner/operator of Ashland Electric Bikes: Of all the many ways we endeavor to spread the word about e-bikes and the value they can provide in someone's life, there is one simple tool that surpasses all others – a test ride. There is no substitute for an actual electric bike ride. I've watched literally hundreds of people, even many seasoned cyclists, have an ear-to-ear-grinning "Aha!" experience after their first go round on an electric assisted bike.
You can do all the research possible and talk to as many people about it as you can, but it's not until you climb on the saddle and have your first e-bike ride that you'll begin to REALLY understand what it's all about. Once you've ridden an e-bike you'll begin to grasp the positive differences between them and traditional pedal bikes. You lose none of the attributes of 'acoustic' riding and gain all the additional advantages of electric assisted riding.
I'd like to share excerpts from an article by Doug McClellan in the April 1, 2017 edition of "Bicycle Retailer and Industry News" magazine. He writes:
"A recently published study from Portland State University suggests that e-bikes can reduce the barriers that keep many people from getting on a bike. The study showed that e-bikes gave riders more confidence and encouraged them to ride more often and to more places. Half of the participants said they didn't ride bikes, and less than 10% had ever ridden an e-bike.
The number of people who used a bike to commute to work more than doubled during the study. Participants also put a lot of personal hours into the bikes – the number of those who biked for shopping or other errands doubled with e-bikes, and those who rode to visit family members or friends quadrupled. More than 60 percent of the riders strongly agreed that riding an e-bike is "fun". That could be relevant for wellness programs and other programs that encourage people to ride bikes more often."
The article goes into much more depth than we have space for here; I wanted to share what I feel are the most salient points. I hope by doing so, I've piqued your interest to an even higher degree. If you're considering an e-bike for yourself and/or family members, or if you're a decision maker in a work environment where a fleet of e-bikes would have great potential, I encourage you to make the next step forward. Come take that test ride – it's the key to unlocking a whole new world of possibilities.