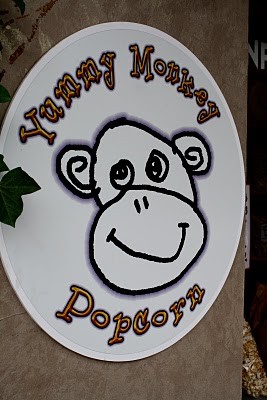 Introduction:
I love food. When there's an open bag of snacks within reach, somehow it all disappears, I had stopped eating it " thinking that it was junk food and bad for me " so I decided to do something about making a snack that was more wholesome and yet super tasty. I took kettle corn and improved upon it, using only the best organic ingredients, like non GMO corn from California and fairly-traded raw, evaporated cane juice instead of bleached white sugar. I also use ancient sea salt from Utah from when it was at the bottom of the ocean. Last I heard, Utah is now high and dry " or at least dry.
I also love to play with food. Before I opened Turtle's Beejie Hut, I ground wheat by hand and made sourdough bread, sauerkraut, kombucha, cider, yogurt, and more mainstream foods like peanut butter and jelly sandwiches.
LG: What is Turtle's Beejie Hut?
Turtle: I'm Turtle, and Beejie is my pet monkey. She inspired me to, well get off my butt and do something. I used to live in the jungle in a little hut. This place is smaller, but it reminds me of how simple it was – and this store is the smallest production site in Ashland and possibly this whole side of the Milky Way galaxy.
LG: Just how small is it?
Turtle: It's so small that customers can't come in " they just walk up to the window to gaze in awe. It's so small that I have to interview myself. It makes Bento look palacial.
LG: Just what do you do in there?
Turtle: I make organic kettle corn and real buttered popcorn here in the Beejie Hut. It's good, but you have to taste for yourself. For instance, I use butter made from actual live cows in Clackamas Oregon, certified organic by the Oregon Tilth – and they are close to God you know. Before this I thought the word butter always had to have quotes around it. It's great with yeast flakes if you lean that way, 'know?
Oh, and I also sell organic and natural energy drinks, sodas, teas, waters, and frozen treats like ice cream sandwiches.
LG: What else?
Turtle: I dispense wisdom, I mean information 'where to eat, what to do, which horse to bet on…'  I'm very approachable and people are curious, so I get to listen and talk a lot. It's like I have the 'other' info booth, the one with no restrictions on what I can and cannot tell people.
LG: Do you sell kettle corn in stores?
Turtle: I hope to… soon. I've been busy trying to keep up.
LG: What makes the kettle corn organic?
Turtle: All I put in is certified organic ingredient. The only import is the organic cane juice and it's fair trade certified, so everyone wins – the environment, the workers, and certainly my hungry, devoted fans.
LG: How much do you charge for kettle corn?
Turtle: You can get mini monkey size for just a buck and a massive bag for eight, but with a Monkey Junkie card you can buy five bags and get some for free.
LG: When are you open?
Turtle: Right now I'm open from noon until 8pm or 9pm, but I may stay open really late in the summer. I'm open every day but Monday. I may open Mondays too though (depends on my slacker employee).
LG: What's with your decorating?
Turtle: You mean the toys?
LG: No, the tacky colors and lighting and the disco ball.
Turtle: They complement the tacky video. I'm serious about my popcorn, but not much else.
LG: How do we find the Beejie Hut?
Turtle: Just go to the Shakespeare Festival ramp on East Main (by the plaza). I'm right at the crosswalk and ramp to the Shakespeare theaters. Just follow your nose (and the trail of kettle corn).
Comments